No Bake 100% Raw, 5 minutes to make Nutty Oat Bites
Too much? A bit of overselling in the title? I don;t think so.
I'm super excited. My husband bought me a food processor for an anniversary gift. For years I have been saying that I didn't need one and that my kitchen 'tools' did the job just as well. And he ignored me – as he does. Well, guess what? I'm now a convert. They are bloody brilliant little machines. A whole new world of food has opened up. I've been 'Processing' (is that what you would call it?) anything I can think of.
This morning I made these little nutty oat bites. They are almost too cute to eat, but I couldn't hold the mob back. They barely waited for me to take my picture.
Just look at them looking all cute and everything.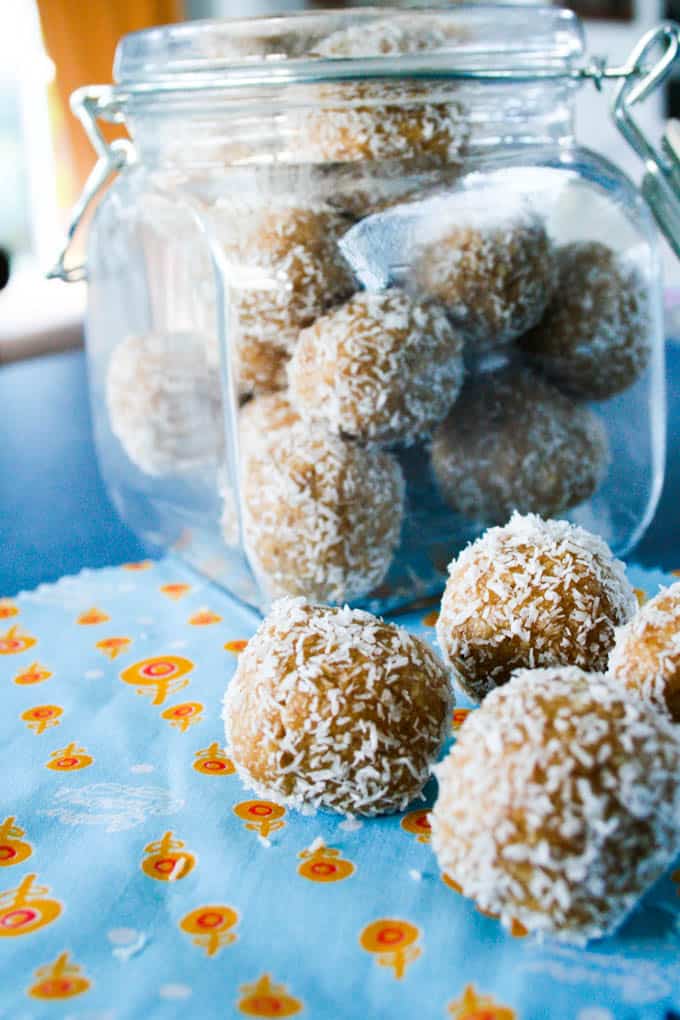 Normally (pre-processor days aka yesterday), I would add all these ingredients together with a bit of flour and bake them into into granola squares – but not today! Oh no. Today we have 100% Raw, No bake, 5 min Nutty Oat Bites. I made around 30 of them from this one batch. Kids went Nuts for them. Ha ha. Nuts. Did you see what I did there?
I didn't have to turn on my oven. That's a big deal for me. I'm the 'wake up in the morning – open my eyes – turn on the kettle – turn on the oven' kind of girl. Such an odd thing that I took to time to actually clean my cold oven. Which is a bit of a big deal. It's not my favourite job, so you know I have spare time when I get that done.
Print
No Bake – 100% Raw – 5 minutes to make – Nutty Oat Bites
---
Author:

Prep Time:

5 mins

Total Time:

5 mins

Yield:

30 bites
Ingredients
1 Cup Oats
1 Cup Desiccated or Shredded Coconut (plus a bit extra for coating)
2/3 Cup Peanut Butter
1/2 chopped Nuts (I used Walnuts)
1/4 cup Honey
1 teaspoon cinnamon
---
Instructions
Pour all ingredients together in a food processor.
Blitz on high until ingredients well combined and forms a pliable 'dough'. If you need to, add a little water for the desired consistency. Don't make it too wet or your little bites will be hard to roll into balls.
Using your hands, roll about a tablespoon of dough into a ball. Roll in coconut and repeat.
Store in an airtight container. I like to keep mine in the fridge, but you can keep them at room temp too.