* We sometimes use affiliate links, so we may receive a commission, at no cost to you, if you make a purchase through a link. Check our disclosure for more info.
Need some kid friendly crockpot meals? I have so many crock pot recipes that I love, but if I absolutely have to choose my favorites – and that's what this post is all about – then these are my Top 10 BEST EVER crock pot Recipes that my family is always happy to see on the dinner table.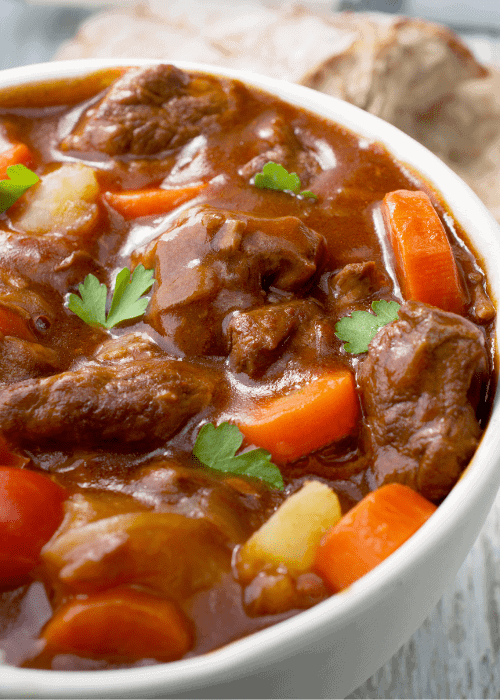 Grab the FREE 18 Meal Ideas CHEAT SHEET Here!
Kid Friendly Crock Pot Meals
We use our crock pot a lot. A whole lot. Food cooked slow and long adds another dimension of flavor and texture to the meal. And our home smells amazing all day.
My crock pot is my most valued kitchen tool, even before the bottle opener. And it makes me look like Super Mom without too much effort from me (the crock pot not the bottle opener :).
Seriously. 10 minutes prep. 2 to 4 hours reading my favorite book (because that's what Stay at Home Moms do right…..) and dinner is ready to be served the moment the family walks through the door.
Not just a regular dinner either, but a slow cooked, deliciously healthy and sometimes … there's even enough for tomorrows lunch. Not often. But sometimes.
For more inspiration, take a look at my Pinterest Board – Clean Eating Slow Cooker Recipes. All the recipes contain real food ingredients and are kid friendly. Of course.
Clean Eating Crock Pot Recipes
Of course, it goes without saying we eat a Clean diet (most of the time).
One of the reasons I love a Crockpot is because it's just SO effortlessly easy to prepare Real food and end up with a dinner that's not only kid friendly and delicious but needs nothing else added other than what you've chosen to put in the pot.
While I have two, the Crockpot I use all the time is this one. It's big enough to feed all of us and since I'm always thinking about tomorrows lunch, there's room for a bit more too.
If, like me, you have a fussy eater or two, slow cooking like this is a game changer. Leave out the things you know there's obviously going to be a fuss mad about and add in the things you know they'll like.
The flavours develop over the hours the meals cooking and just like magic….you've got yourself a Supermom style healthy dinner even your most picky of eaters seem willing to try.
These easy kid friendly crock pot meals are absolutely worth trying!
Crockpot Meals Kids Love
So, in no particular order….here's the ones my family love the most!
Slow Cooked Butter Chicken
Slow Cooker Butter Chicken. A kid pleasing, happy faces, more-please-Mom family dinner. This recipe makes a MASSIVE, family sized pot of butter chicken that is surprisingly low in calories and packed with flavor.
Grab the FREE 18 Meal Ideas CHEAT SHEET Here!
Healthy Chicken Tikka Masala Recipe
Healthy Chicken Tikka Masala Recipe. You'll be thinking about this Healthy Chicken Tikka Masala recipe for days after it's gone.
Tender chunks of chicken smothered in an unbelievable mild curry sauce.
This is an easy, kid friendly mild Indian curry that takes 10 minutes active prep work, and then you can simply turn on the slow cooker (or pop it in the oven) and return a few hours later to a hearty, rich and mighty delicious family dinner. 
Beef Stew
Clean Eating Beef Stew – This is a 'Once a Month Meal' in our home. Sometimes twice. OK, at most three times. It's super easy, budget friendly and always a hit.
3 Ingredient Butternut Soup
3 Ingredient Butternut Soup. This is the perfect busy Mommy meal – quick, easy and only three ingredients.
And for some unknown reason my kids love this, but don't like butternut. Huh? It's a mystery.
Kid Friendly Crock Pot Mongolian Beef
Slow Cooker Mongolian Beef. Seriously good Clean Eating Slow Cooker Mongolian Beef. Prepped in just 10 minutes and then left to slow cook while you get on with, well, whatever you want.
This is one of those dump and cook kind of recipes to teach your kids before they leave home. Always a winner!
Slow Cooked Lamb Ragu 
Slow cooked lam ragu. This Slow Cooked Lamb Ragu recipe is a double winner, Yay! Not only do you get a huge pot of delicious Ragu at the end of it but the scent through your house is like a dream as the warming smell of good old fashioned home cooking works it's way through.
Get that Super Mom feeling without really having to do much work at all.
Grab the FREE 18 Meal Ideas CHEAT SHEET Here!
Slow Cooked BBQ Chicken Drumsticks
Slow cooked BBQ Chicken Drumsticks. Forget the store bought BBQ drumsticks. Once you try this easy slow cooked BBQ chicken drumsticks recipe you'll be making it all the time.
A kid friendly favorite prepped in less than 10 minutes!
Chicken & Vegetable Soup
Clean Eating Chicken and Vegetable Soup My Grandmas recipe that gets my kids coming back for seconds (even the fussy one).
This recipe uses a whole chicken, it changes the way you make soup, try this as soon as you can, it's totally delicious!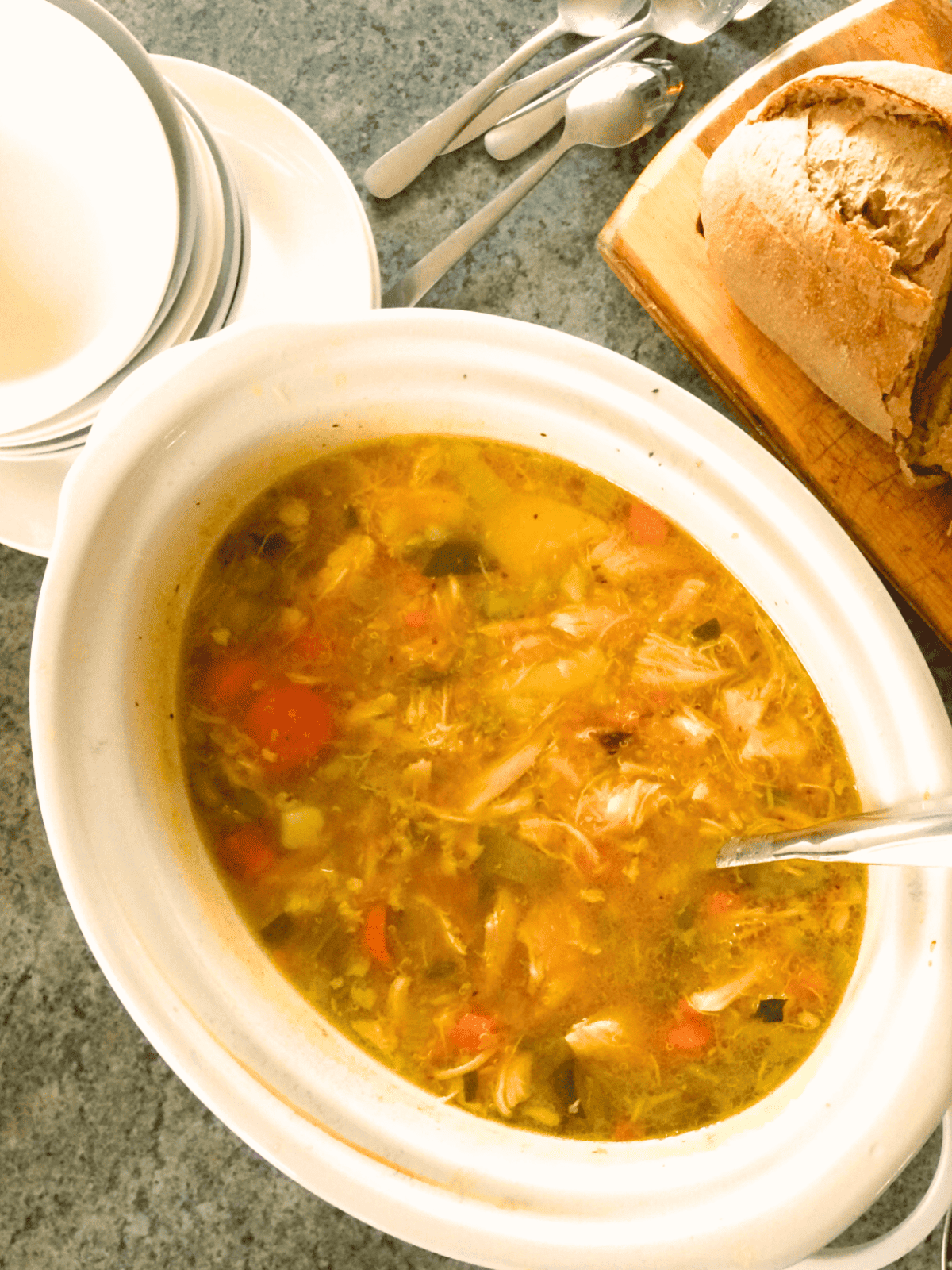 Slow Cooked Meatballs
Slow Cooker Honey Buffalo Meatballs. I wish I came up with this recipe but I didn't. All credit goes to Jen at carlsbadcravings.com. This Mom has serious talent.
And finally……Spicy Thai Noodles. This recipe has been shared over a million times on Pinterest and there is a reason for it. It's VERY yummy!
Stick to the recipe – it's perfect. Except for the hot sauce, I tone it down for my smaller kids.
For more inspiration, take a look at my Pinterest Board – Clean Eating Slow Cooker Recipes. All the recipes contain real food ingredients and are kid friendly. Of course.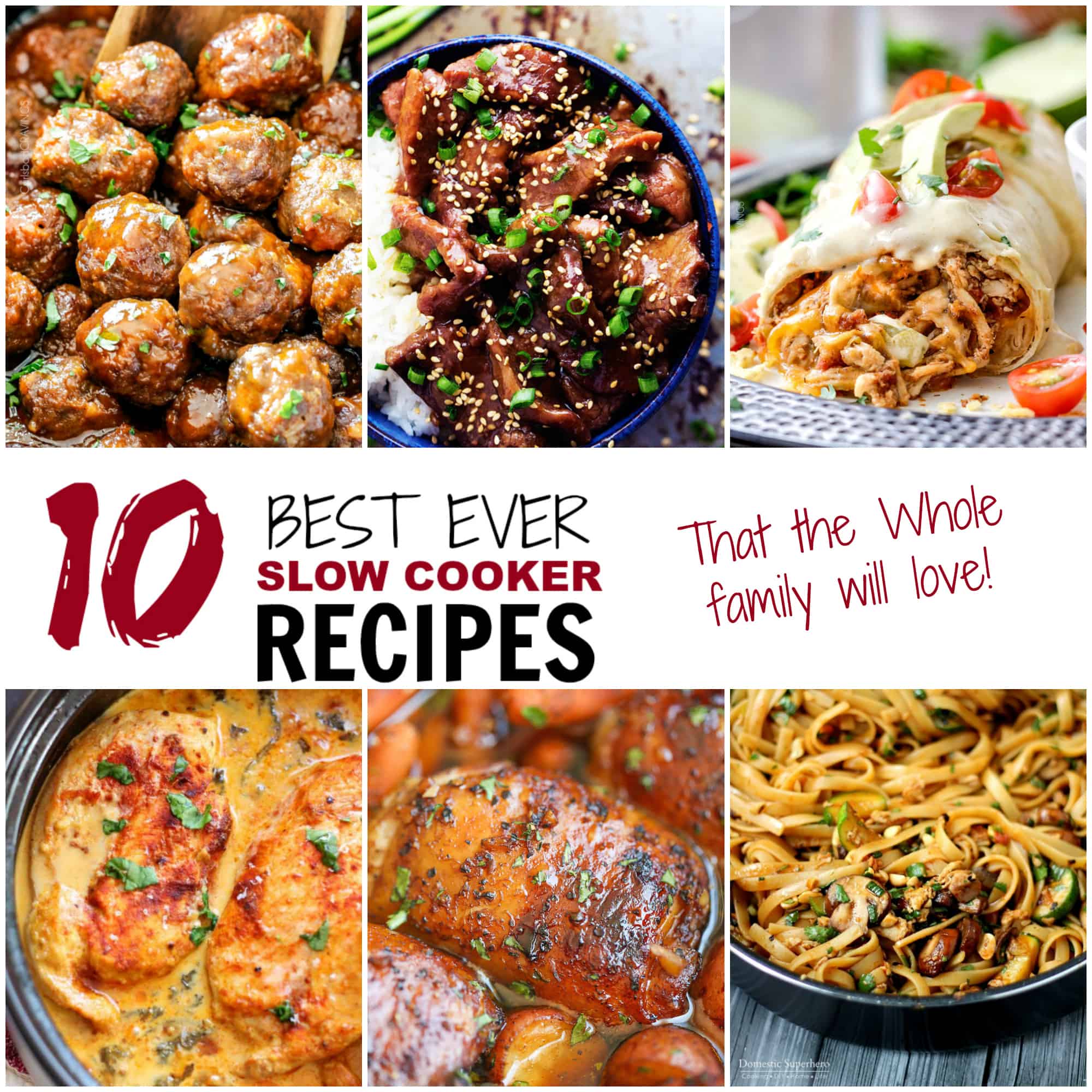 10 BEST EVER CROCKPOT RECIPES THAT KIDS WILL LOVE
Love it? Pin it to your BOARD board to SAVE it!
Follow Clean Eating with Kids on Pinterest for more great Real Food Recipes!