* We sometimes use affiliate links, so we may receive a commission, at no cost to you, if you make a purchase through a link. Check our disclosure for more info.
I have so many crock pot recipes that I love, but, if I absolutely have to choose my favorites – and that's what this post is all about – then these are my Top 10 BEST EVER crock pot Recipes that my family is always happy to see on the dinner table.  
Grab the FREE 7 Day Clean Eating Challenge Pack & Take The Kids Diet From Zero To HERO!
Kid Friendly Crock Pot Meals
We use our crock pot a lot. A whole lot. Food cooked slow and long adds another dimension of flavor and texture to the meal. And our home smells amazing all day.
My crock pot is my most valued kitchen tool, even before the bottle opener. And it makes me look like Super Mom without too much effort from me (the crock pot not the bottle opener). Seriously. 10 minutes prep. 2 to 4 hours reading my favorite book (because that's what Stay at Home Moms do) and … dinner is ready to be served the moment the family walks through the door. Not just a regular dinner either – Slow cooked, deliciously healthy and sometimes … there's even enough for tomorrows lunch. Not often. But sometimes.
For more inspiration, take a look at my Pinterest Board – Clean Eating Slow Cooker Recipes. All the recipes contain real food ingredients and are kid friendly. Of course.
Clean Eating Chicken and Vegetable Soup – My Grandmas recipe that gets my kids coming back for seconds (even the fussy one).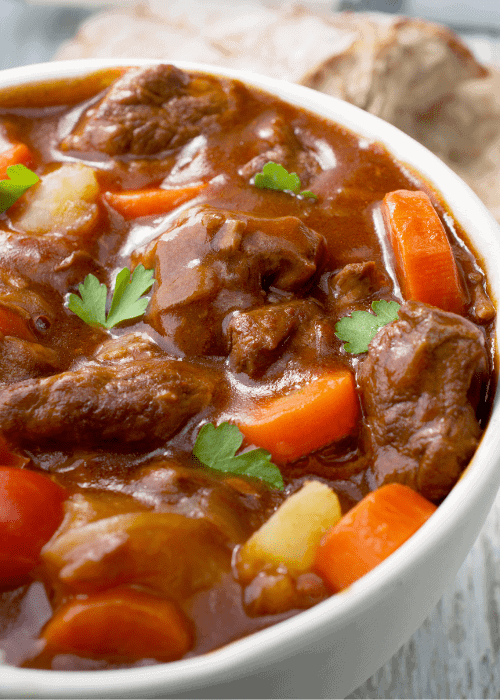 Clean Eating Beef Stew – This is a 'Once a Month Meal' in our home. Sometimes twice. OK, at most three times. It's super easy, budget friendly and always a hit.
Crockpot Bolognaise Sauce – This makes a gigantic batch – enough for tonight and one or two batches to go in the freezer for a fast meal next week.
Crock Pot Lemon Butter Chicken. … Oh My Goodness. This is yummy.
Slow Cooker Honey Buffalo Meatballs. I wish I came up with this recipe but I didn't. All credit goes to Jen at carlsbadcravings.com. This Mom has serious talent.
Slow Cooker Korean Beef. My children ate the entire meal with chop sticks. Messy but memorable. I make a couple of changes to this when I make it at home: I replace the sugar with 1/4 cup honey and use plain flour instead of cornstarch.
Spicy Thai Noodles. This recipe has been shared over a million times on Pinterest and there is a reason for it. It's damn delicious! Stick to the recipe – it's perfect. Except for the hot sauce, I tone it down for my smaller kids.
And that's my short list the 10 Best Real Food Slow Cooker Recipes. It wasn't easy and there were two that nearly made the list, but didn't. Since they were that close, I thought I would share themn here anyway:
3 Ingredient Butternut Soup. This is the perfect busy Mommy meal – quick, easy and only three ingredients. And for some unknown reason my kids love this, but don't like butternut. Huh? It's a mystery.
Slow Cooker Butter Chicken. The only reason this one didn't make the list is because this is my oldest son's favorite meal and he just got braces and it stains the elastics, so we are a 'No Butter Chicken' Household until the day before the monthly Orthodontist appointments.
For more inspiration, take a look at my Pinterest Board – Clean Eating Slow Cooker Recipes. All the recipes contain real food ingredients and are kid friendly. Of course.
10 BEST EVER CROCKPOT RECIPES THAT KIDS WILL LOVE
Love it? Pin it to your BOARD board to SAVE it!
Follow Clean Eating with Kids on Pinterest for more great Real Food Recipes!