* We sometimes use affiliate links, so we may receive a commission, at no cost to you, if you make a purchase through a link. Check our disclosure for more info.
No Laundry? No Space for laundry? No Problem! Take a look at these small laundry room ideas: Seriously stylish laundry areas tucked inside a closet space. If you were doubting the practicality of a small space makeover, these gorgeous mini laundry rooms are sure to change your mind!
Also see:
Free daily cleaning schedule printable
5 Things you can do to keep your house clutter free
How do you design small laundry?
We have a really, really, really small laundry. Actually, it's more like a cupboard. An Outside cupboard. By my back door. Without the cupboard doors. I don't even know if you can call it a laundry. It's more like the place where I keep the washing machine and drier. Yip. That describes it a little better.
I've been scrolling through Pinterest and the stack of dated home magazines at the dentists (we have spent a lot of time there this month as my oldest son is now in braces… which means more $$$ … so I'm getting my moneys worth by arriving early and reading every single magazine!) in the hope of finding ideas on what to do with my little laundry corner/ghetto.
How can I make my laundry room more functional?
The last few weeks have been cold, wet and the path to the washing machine has its fair share of obstacles. I have to step over two sleeping dogs, quietly open the back door, tip toe over that loose floor board – only to get mobbed by three not-so-little lambs (who should be put with the rest of the flock, but I'm not sure if they agree), two pigs and eight beady eyed chooks, every time I step outside. Seriously it's like Noahs ark. Without the ark.
So far – these are my Top 10 ideas – in no particular order. It's insane how much style is packed into one tiny laundry closet. Have a look through these ideas and get some tips on how to make a more functional laundry splace that works for your family.
Varnished Wood and Flat White Doors
This Wood and White laundry tucked away on the wall end of a bathroom is clean and gorgeous looking. The plain white doors practically make it invisible when closed.
Mini Wash Tub
I love this compact laundry complete with a mini laundry tub and extending mixer. As a Mom, you really can appreciate that. I can't even count the number of times I have had to wash something (usually disgusting) off a child / dog /cat who you just can't quite fit under the laundry tap. This would sort that!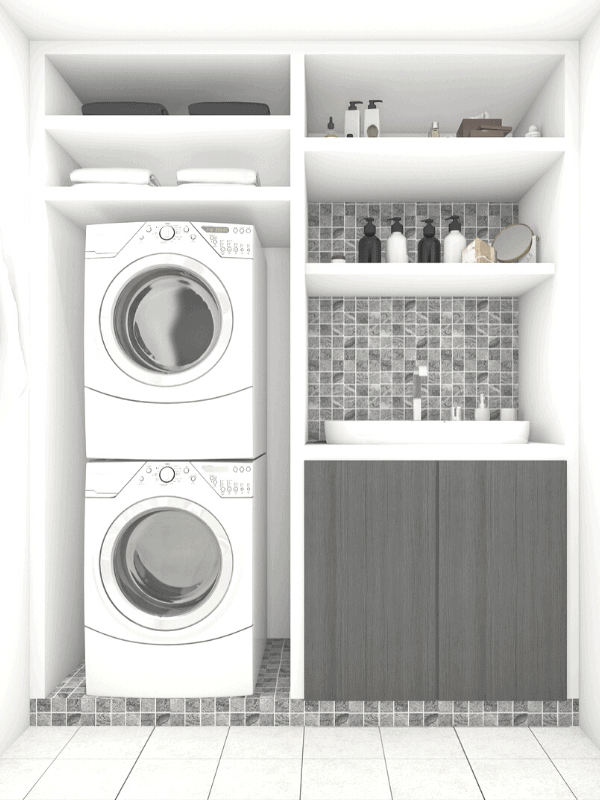 Laundry with Utility Area (And Ironing Board?)
This practical laundry area doubles as a utility room – with all your cleaning supplies readily available and a clothes folding table. I do wonder if you could iron on that?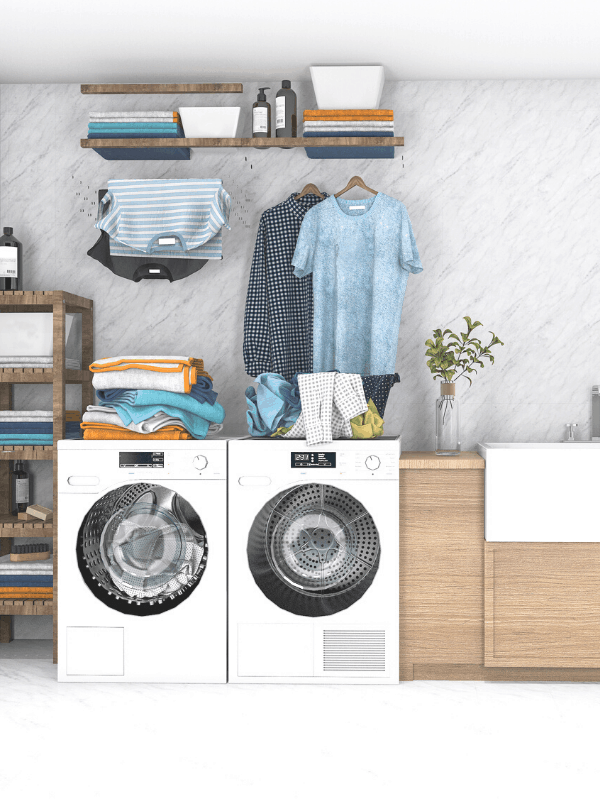 Scandi Style
How cute is this Scandi style laundry room? Clean lines, shelving and storage baskets. Ahhhh
Shower /Laundry Duo
This is super clever! Squeezing a washing machine and tumble dryer next to the shower. OK, now I have no excuse. I need to find a little corner to fit my future laundry.
Colorful Walls Laundry
I am in love!! This is so gorgeous! Not sure if my little home could rock the color (even though it's AMAZING). I think it would make the rest of my house look a little tired.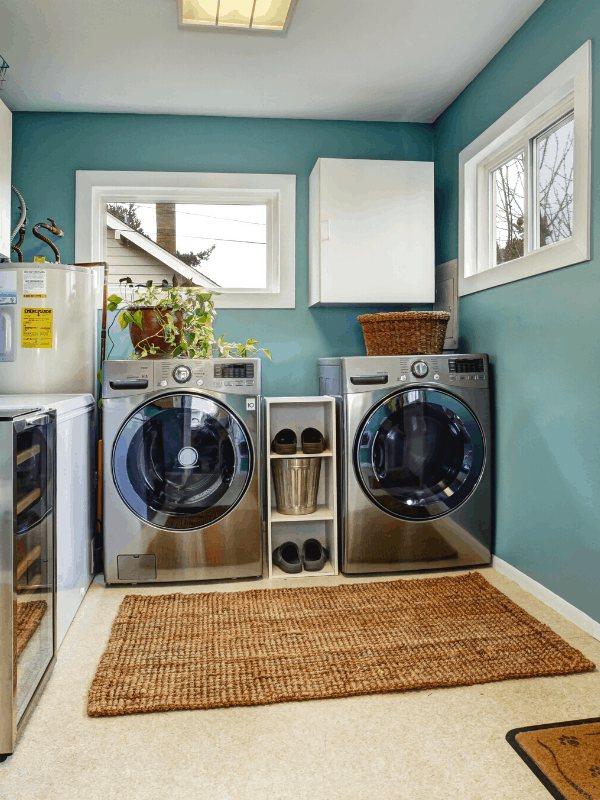 Farmhouse Style Laundry Alcove
Mmmmmm. This is beautiful! I love the blue wood. My husband is color blind so he can't see blues really well – it all looks brown to him. Don't think it would matter. I'm not sure he even knows where the laundry is. :)
Simplicity
This washer and sink combo uses the space so well, the shelves give storage and it's light and bright! Love it!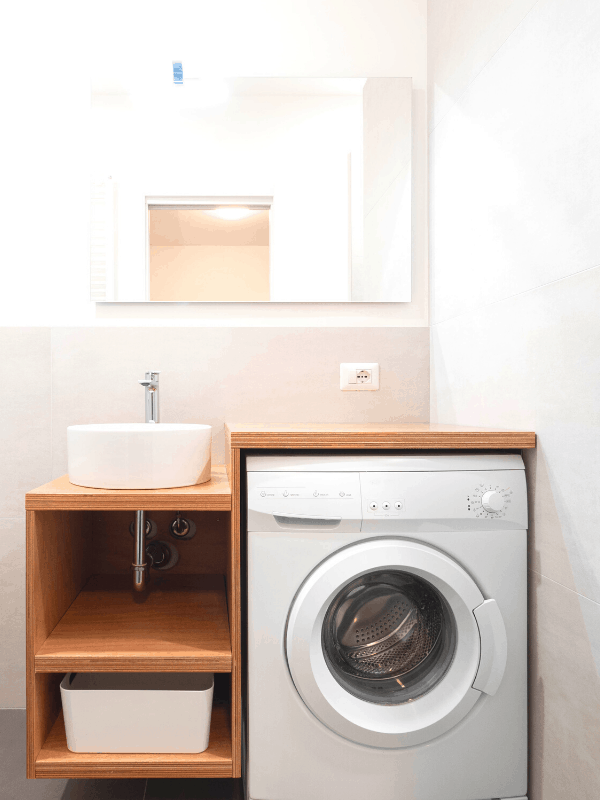 Laundry tucked away in the Kitchen
This lovely little laundry is tucked so neatly in a kitchen corner – you wouldn't even know it was there!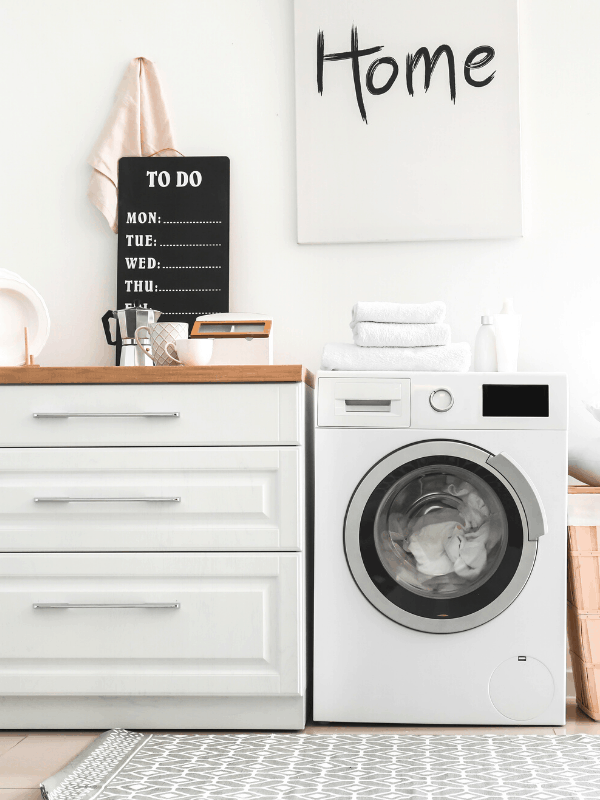 All in One Laundry Nook
A Washer/Dryer Combo means you only need the space for the one machine. I haven't tried them yet, because I'm a little old fashioned I guess, but my hairdresser who does A LOT of washing every day has one of these in her salon and absolutely loves it!
It's good to know that you can still have a functional laundry without needing to take up too much space. At the moment I think I may be stuck with my porch set up …. but a lady can dream. XXX