* We sometimes use affiliate links, so we may receive a commission, at no cost to you, if you make a purchase through a link. Check our disclosure for more info.
School Mornings a little bit too rushed? Are the Kids skipping breakfast to catch the bus? Take the stress away with these 22 Clean Eating Recipes that you can make and refrigerate so that the family can grab a healthy breakfast on the the go. 
Breakfast In The Car
I have the best intentions when it comes to getting organised on school days. I try. I really, really, really do. I get up early (most days. well, fairly often). I clean my kitchen the night before. Prepare lunch boxes the night before. I even fill the kettle for that coffee I never get to have. Seriously, aside from starting the next day the day before or getting up before that bloody Rooster (he's hitting 3am like clockwork) , I feel as if I am doing enough to get a grip on that weekday morning.
And yet.
My kids catch the bus at 7.55am Monday to Friday. Like Clockwork. 5 days a week. Monday to Friday. Bob the bus driver is never late.
But somehow it's a massive surprise to the family every Monday and all the way through to Friday that the bus is on it's way. The last five minutes before leaving the door is a flurry of mirror hogging, brush losing, lunchbox packing, homework doing frenzy. Oh to be a fly on the wall in my house at 7.48am.
I think I could accept this pre coffee crazy except for the fact that to get to the bus on time something has got to give. And it's usually breakfast.
It's one of my Guilty Mommy moments (these pop up every now and again) watching my kids leave the house without eating anything for breakfast.
I've tried getting them up earlier, getting even more prepared the night before, making lists. A lot of lists. Shouting. Negotiating. Rules. I even read some books (this
is a good one) on the subject. Huh! [Mom's exasperated sigh]. My brain is getting bored and tired just thinking about all that parenting.
Sometimes everything falls into place, the sun shines, my husband starts work late, angels sing and the stars align … and we get to sit down and eat breakfast together (those are the pictures you may see on my instagram).
Um. So that happened maybe for a week. And it was hard work!
And in truth it wasn't actually worth it. No it wasn't.
I was a beast! I missed my sleep. The kids were stressed out. I was angry and shouting. Even the dog stayed in bed. And what for?
Yes, I ticked everything off my list, but so what?
My Miracle Morning
agenda was not working for us.
There had to be a better way of dealing with the school morning rush without causing total distress in the home.
And then I figured it out.
I decided to accept that School mornings at our place are a glorious mess of busy-ness and if it wasn't for this little secret I'm about to share with you – school mornings would also have meant regular episodes of skipping breakfast all in favor of getting to that bus on time.
But not anymore.
Now I've got an official strategy that works really well for our family. It involves an "On the Go" Breakfast Plan that I'm actually pretty proud of. It's simple but effective and takes away a lot of school morning stress.
On any given week, we will opt for the "On the Go" option at least twice, maybe three times. The other couple of mornings we manage to get our act together and eat a quick breakfast at home.


Breakfast On The Run
So, now that I've made this an official 'thing' in our home, I thought I should jazz the strategy up a bit, so I've broken it down into two very specific steps.
Ready for it? Drum Roll please …
STEP #1
On the weekend I make up TWO sets of "School Run" breakfasts that get stored in the fridge or frozen (if I make a double batch). If you are going to implement the 'On the Go" Breakfast strategy every morning then Two breakfast options are the absolute minimum. When I trialed this at home, the kids did not like eating the same thing every morning. I found the uneaten breakfast in lunchboxes after school. A little variety is a necessity if you want this to actually work.
STEP #2
The kids grab one of the abovementioned (I knew I would get to use that word one day) breakfasts before leaving for school.
And that's it.
It's not pretty, but it does mean the kids and my husband get to eat a good, real food breakfast and our home is a happy (yes, it's still busy) hive of activity every morning.
How to Get on to the On The Go Breakfast List
There is a strict checklist that the "On the Go" Breakfast choices need to pass to be included on my list of options. They need to be:
Able to Freeze or Refrigerate well.
Easy to make in bulk (8 or more serves).
Healthy.
Actually eaten by everyone in the family.
With a little trial and error, I've come up with a short list of Breakfast Recipes that tick all these boxes. My advice would be don't try them all at once. Pick two this week and make up a batch on the weekend. Give it a go. You will thank me for this.
My 5 Most Recommended "On the Go" Breakfasts Categories
These are the five types of recipes that work well as a fast breakfast option. If you keep reading, I have added a link to our family's favorite recipes in each category (the ones I make the most).
Granola Bars
Breakfast Muffins
Bliss Balls
Savory Slices
Yogurt & Chai Seed Pots
1. Breakfast Muffins
These are by far my 1st choice when it comes to on the go breakfasts. They are perfectly packed in portion sizes, freeze perfectly every time and my family feels like they are eating a treat – no matter what I pack inside the little powerhouses. Sweet or Savory – they work both ways and there are tons of recipes to try so you will never get bored. Here are a few of our personal family favorites.
2. Breakfast Bliss Balls
The best thing about these little beauties is that they don't need any cooking. From pantry to little fingers takes all of 5 minutes.
3. Granola Bars / Breakfast Cookies
Granola Bars are a pantry staple. They are easy to make and full of the good stuff.
4. Mini Pots of Yumminess
I keep a dozen or so of these little yogurt pots which I spoon in yogurt, chia seed and fruit. They close really well and don't leak during the day AND they can go through the dishwasher.
5. Breakfast Slices
Finally … there is always the family sized slice. Bake it once and cut it into portion sizes. I don't like to freeze anything with egg. It's just a personal preference, so I make slices and pop in the fridge to eat within 2 – 3 days.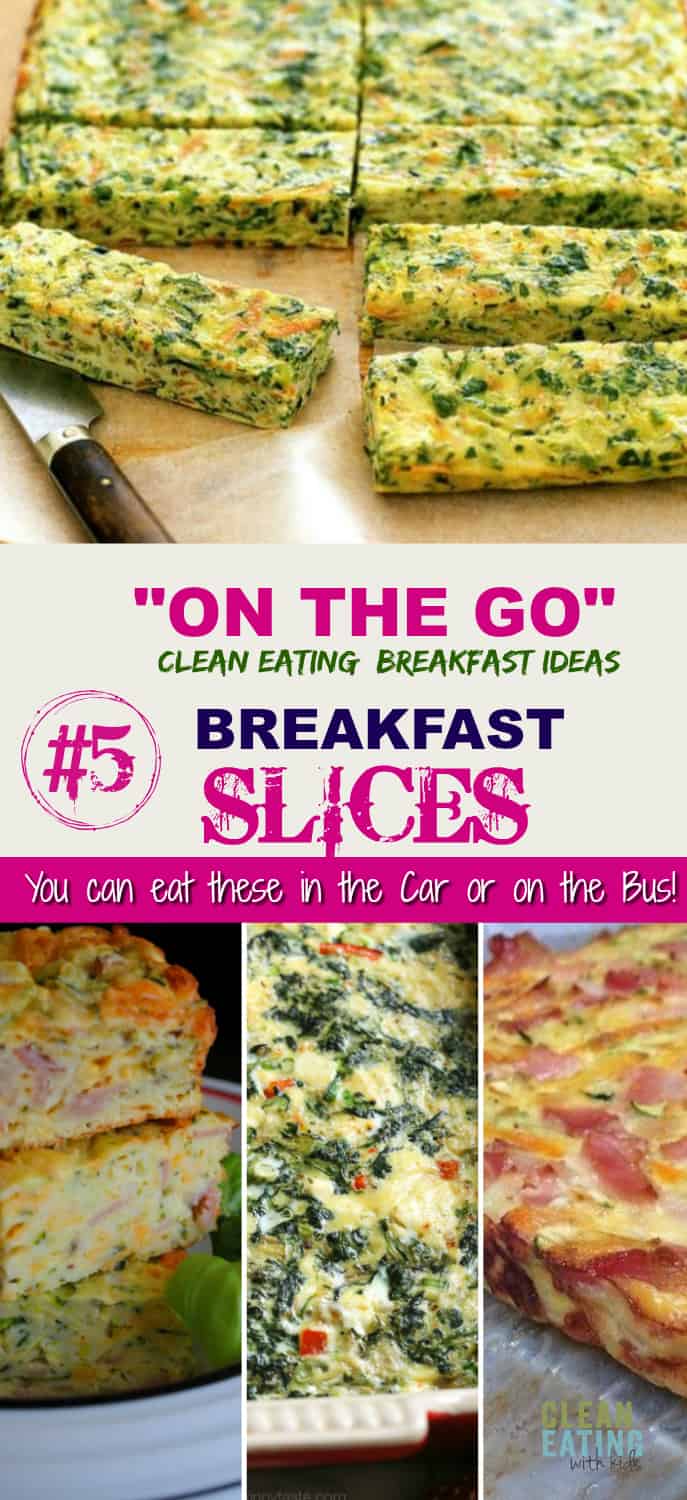 Hope this helps with the school morning rush. I know it has made a huge difference at our place.
If you have any other ideas that work well in your home as a great "on the Go" breakfast. Please feel free to comment and share.
For More Clean Eating Breakfast ideas, visit my Pinterest Board —> Clean Eating Breakfasts and Brunches or sign up to my Newsletter to get two new Clean Eating Recipes sent to you each week.