* We sometimes use affiliate links, so we may receive a commission, at no cost to you, if you make a purchase through a link. Check our disclosure for more info.
Are you worried about your child's weight? Is it affecting they way they feel or behave? The first step to dealing with any problem is, of course, being aware of it. If you are a Mom worried about your child's weight then I am seriously proud of you right now for taking this step to help them. I know it's hard and I know it's an issue no-one wants to talk about and the last thing you want to do is hurt your child's feelings or knock their self esteem.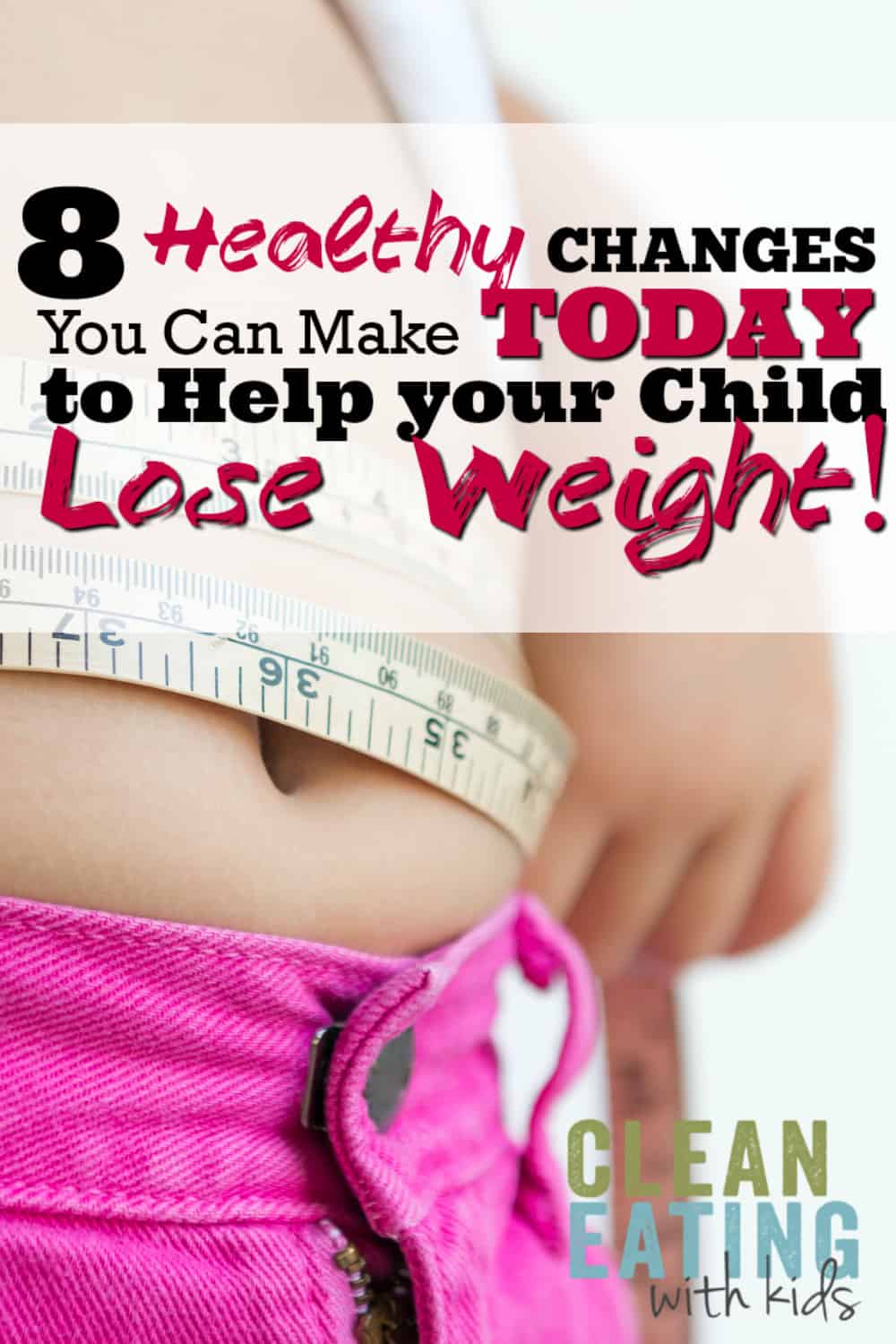 When should you Worry about your child's Weight?
Over-reacting by placing too much focus on food or body size can cause unnecessary stress or send the wrong message to a child, but ignoring the issue can mean that your child is having to deal with the issue oh their own with potentially negative health and mental effects. I believe it is time to make some changes if:
1. The weight gain is affecting their health or lifestyle, and/or
2. The excess weight is making your child worried or stressed.
Research shows that even children as young as three are worrying about the size and shape and size of their bodies. As a parent, this can be heart breaking, but here's what to look out for:
5 Signs your child might be worried about being fat.
1. They might start covering up certain bits of their body – not wanting to wear shorts in summer, or insisting on wearing clothes like jumpers even in warm weather.
2. They start getting upset when they're choosing what to wear.
3. They might start refusing food because 'it makes them fat'.
4. They may comment (more than is usual) on the body size of the people around them.
5. They may start being overly critical about their own appearance.
Source: Netdoctor
Should you speak to your child about their Weight?
I'm in two minds about this. I think that if your child is worried about their excess weight, then it would be comforting for them to know that they weren't alone in their mission to do something positive about it. Together you can figure out a plan to get on top of it. Working together as a family unit can make their journey a lot easier. If, however, the child is a little younger or doesn't seem to show signs that they are particularly concerned about weight gain, then you can make changes in their diet and lifestyle without discussing it with them.
Here are 8 Small Changes you can make RIGHT NOW now to help your Child or Teenager lose weight.
1. Drink Water
This is by far the most beneficial change you can make to your child's diet. If you choose to change only 1 thing, then this would be it.
Kids nowadays get up to 30% (sometimes more) of their calories from the stuff they drink. This can be soda or fruit juice. I speak to so many Moms who are regularly feeding their children fruit juice, thinking that it's not doing any harm. Switching to water will reduce the intake of these unnecessary calories, along with promoting a whole list of health benefits,
By the way – this includes giving up drinking fruit juice. If you want some orange juice – then eat the whole orange! That way they get the full benefit of juice, fiber, nutrients and vitamins they are meant to.
1 Cup of Fruit Juice = 116 Calories
vs 1 Cup of Water = 0 Calories
Related Posts
How Dehydration is making us Sick and Fat
What 30 days of Drinking Water does to your body
Free Printables
30 Day Water Drinking Challenge
When to Drink Water Infographic
2. Crowd out the Bad Food
Aim for every meal to contain at least half fruit and vegetables. This simple little trick promotes weight loss in two ways:
It fulls you up with nutrient dense foods that are actually good for your body and promote the burning of fat and building of muscle, and
Full tummies are less likely to result in unhealthy snacking choices.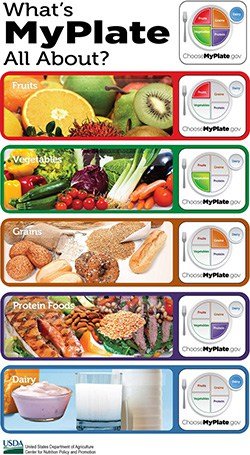 3. Meal Planning
Meal Planning allows you take control of the food you will be eating all week. Make sure you include all snacks and drinks.
You can print out a meal planner template here:
For more help on Meal Planning and to see some of our meal plans, Click on the links below:
How to Meal Plan
Real Food Meal Plan #1
Real Food Meal Plan #2
Real Food Meal Plan #3
Real Food Recipes
4. Planned Snacking
Everything you eat and drink matters. Mindless snacking or small things like drinking juice instead of water adds unnecessary calories to your child's diet. Even small – seemingly innocent foods like fresh fruit drinks and granola bars can add unnecessary calories to your child's diet.
An Extra Slice of Bread at dinner = 78 Calories
1 Store Bought Granola Bar = 196 – 300 Calories
As part of your weekly family meal plan, I include two planned snacks a day. I recommend you print out and stick this Snack Idea List on the fridge so that your child gets familiar with what is considered a healthy snack.
5. Smaller Serving Sizes
With each of my pregnancies, I gained 55lbs. Yip. That's what the scale read after giving birth! Eating Clean helped me shed the weight naturally within 3 – 4 months. I didn't count calories or even weigh my food, but one of the things I did do was monitor the size of my servings. Portion control plays an important part in a healthy diet. Weight loss industry gurus will tell you to weigh it up or count the calories, but really, all you need is your own hand.
How to use your hand to measure your portion size: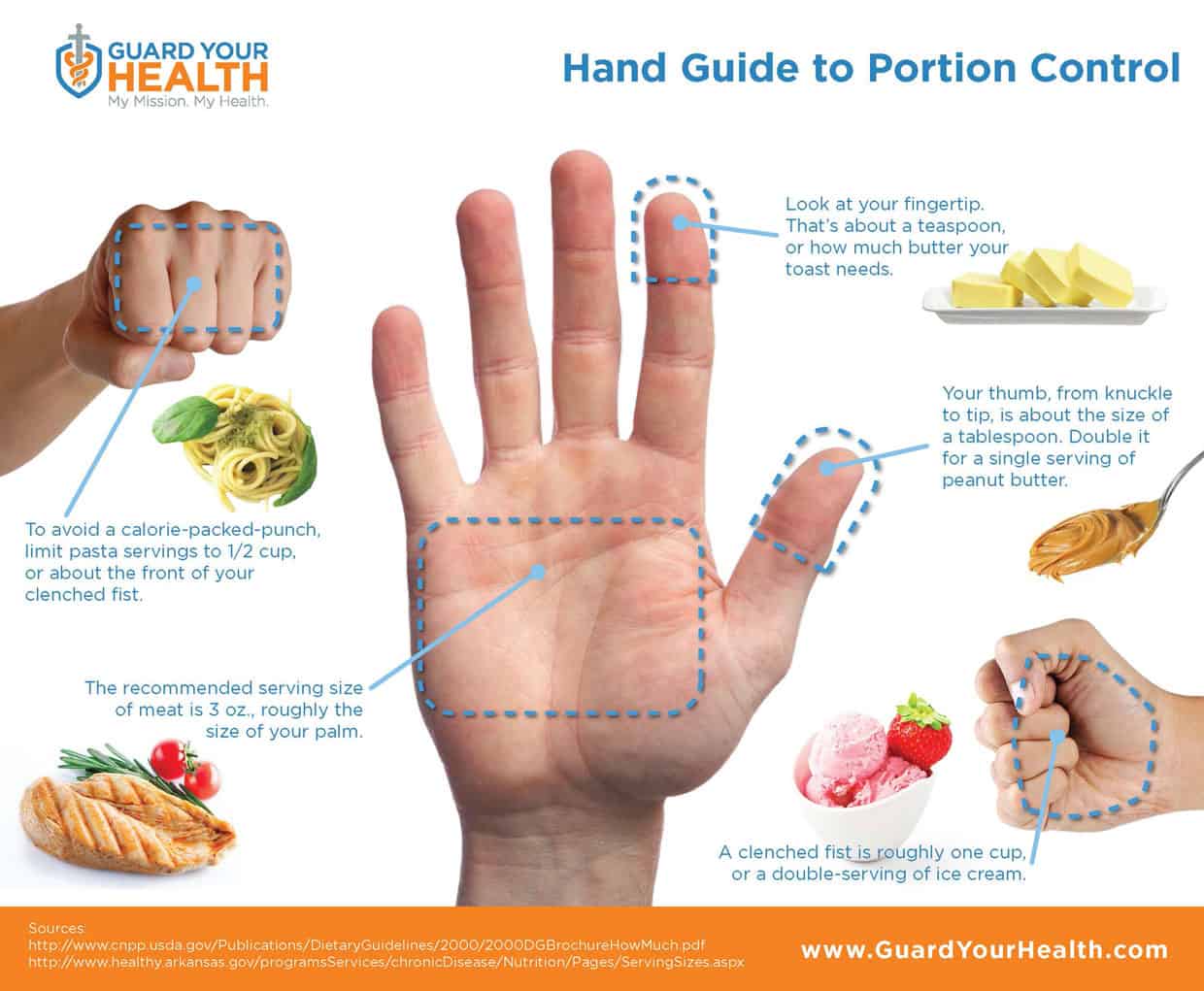 Your palm size = your protein portions such as meats or fish
Your fist size = veggie portions.
Your cupped hand size = carbohydrate portions, fruit, dairy (yogurt and milk) and also snack size portion.
Your thumb size = fat portions like butter or cheese.
The great thing about this simple hand system is that it works no matter what your child's age, because their hands grow along with their appetites. How cool is that?
6. Eat Real Food first
We do not count calories in our home. The first reason being – we don't have to and secondly, I think it's misleading. Eating whole foods that nourish our bodies is our Number 1 priority. The weight takes care of itself. If we focused on calories then deciding what to eat starts to get complicated, for example: An apple and a choc chip cookie may have a similar calorie count (actually I think an apple may have more), but your body doesn't see it as equal. If you focus on eating for health, then you know instinctively that an apple is the better choice – and trust me, your body will quickly adjust in a way that will really surprise you.
Start introducing Real Food into your families diet with these 4 Easy & Healthy Swaps:
Switch to wholegrain versions of pasta, bread, crackers, pie pastry, pizza crust
Remake some of your regular dinners using real food ingredients
Craving fries or chocolate cake? Make some! If you want a treat (cake, cookie or milkshake) then make it at home – that way you are aware of how much sugar is going into it and avoiding nasty preseratives.
Make a salad every night. Serve dinner with a salad. It takes up space on the plate and instantly adds nutrients and reduces the amount of carbs (pasta or rice) you can fit on the plate.
7. Make your home a Junk Free zone
Bag it all up, take it to a food bank or homeless shelter. The kids do NOT need potato chips, sugary biscuits or salted crackers available in your home. Trust me; they will have sufficient access to them outside of your home – school, friend's houses, parties etc. Keep it out of your home.
8. Make it Really Really Hard to eat Junk Food
If junk food is just a couple steps away, then it's making it difficult for your child to resist the temptation to reach for that sugary snack.
Aside from simply NOT keeping crappy foods in your home, you can also implement the rule: If you want it, you have to make it. Feel like a chocolate pudding for dessert? Well, head to the kitchen and make it from scratch!
My Story
This topic is close to my heart. I was an overweight child. For most of my childhood I knew that I was that one fat kid.
I lived in a seaside where every weekend was spent in bikinis or in shorts on the beach. My friends were lean and fit. All of them, except me. I spent a lot of time pretending that it didn't worry me. Things were said. Comments were made. But I just laughed. On the outside anyway. On the inside, thoughts about my weight consumed me every day.
I would dream about waking up thin. Or being able to wear the clothes my friends did. I hated trying on clothes or looking at myself in photos or in the mirror. I think I have one, maybe two pictures of myself during these years. And those that I do have I still haven't shown to my husband (which shows you how deep the emotions still go).
The low self-esteem that comes from being an overweight child can stay with a person for life. I feel as if I lived in the shadow of this thought for years. Even when the weight is lost, the childhood memory of it remains.
The thing is. I never told anyone.
If you think that your child is concerned about their weight, then you can help.
Accepting that your child has a weight problem is not easy. As a parent, you are in control of the food that gets eaten in your home and you can make a difference to your child's health starting now just by making a few simple changes.