* We sometimes use affiliate links, so we may receive a commission, at no cost to you, if you make a purchase through a link. Check our disclosure for more info.
As the nights start to turn a little chilly and the days get noticeably shorter, you start to crave food that's a little more satisfying. Thick, hearty soups are one of the tastiest and easiest ways to make the colder nights a little cozier.

8 Healthy but Super Satisfying Soups that the Whole Family will Enjoy
This creamy, low carb and deliciously thick soup takes only 45 minutes to make from start to finish. Perfect for a cold weeknight dinner.
2. Simple, Three Ingredient Butternut Pumpkin Soup
My kids love this soup! It's super smooth and creamy and tastes absolutely amazing even though it only has three ingredients – and it's super fast to make.
What's not to love? Taco. Soup. Topped with a dollop of sour cream. This is brilliant and delicious. I guarantee you will be adding this to your list of favorite family recipes!

(Recipe by Diary of a Real Housewife)
Hot, thick and satisfying. I normally replace the ham with bacon, only because I use a little less and the bacon has a stronger flavor so no-one even notices. In other words, I'm a cheapskate. There. I said it.

(Recipe by Closet Cooking)
I put off trying this recipe for ages, but now I am hooked. The kids think its amazing and it's packed with broccoli! They surprise me sometimes.

(Recipe from Cooking Classy)
6. Quick Asian Chicken Noodle Soup
I'm getting hungry just looking at this picture. Everyone in our family enjoys Asian Cuisine. This is no exception. It's like a Thai Curry but in a soup. It really is one to try this fall.

(recipe from Delish.com)
7. Family Classic Chicken and Vegetable Soup
The classic Chicken and Veggie soup is a recipe I make pretty much two to three times a month nce the weather starts to turn a little chilly. It's packed with all the good stuff, freezes beautifully and I can pop everything in my slow cooker in the morning and come home to an amazing dinner every time.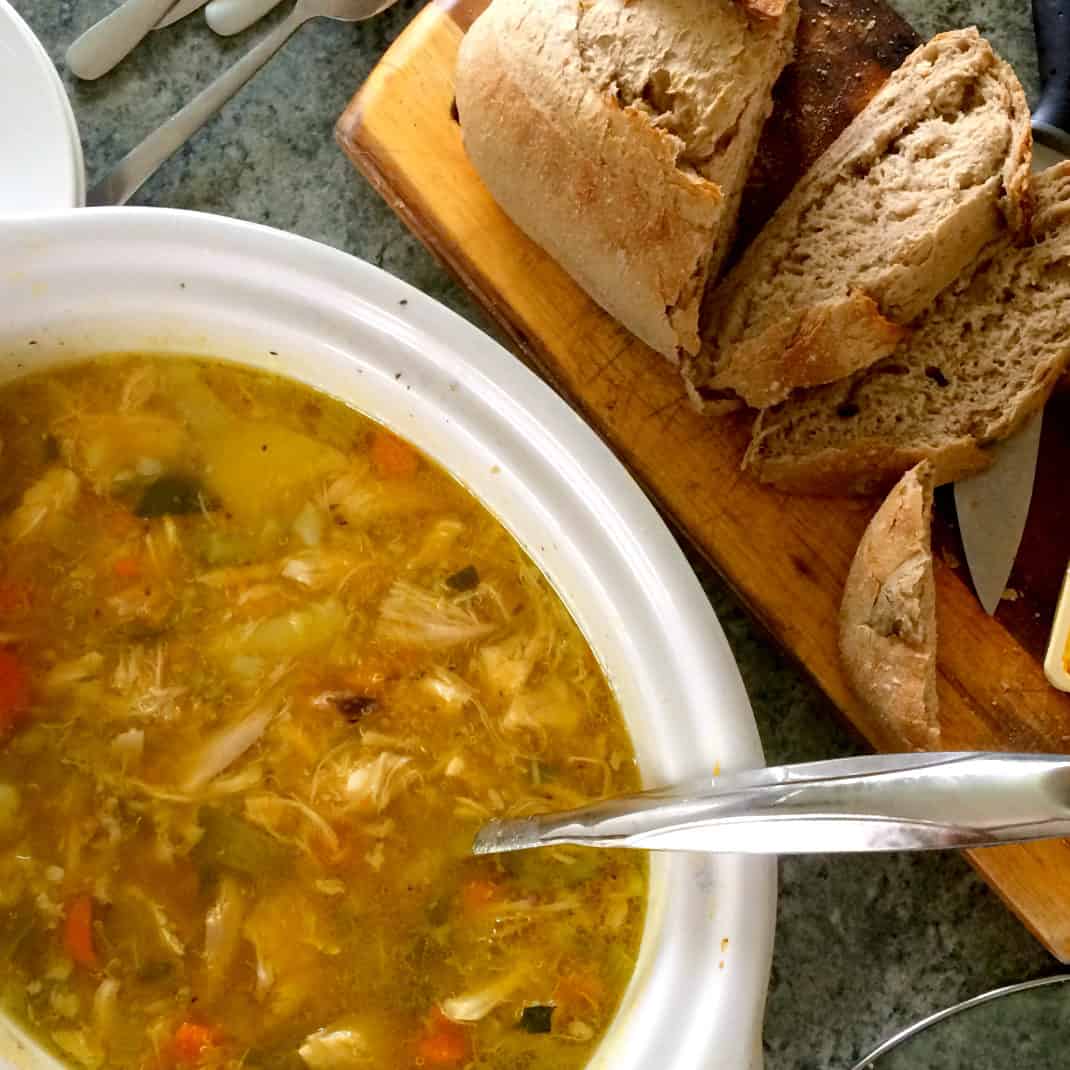 8. Slow Cooker Beef and Vegetable Soup
If you had to get master one soup this fall, this would be the one. You can pretty much use any budget cut of meat and throw in all the vegetables you have on hand to create an unbelievably tasty family meal.
(Recipe by CincyShopper)
Looking for Some more Clean Eating Soup Recipes to try out?
Take a look at my Clean Eating Soups Pinterest Board for more wholesome, healthy Soups to feed your family over the colder months.
[convertkit form=5067427]