* We sometimes use affiliate links, so we may receive a commission, at no cost to you, if you make a purchase through a link. Check our disclosure for more info.
We love these cheesy, crispy, butter pan fried cauliflower fritters, made with no flour. There's nothing not to love about these. They're kid friendly, cook in minutes and are yummy alone simply with a dollop of tomato sauce or with a poached egg and baked beans for a more substantial breakfast. Try these today and get an extra portion of veg in!
Grab the FREE 18 Meal Ideas CHEAT SHEET Here!
No Flour Cauliflower Fritters
I make these cauliflower fritters on the weekend usually (they don't take forever to put together but you do need the food processor out) and you'll be rewarded with a batch of kid friendly, cheesy, crispy, yummy fritters. I cook them in butter for an extra rich crunch and top them off with a poached egg or two :)
These fritters are simple, easy to make and are a brilliant way of sneaking a veggie into a breakfast or light lunch that the kids already know and love: Fritters! I keep them cheesy and fry them in butter until they're crispy and cooked through. And then I'll serve them with a poached egg, or some baked beans or even just a dollop of tomato sauce.
I use the food processor to make the mixture for these fritters. Yes, it's a bit of a hassle to get the processor out, I feel your pain, but it makes a big difference. You want the 'grate' size of the cauliflower, onion and cheese to be fairly small and pretty equal so it all cooks together in the frying pan.
While I don't make a point of not using flour or finding a flour alternative in a recipe, I don't feel these cauliflower fritters benefit from flour, so I've left it out. Cooking these in butter creates a crispy coating in the frying pan, so there's no need for flour anyway.
Fritter Mixture
The fritter mixture needs to be bound enough to stay together in the pan. I use eggs to bind the other ingredients and cook them over a medium heat. It'll take between 2-3 eggs to get the mixture to the right consistency and so while I've put 2-3 eggs in the ingredients, I'd recommend starting with 2 and then adding a third if you need it.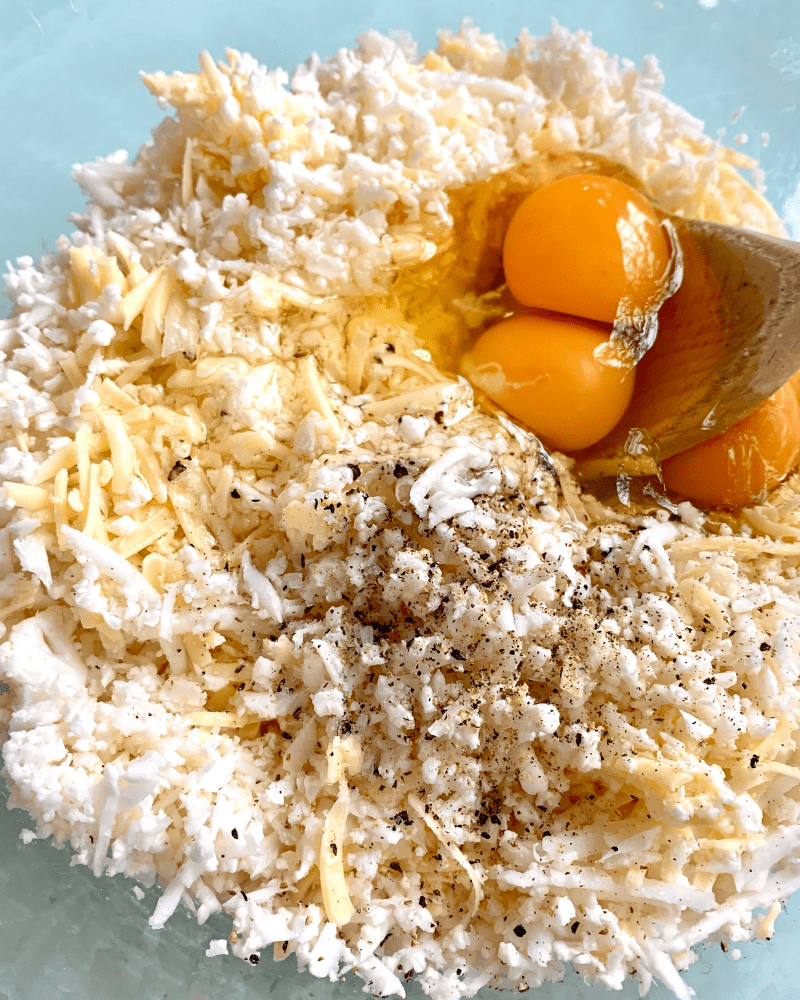 Make sure the mixture is seasoned well while you're combining it in the bowl with the eggs, and you'll know the mixture is ready for the pan when you can scoop up one fritters worth of mixture with a tablespoon and it doesn't fall apart.
To cook these fritters and keep them in one piece, cook them in batches, and make sure there's quite a lot of space around each one. This makes them easier to flip over to the other side.
What To Serve With These Fritters
Clean Eating Cauliflower Recipes
Making Ahead And Leftovers
The good news is you can make these ahead! Yay :)
For me, it's the food processing that takes the time (even though it's not exactly a time drain) so sometimes I like to make these ahead of time when I've got a spare 15 minutes and have them ready for a breakfast or two during the week.
If you want to make these ahead of time, they'll keep in the fridge for up to two days. To reheat them, just add a little butter to a frying pan and heat them until they're heated all the way through and crispy again.
More Clean Eating Fritters And Patties
How To Make Cauliflower Fritters
Ingredients
1 Small Cauliflower Cut into florets
½ Cup Cheddar cheese
1 Small White Onion Peeled
2-3 Eggs
2 tbsp Butter For pan frying
Salt and pepper To season
Instructions
Prepare the fritter mix: In a food processor, using the grate attachment, shred the cauliflower, onion and cheese. When this is shredded, transfer it to a large mixing bowl
Season the grated cauliflower, onion and cheese. Add 2 of the eggs and combine well. Add the third egg if the mixture is to dry and not sticking together
Add a third of the butter to a large frying pan and heat over a medium heat. Once the butter has melted and is hot, using an ice cream scoop or two tablespoons, dollop fritter into the frying pan and leave to cook for at least 3 minutes. This lets the underside cook through and seal so you can flip it over to the other side and keep the fritter in one piece
Flip the fritter onto the other side and cook through. Once fully cooked, place onto a plate and cook the next batch
Serve with some tomato sauce or poached eggs
Cauliflower Fritters Recipe
Cauliflower Fritters (No Flour)
Crispy, cheesy cauliflower fritter pan fried in butter. A great kid friendly, easy breakfast.
Ingredients
1

Small

Cauliflower

Cut into florets

½

Cup

Cheddar cheese

1

Small

White Onion

Peeled

2-3

Eggs

2

tbsp

Butter

For pan frying
Salt and pepper To season
Instructions
Prepare the fritter mix: In a food processor, using the grate attachment, shred the cauliflower, onion and cheese. When this is shredded, transfer it to a large mixing bowl

Season the grated cauliflower, onion and cheese. Add 2 of the eggs and combine well. Add the third egg if the mixture is to dry and not sticking together

Add a third of the butter to a large frying pan and heat over a medium heat. Once the butter has melted and is hot, using an ice cream scoop or two tablespoons, dollop fritter into the frying pan and leave to cook for at least 3 minutes. This lets the underside cook through and seal so you can flip it over to the other side and keep the fritter in one piece

Flip the fritter onto the other side and cook through. Once fully cooked, place onto a plate and cook the next batch

Serve with some tomato sauce or poached eggs