* We sometimes use affiliate links, so we may receive a commission, at no cost to you, if you make a purchase through a link. Check our disclosure for more info.
Chicken is one of the easiest meats to make a kid friendly dinner with and as a parent when you find something your kids like to eat, you tend to stick with it! That's not to say you can't play around with it and add new flavours to expand the flavors they try and this chicken with tarragon cream sauce is just that: A simple chicken recipe with a mild, yummy sauce for the mashed potato to soak up :)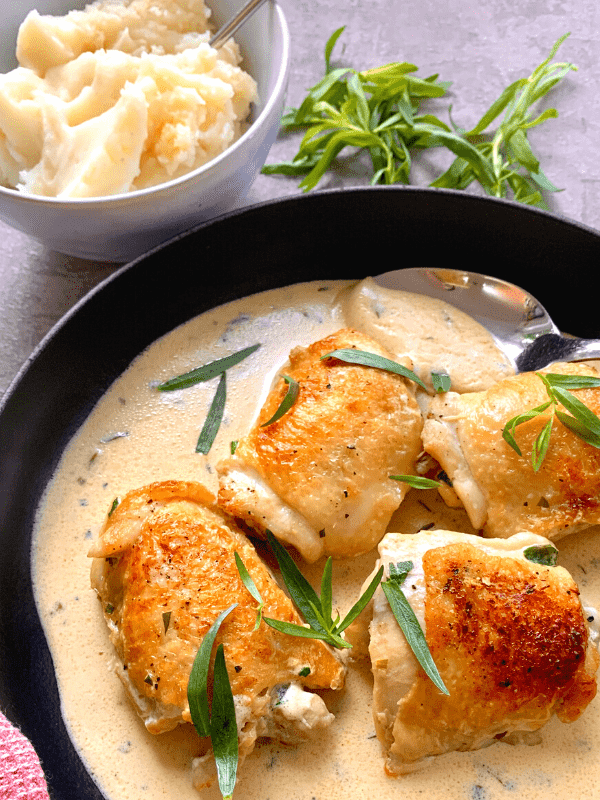 Grab the FREE 18 Meal Ideas CHEAT SHEET Here!
Chicken With Tarragon Cream Sauce
Chicken with Tarragon cream sauce is one of the scrummiest things ever. It's creamy (obviously) it's indulgent and it's just, well, delicious. Tarragon has a slight liquorice taste to it but it's not strong and more than mild enough for my fussy kids to eat and enjoy.
The french call tarragon The King Of Herbs and I'd agree, this delicate little herb is a goodun'! My kids can be a bit fussy with herbs. Or green things as they used to call them. There was a time even the merest hint of Oregano on a pizza had them running for the hills, seriously. Oregano could ruin a meal out, should I have forgotten to make sure to ask for it with no Oregano! Hey ho.
When we started Clean eating, I was quite keen for herbs to be incorporated into our diets for a few reasons. Firstly they add new flavors to foods. Herbs are so much more than what they used to be to me, an after thought presented as a scattering on top of a recipe to give it some color!
What health benefits do herbs offer us?
Like lots of green vegetables, herbs contain Vitamin A, C and K
Many herbs contain polyphenols. These are plant compounds that have antioxidant and anti inflammatory properties
Tarragon is a source of manganese, iron and potassium
So we try and use herbs a lot more than we used to now. Basil is a family favorite and we use that I quite a lot of recipes and this tarragon cream sauce is fast becoming a new 'best' herb. And also, you can vary the amount of Tarragon you use in this so if your kids aren't used to the taste, feel free to cut the quantity until they're happy with it and then increase it from there.
Grab the FREE 7 Day Clean Eating Challenge Pack & Take The Kids Diet From Zero To HERO!
Chicken Thighs
As I do with loads of my recipes I've used chicken thighs in this recipe. You can also use chicken breast meat if you prefer, just remember to cut the cooking time as chicken breasts cook faster than thighs. I like to use chicken thighs as I find they have more flavor.
I tend to brown them first so the skin gets a good color. None of my kids will eat the chicken skin which is fine, the skin helps keep the chicken moist while it's cooking and so I leave it on for this reason as well.
Organic chicken thighs are reasonably priced where I live and this is another factor in deciding to use them. Organic chicken breasts are crazy expensive and so while I'll buy them when they're on offer, they're not something I use all the time. As usual, feel free to use whatever your preference is.
Grab the FREE 7 Day Clean Eating Challenge Pack & Take The Kids Diet From Zero To HERO!
Why We Love This Recipe
There are so many reasons to love this recipe! Juicy chicken and creamy tarragon sauce make this a big hit. This recipe isn't hard to put together and really doesn't take long to get on the table. Using chicken breasts does speed this up but I'd really recommend using thighs.
I like to make loads of this Tarragon sauce. Loads. I serve this with potatoes, usually mash, and a vegetable or two and the reason I like to make loads of sauce is because my lot like to cover everything is sauces. If they like a sauce, and they love this one, adding a sauce to pretty much any vegetable means they're gonna eat it. So…being a sneaky kinda Mom, I'll serve the vegetables they kids are a little less keen on or at least wouldn't willingly eat a plate of, since they have a sauce they like to smother everything in :)
What To Serve With Chicken With Tarragon Cream Sauce
To me, this recipe calls out for potatoes. And the potatoes I like to make for this are these mashed potatoes. There's the added benefit with these potatoes of another veggie in them, but they're also a good potato to soak up all that delicious sauce.
What other veggies might you add?
Make Ahead
You could make this recipe ahead of time and keep in in the fridge until you need it. If you do this, make the whole recipe until the end (don't add extra tarragon on top, do that when you serve it so the herbs on top keep their color and stay fresh) and then cover it with food wrap and it'll keep in the fridge for up to 2 days, as long as the date in your chicken lasts that long.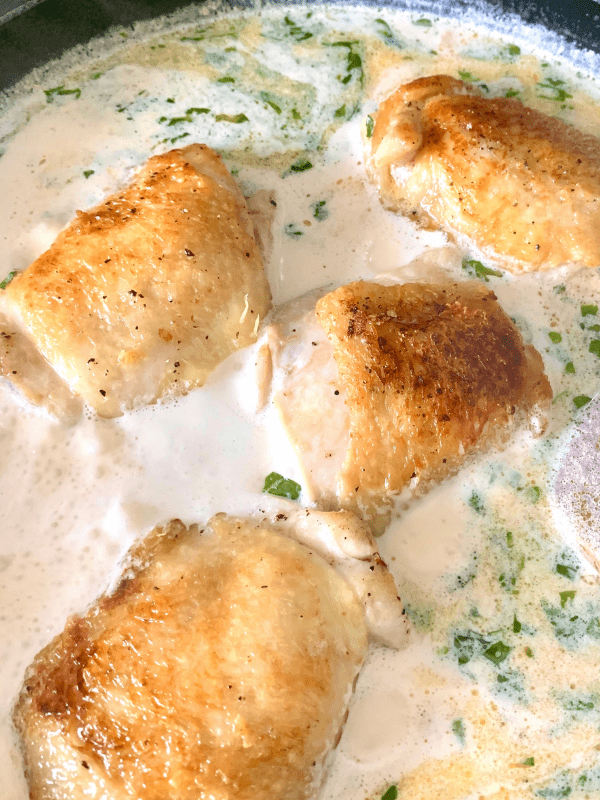 Keep the recipe in an oven proof dish so you can reheat it without having to transfer it to another dish.
The Tarragon sauce will thicken a lot in the fridge, so don't be alarmed by this! To reheat this recipe, take the dish out of the fridge a couple of hours before reheating to bring the dish to room temperature.
Heat the oven to 190/340 and cover the dish with foil to stop the sauce forming a skin in the oven. Once the oven is hot, reheat until the sauce is piping hot and then take the foil off for 5 minutes to allow the chicken skin to crisp up again. Serve straight away with the sides you've chosen.
More Clean Eating Chicken Recipes
How To Make Chicken With Tarragon Cream Sauce
Ingredients
6 Chicken thighs Skin left on
½ Cup Heavy cream
1 Onion Sliced finely, optional
2 tbsp Butter
1 Garlic clove Minced
1 Cup Chicken stock
2 tbsp Olive oil
Salt & Pepper For seasoning
2 tbsp Tarragon Fresh, leaves removed and chopped finely
1 tsp Tarragon Leaves, for garnishing
Instructions
In a large frying pan, add the olive oil and heat on a medium heat setting
Brown the chicken thighs, skin down. Turn over after 3-4 minutes and cook on the under side. Turn again until the chicken thighs are fully cooked through and any juices run clear. Put on a plate and leave to one side
Turn the heat down on your cooker top. In your frying pan, add a little more Olive oil and if you're using onion, gently fry the sliced onion until soft and cooked through and the garlic, making sure the heat is low enough that the garlic doesn't burn (it turns bitter if it burns)
Add the chicken stock, butter and cream and combine. As the butter melts into the cream, use a spatula to scrap any chicken bits off the bottom of the pan and combine into the sauce
Add the chopped Tarragon and then season the sauce well with salt and pepper
Simmer the sauce for a few minutes on a low heat
Plate up the chicken thighs and then divide the sauce over each chicken thigh and serve with mashed potatoes and vegetables
Chicken With Tarragon Cream Sauce Recipe
Chicken With Tarragon Cream Sauce
A simple chicken recipe with a mild, yummy sauce for the mashed potato to soak up :)
Ingredients
6

Chicken thighs

Skin left on

½

Cup

Heavy cream

1

Onion

Sliced finely, optional

2

tbsp

Butter

1

Garlic clove

Minced

1

Cup

Chicken stock

2

tbsp

Olive oil

Salt & Pepper

For seasoning

2

tbsp

Tarragon

Fresh, leaves removed and chopped finely

1

tsp

Tarragon

Leaves, for garnishing
Instructions
In a large frying pan, add the olive oil and heat on a medium heat setting

Brown the chicken thighs, skin down. Turn over after 3-4 minutes and cook on the under side. Turn again until the chicken thighs are fully cooked through and any juices run clear. Put on a plate and leave to one side

Turn the heat down on your cooker top. In your frying pan, add a little more Olive oil and if you're using onion, gently fry the sliced onion until soft and cooked through and the garlic, making sure the heat is low enough that the garlic doesn't burn (it turns bitter if it burns)

Add the chicken stock, butter and cream and combine. As the butter melts into the cream, use a spatula to scrap any chicken bits off the bottom of the pan and combine into the sauce

Add the chopped Tarragon and then season the sauce well with salt and pepper

Simmer the sauce for a few minutes on a low heat

Plate up the chicken thighs and then divide the sauce over each chicken thigh

Scatter the remaining Tarragon over the chicken and serve with mashed potatoes and vegetables