* We sometimes use affiliate links, so we may receive a commission, at no cost to you, if you make a purchase through a link. Check our disclosure for more info.
A dense, deliciously sweet date loaf with the most insane secret ingredient. This Clean Eating Banana and Date loaf is packed with nutrients, refined sugar free and has no 'lumpy date bits' (for picky eaters).
Clean Eating Date Loaf
This recipe uses 100% whole food ingredients to create a dense, moist date loaf that can be eaten on it's own or smothered in homemade custard as a healthy dessert. The best thing about it, is that most of the ingredients you need to make it are probably already in your kitchen right now.
Key Ingredients you are going to need
Plain Flour – You can use regular plain flour, but I choose to use Einkorn Flour in most of my baking now. I know many Clean Eating Recipes call for wholegrain, but the more I read up on it, it seems that most of the wholegrain flours (including Organic versions) we have available to us have been genetically modified in a scary way. It's debatable whether this is a health issue or not – but personally, I have to go with my gut on this and I feel a whole lot better choosing an ingredient grown exactly the way Nature intended.
Dates – Dates have a bad reputation in the anti-sugar movement as they are high in Natural Sugars. The thing is, they are also high in a long list of nutrients and antioxidants. This, coupled with the fact that are a 100%wholegrain ingredient makes them good enough for me.
DIY Date Puree
This simple two ingredient mixture is obsessing me at the moment. It's an incredible nutrient rich substitute for sugar in a whole lot of recipes. I've recently used it in place of maple syrup in this Chocolate Chia Pudding and I'm blown away at how good it is. It changes the texture and taste, giving the pudding a thicker, velvety texture and caramel taste.
INSTRUCTIONS: HOW TO MAKE DATE PASTE
Date Loaf Variations
The best thing about this recipe is that it is so versatile. You can add nuts for a little crunch or divide it into muffin size portions for a healthy sticky date pudding option.
Date and Walnut Loaf – Add half a cup of chopped walnuts to your batter before baking.
Sticky Date Pudding – Use a muffin tray and divide the loaf mixture into 10 portions (doesn't quite do the full dozen). Reduce the baking time to around 20 minutes. Because ovens can be unpredictable – please check your mini puddings in the last five minutes of cooking and remove from the oven if done. Serve warm with a drizzle of hot maple syrup and fresh cream.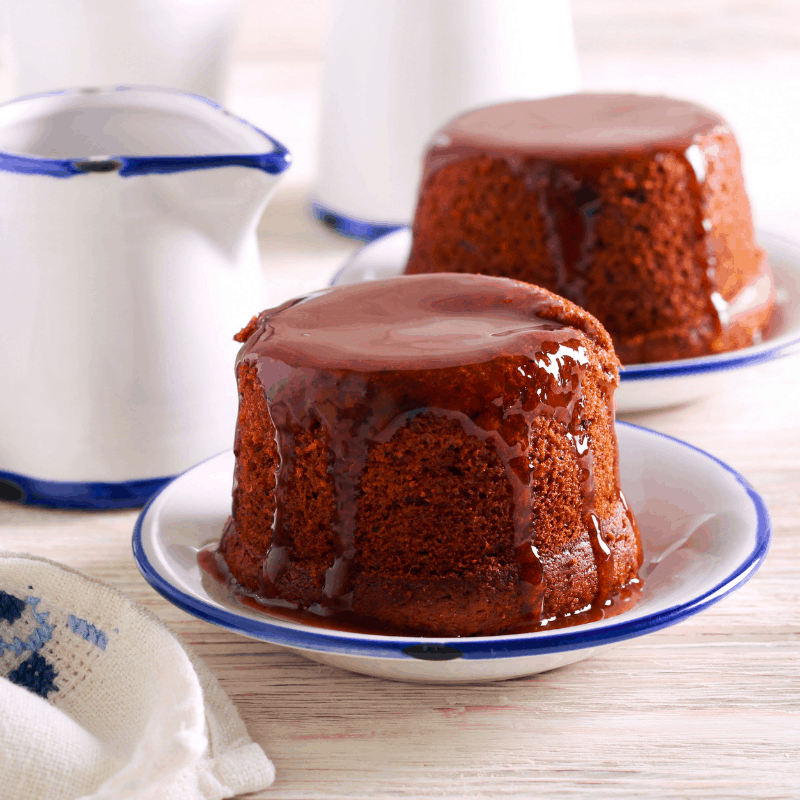 Clean Eating Banana and Date Loaf
A dense, deliciously sweet date loaf with the most insane secret ingredient. This Clean Eating Banana and Date loaf is packed with nutrients, refined sugar free and has no 'lumpy date bits' (for picky eaters). 
Ingredients
2

cups

dried

pitted dates

1 1/2

cups

boiling water

1/2

cup

4 oz butter

1

tablespoon

honey

1

teaspoon

baking soda

2

cups

Plain Flour

1

teaspoon

cinnamon

1

teaspoon

baking powder

1

medium

ripe banana, mashed

2

eggs

lightly beaten

1

teaspoon

vanilla extract
Instructions
Preheat oven to 350F / 180'C

Grease a loaf pan with butter or olive oil

In a large mixing bowl: add dates and boiling water. Cover and allow to cool for about 15 minutes. Process the dates AND the water in a food processor or blender until smooth. Return to it's bowl.

In a small saucepan: heat up butter and honey until just melted (not too hot). Add 1 teaspoon of baking soda and stir until the mixture reacts. It will react in seconds.

In the bowl with the pureed dates: add the mashed banana, butter and honey mix and vanilla extract.

In a separate large mixing bowl:

Add flour, cinnamon, baking powder. Make a little dent in the middle of the flour and pour in the wet date and butter mix and the eggs. Use a wooden spoon or spatula to combine well. It's quite a thick batter, and my hand mixer doesn't handle it, so I mix by hand using a

flat whisk.

Pour the batter into the loaf pan and bake for 45 - 55 minutes. (SEE NOTE 1).

Remove from the oven and allow to cool for about 10 minutes before transferring to a wire wrack.
Notes
Oven cooking times can vary. Don't know why, but they do. Keep an eye on your loaf in the last 10 - 15 minutes of cooking and vary time as needed. Insert a skewer to check if it's cooked through.
This is a dense loaf. It will sink a little once you remove it from the oven and that's OK.
This loaf freezes very well. Wrap the entire loaf in freezer proof bag or in individual slices for lunchboxes.
---
RECENT POSTS
---
LIKE IT? PIN IT HERE