A failproof, super yum & gluten free lunchbox treat. These Clean Eating Choc Chip Banana Blondies are one of the most requested recipes in our home. A moist choc-chip banana slice that's low on sugar and wheat free.
More Lunchbox Tips and Recipes
---
I'm just going to tackle the elephant in the room. My photos of these yummy choc banana slice look horrible. I had kids waiting impatiently to eat them. The lighting was bad and my phone had a blurry screen (from my sticky baking fingers – but I only figured that out when I uploaded them to my computer).
Don't let my crappy images put you off making this recipe. It's bloody awesome!!! The kids love it. It hardly has any sugar. It's pretty much fail proof (sticking by this until someone tells me otherwise).
AND … it's Gluten Free.


The Gluten Free Thing
I don't normally go out of my way to make a recipe Gluten free, until recently. My eldest daughter has a sensitivity to Gluten which has become a little worse in her teens. Even the smallest smidgen of gluten results in stomach cramps and irritable bowel symptoms. Which is a pain the ass for me. I no need to make sure I include a Gluten free option at every meal.
It's harder than you think.
Anything gluten free from the store is generally packed with preservatives or additives. And as a home cook, I rely heavily on wheat flour. I didn't know how much I relied on it until I tried to cut it out.

Oat flour to the rescue.
After a LOT of trial and error and testing out as many Gluten free flour options I could find, I finally settled on using Oat flour as my go to Gluten free alternative in my baking.
It tastes so much better than most of the other gluten free flour options available and all my kids like it. Which is a pretty big deal. Because I don't like making food that nobody eats.
Clean Eating Choc Chip Banana Blondies
This slice is amazing! I make it all the time for our family. And for good reason too  – they love it and it's so versatile. It's perfect for lunch boxes, as an after school snack or a weekend treat. Actually, I'm going to go so far as to say you can even eat it for breakfast!
Couple of Notes about the Recipe
I add a little honey just to activate the baking soda, but I have a feeling the melting choc chips would do the job. I just haven't tested it yet. (If anyone skips the honey, please let me know how it turns out – I'm always looking for ways to reduce the sugar in our diet).
I use two ingredient dark choc chips in our home as I'm yet to find a sugar free choc chip that doesn't have a whole bunch of additives. Till then. I'll be sticking with these. 
Freezing your Blondies
After cutting into squares, you can freeze your choc chip blondies in a freezer proof container or freezer bag. When you are ready to eat them, simply thaw at room temperature until defrosted.
The Recipe
Print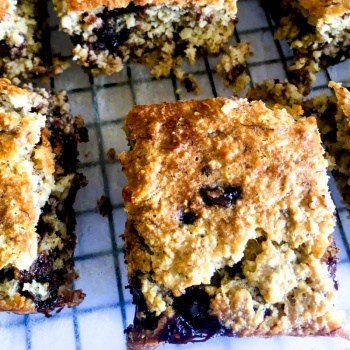 Clean Eating Choc Chip Banana Blondies
---
Description
A Ridiculously easy, gluten free lunchbox treat. These Clean Eating Choc Chip Banana Blondies are one of the most requested recipes in our home. A moist choc-chip banana slice that's low on sugar and wheat free.
---
Scale
Ingredients
Wet Ingredients
2 x ripe bananas, mashed
1 Tablespoon runny honey
50g  (3 1/2 tablespoons) of melted / softened butter
3/4 Cup milk (or milk alternative)
2 Eggs, lightly beaten
1 teaspoon vanilla extract
Dry Ingredients
1 3/4 cups Oat Flour 
1 teaspoon baking soda
1 teaspoon baking powder
Other
1/2 cup dark choc chips
---
Instructions
Preheat Oven to 180'C / 350F
Line a 9×13 inch baking tray with baking paper
Mix all wet ingredients together.
In a separate mixing bowl, sift all dry ingredients together.
Add the dry ingredients to the wet mix and fold together with a spatula until just combined.
Stir through choc chips.
Pout into baking tray
Bake for 15 – 20 minutes until golden and springs back on touching.
---
Stay in Touch
Be sure to Subscribe to our newsletter, like our Facebook page, and follow us on Pinterest for tasty recipes, clean eating tips, and healthy family resources.  For more delicious and nutritious recipes from Clean Eating with Kids, check out all our family friendly Clean Eating Recipe here.
LIKE IT? PIN IT HERE