* We sometimes use affiliate links, so we may receive a commission, at no cost to you, if you make a purchase through a link. Check our disclosure for more info.
Already dreading the tide of hungry after school kids? Whether you are looking for that simple, perfect healthy after school great snack or really want to impress a hungry crowd of kids (and their parents) – these apple chips with cinnamon are easy to make and is a winner every time.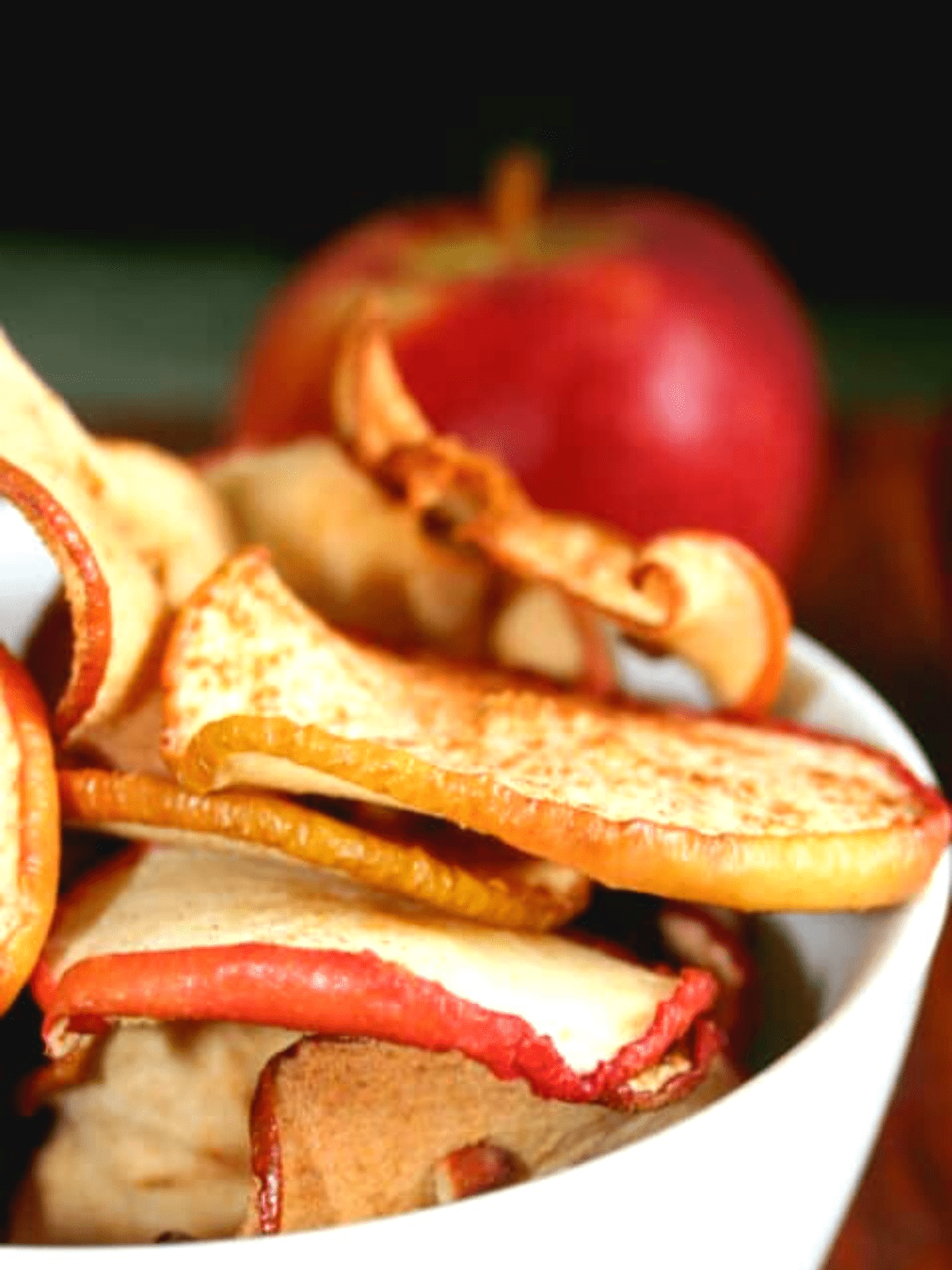 Grab the FREE 18 Meal Ideas CHEAT SHEET Here!
Apple Chips With Cinnamon
This healthy snack is amazing. Really. So simple and yet so delicious. And just two ingredients. They're a magical marvel :)
When I make a batch of these for a shared lunch at school I squeeze three trays in the oven which works out to around 6 – 8 apples.
I know you are thinking "Ah huh She's that kind on Mom that only serves cut up carrots at a birthday party". OK, so I do serve cut up carrots at birthday parties but don't judge this one – ALL the kids love these. They're a delicious snack.
I work on one apple per child, so if I'm making a batch at home I usually slice up four apples. This makes just enough for all four kids and myself.
The trick to getting these cinnamon apple crisps perfectly curled and crispy is to:
Bake them on low for long
Slice them really thin, using the sharpest knife, slinky or mandolin
Lay the apple slices flat in a single layer and make sure they don't overlap too much so they crisp up
Don't worry if you break a few while cutting. Half crisps taste just as good.
If I'm in a hurry and I have a lot to crisps to make, I use my Apple Slinky
 machine to slice and core the apple. You can get through 8 apples in around a minute. The only issue with this is that it cuts out the pretty little apple star in the middle and I really like the look of it. The great thing about it is that it turns a regular ol' apple into the most desired piece of fruit in the kitchen. My kids line up to make apple slinkys.
More Healthy Snacks
Apples For Apple Chips
What are the best apples to use? There are so many kinds of apples in grocery stores , but I find red apples are the sweetest but you can make these chips with any apples you have, excluding cooking apples which are not sweet enough. I don't add any sugar to these and so rely on the natural sweetness of the apple, so try and get the sweetest apples you can.
Granny smith, Pink lady or Fuji apples all work well so if you can get hold of these where you live, do.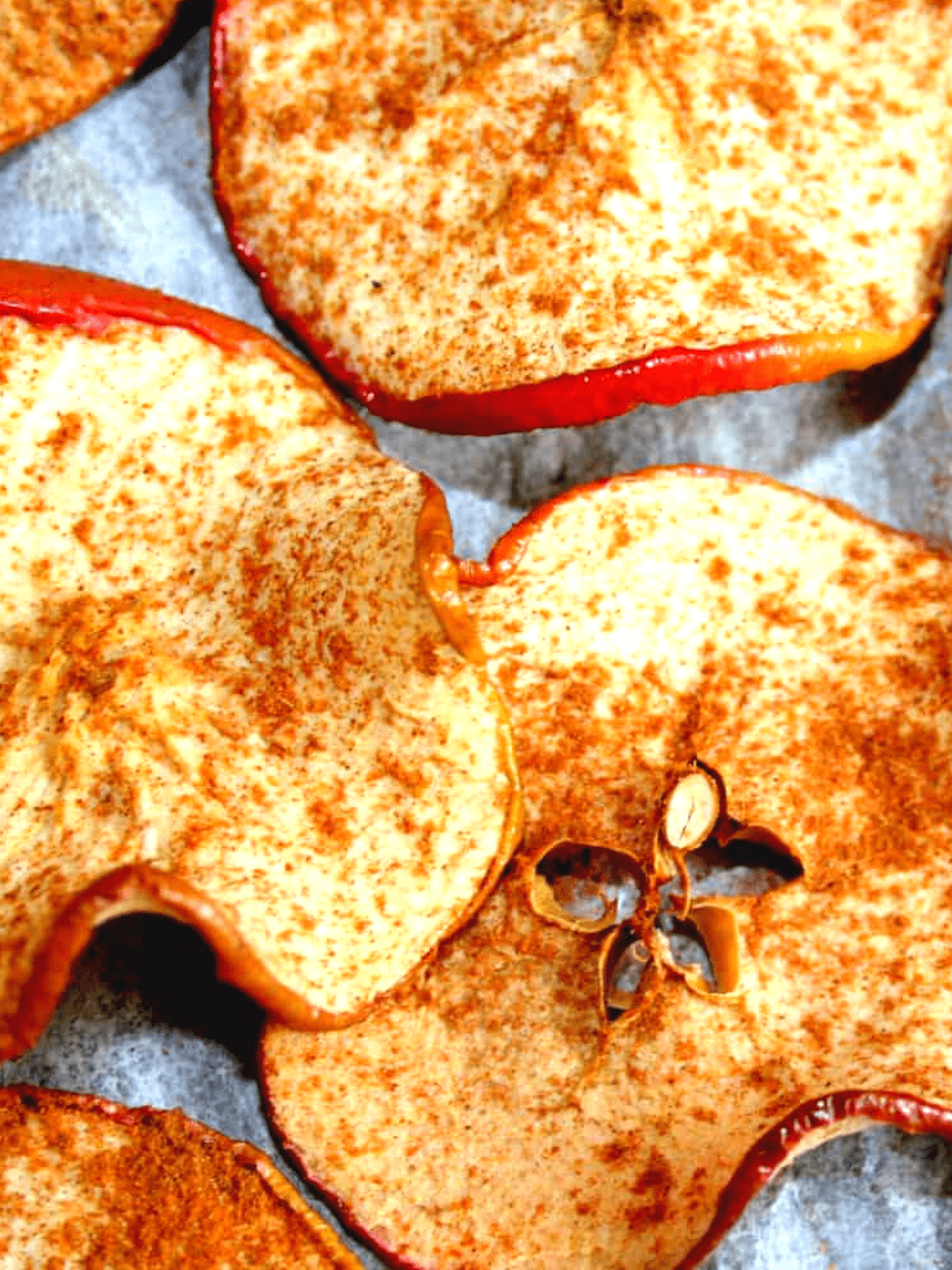 Storing Apple Chips
These are SO moorish I really doubt you're gonna need to be storing these. But in case you do, simply put them into an airtight container and keep them at room temperature. They'll keep their flavor for 2-3 days.
How To Make Apple Chips With Cinnamon
Ingredients
1 Fresh Apple I go on one apple per person
1 tbsp Cinnamon
Instructions
Heat Oven to 150c or 300f
Slice apples finely using a sharp knife or apple slinky
Place sliced apples on an oven tray, baking sheet or prepared with non stick baking paper.
Sprinkle with cinnamon.
Bake for 50 – 60 minutes until apples crisps are dry and curly, turning once half way through cooking
*If you have a dehydrator you can also pop these in there
Apple Chips With Cinnamon Recipe
Apple Chips With Cinnamon
Easy, two ingredient Cinnamon Apple Chips, guaranteed to impress everyone!
Ingredients
1

Fresh

Apple

I go on one apple per person

1

tbsp

Cinnamon
Instructions
Heat Oven to 150c or 300f

Slice apples finely using a sharp knife apple slinky

Place sliced apples on an oven tray prepared with non stick baking paper.

Bake for 50 – 60 minutes until apples crisps are dry and curly, turning once half way through cooking