* We sometimes use affiliate links, so we may receive a commission, at no cost to you, if you make a purchase through a link. Check our disclosure for more info.
This Clean Eating Chia Pudding with coconut water is packed with coconut and raspberries, takes 5 minutes to put together and is seriously yummy! The natural sweetness of this pudding means this has become a firm family favorite.
*while this is officially a pudding it makes a darn good snack or a healthy breakfast too :)
Chia Pudding With Coconut Water
Chia seed desserts are a relatively new discovery for me. I didn't even know chia seeds existed until about two years ago. And now I am making up for lost time.
Magic happens when you add those tiny seeds to pretty much anything.
According to Legend, Aztec warriors ate chia seeds to give them high energy and endurance. I figure that may have just been an excuse because they are fun to eat too. But I tell my kids this story anyway, I think it helps :)
Aside from making you run a little faster, Chia Seeds are little powerhouses with a ton of other health and nutrition benefits like:
Promoting healthy skin,
Reducing signs of ageing,
Supporting the heart and digestive system,
Building stronger bones and muscles
they've even been linked to helping reverse diabetes
And they are crazy high in fibre so. Um. They help you poop :) (source)
Ingredients
There are relatively few ingredients in this pudding and they're all there because they add something special to it. On paper this pudding is more nutrient vehicle than pudding, but the flavor and natural sweetness mean it feels luxurious while being entirely guilt free.
Chia Seeds
It's really great that they are so good for us, but I use Chia seeds for one simple purpose: to turn any drinkable smoothie into a thick dessert you can eat with a spoon.
Yup. Science at it's best.
You can take pretty much any smoothie – milk or fruit based – add one tablespoons of Chia Seeds to two cups of liquid and leave for a couple of hours – up to 2 -3 hours for max set-ability (I know it's not a word) – and voila! The Chia seeds start to act like Gelatin and form a pocket of jelly around each seed. The liquid becomes a solid and Pudding is ready to be served.
Raspberries
Delicious fresh raspberries (frozen are good too!) are so good. My kids love them. We don't have a reliable source from the back garden so I'm usually buying these from the supermarket and when they're in season, they're oh so good. And being a good source of Vitamin C and fibre, I'm keen to get the kids munching these!
Chia Seed Gel
The word gel isn't overly appealing is it. I get it. I never use this word to describe foods I want the kids to eat, it wouldn't help a thing in my house. But, that's what it is.
To prepare chia gel, you will need to add one tbsp of chia seeds to two cups of liquid. This can be anything from coconut milk, fruit juice, coconut water and even plain old water. The gel will begin to form within 15 minutes as soon as the seeds start to absorb the surrounding liquid.
Maple Syrup or Honey
I add 1 tablespoon of maple syrup or honey to this to boost the sweetness. That's ONE tablespoon between the whole recipe. It adds another level of sweet, feel free to leave this out if you prefer. Perhaps it's because I use coconut water and not cream that I feel it needs it. Try it without if you're using a creamier liquid to make this and see how it is. You can always add a little honey or syrup on top.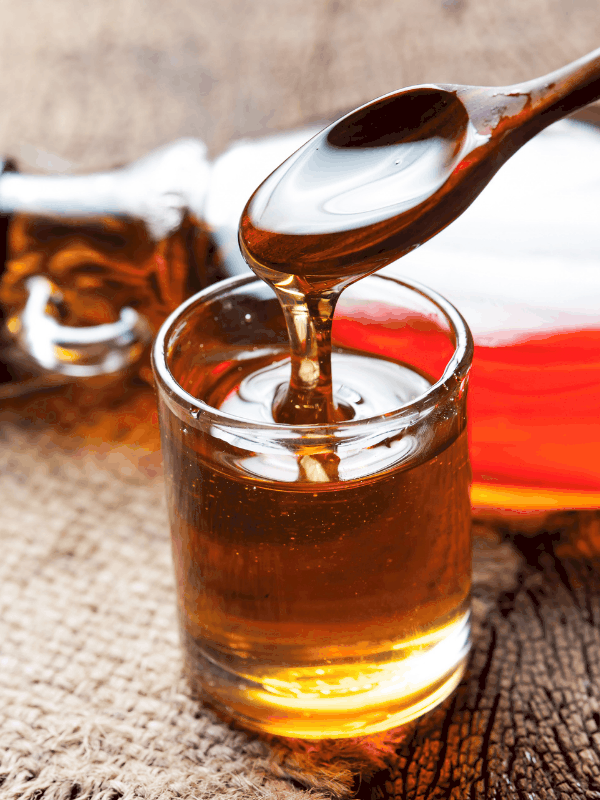 Vanilla Extract
Adding a really small bit of vanilla extract, or vanilla bean as I've been using is something we really like. Again, this is personal taste so if you have some vanilla haters in your gang, leave it out.
Coconut Water
I like to use coconut water in this recipe. You can choose to use any liquid you like, including coconut milk, dairy milk or any plant based milk you happen to like the taste of. The chia seeds need the liquid to be able to make this pudding, but the liquid you choose is up to you. You could even use coconut cream for a super indulgent, creamy pudding.
The only reason I choose coconut water for this recipe is that I'm trying to give the kids a variety of everything and coconut water is naturally low in sugar, while containing a variety of electrolytes, including sodium, potassium, calcium, and magnesium.
Shredded Coconut
Adding shredded coconut gives this a definite coconut flavor you don't get from the coconut water. The blender will do away with any 'bits' so you could also use coconut flakes as well if you have them in your pantry. Nothing's set in stone, play around with it and see what works for you.
More Clean Eating Chia Seed Recipes
A Quick Note for Fussy Eaters
Some kids may protest over the texture of the seeds in the dessert the first time they try it. If you haven't tried chia seeds yet – imagine little balls popping when you bite them. I know it sounds strange, but give it a go and don't give up. Start by adding it to smoothies and serving before it has time to gel completely so that you can get them familiar with the new texture.
How To Make Chia Pudding With Coconut Water
Ingredients
1 Cup Frozen or fresh raspberries
1 small banana
½ Cup Full-fat coconut milk or almond milk
½ Cup filtered water
2 tbs chia seeds
1 tsp honey optional
2 tbsp Shredded coconut or coconut flakes
½ tsp Vanilla extract
1 tbsp Maple syrup or honey
Instructions
Blend all ingredients together in blender for 30 – 40 seconds until smooth
Pour into 4 cups or mini pudding pots and place in the fridge for 1 – 2 hours until set to a jelly consistency. Serve chilled
Chia Pudding With Coconut Water Recipe
Chia Pudding With Coconut Water
This Clean Eating Chia Pudding with coconut water is packed with coconut and raspberries, takes 5 minutes to put together and is seriously yummy!
Ingredients
1

Cup

Frozen

or fresh raspberries

1

small banana

½

Cup

coconut or almond milk

½

Cup

filtered water

2

tbs

chia seeds

1

tsp

honey

optional

2

tbsp

Shredded coconut
Instructions
Blend all ingredients together in blender for 30 – 40 seconds until smooth

Pour into 4 cups or mini pudding pots and place in the fridge for 1 – 2 hours until set to a jelly consistency. Serve chilled