* We sometimes use affiliate links, so we may receive a commission, at no cost to you, if you make a purchase through a link. Check our disclosure for more info.
Enjoy this nutrient dense, healthy makeover of a holiday classic. These Ginger muffins are high in protein , dairy free (unless you like them served with a little butter, of course) and a brilliant muffin to serve for morning tea or to pack in lunchboxes.
---
I've been thinking (too much time maybe?) ….. they should hand out muffin recipes when you leave the hospital after giving birth. Once you have kids, muffins (and smoothies deserve a special mention here too) become a household necessity. Like toilet paper.
You can get kids to eat anything if you make it look like a muffin. Vegetable muffins, Spinach muffins, pumpkin muffins, banana muffins , raspberry muffins .... you get the picture. It's a basic parenting hack that works just as well for toddlers as it does for Teens.
Remember those scratch and sniff stickers? I'm showing my age here, but they were a playground hit in the 80's. I did a little search and guess what, you still get them!
The point I'm making here is that these GIngerbread muffins smell AMAZING!!! Ginger, vanilla and …. a hint of cinnamon. Wish I could share it through the phone screen.
How to Make Gingerbread Muffins Right Now
1. Sift your dry ingredients into a bowl.
2. Whisk your wet ingredients together. Start by whisking the eggs, then add all the remaining wet ingredients.
3. Add the wet ingredients to the dry ingredients and mix together. Don't overmix your batter though. This is a particulary runny batter for a muffin mix, and it looks delectible but despite how proud you feel of your smooth, aromatic, perfection of a mix, you MUST resist the urge to keep stirring it.
4. Bake for 15 to 20 minutes at 350F / 180C. Ovens can vary in temperatures – I don't why. It's one of those life mysteries. My oven runs a little hot as it's old and a fan oven. So I check my muffins at 15 minutes. If they're still a little soft to touch I leave them a little longer. But 20 minutes is the maximum I've ever let them bake.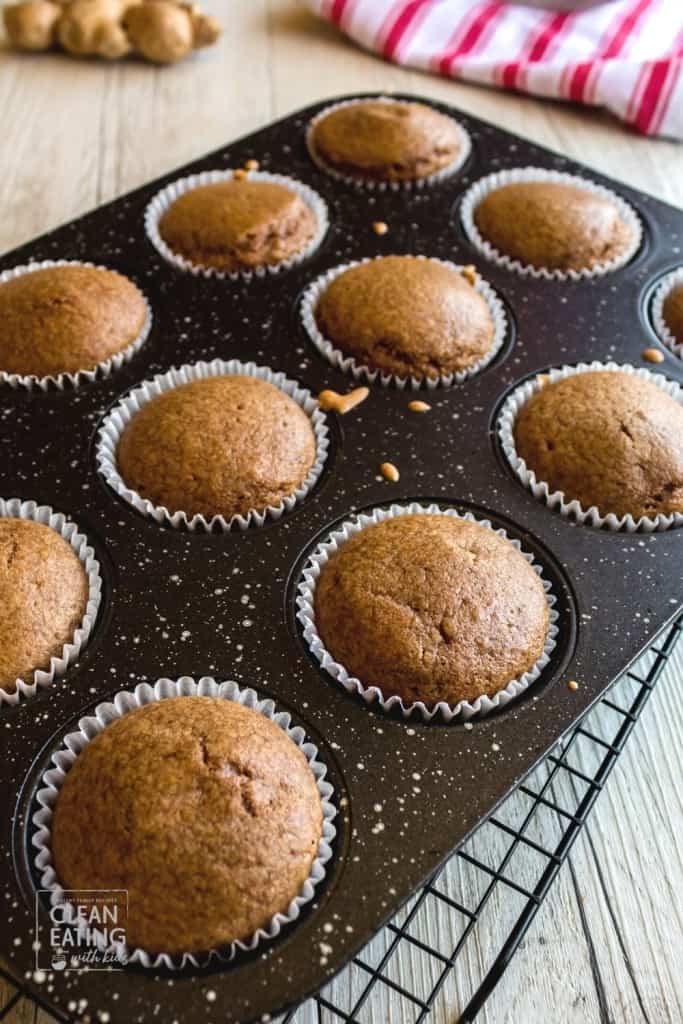 Pop them on a wire wrack to cool OR eat them smothered in hot custard as a darn good, healthy pudding.
And because life is short … and moderation is the key to most things … if you want to sprinkle a little sugar over the top – go ahead. They look really pretty with a light dusting of sugar.
Here's the Recipe
Clean Eating Ginger Muffins
Ginger, Cinnamon and a hint of vanilla all come together perfectly in these classic holiday muffins (which, to be honest) taste great out of the holidays too :)
Ingredients
Dry Mix
1¼

cups

spelt flour

½

cup

almond flour

(also called ground almonds)

2

tbsp

ground ginger

spice

1

tsp

cinnamon

spice

1

tsp

baking powder

½

tsp

baking soda

1/8

tsp

salt

just a pinch
Wet Ingredients
3

Eggs

½

cup

Maple Syrup

½

cup

Almond milk

2

tbsp

olive oil (mild tasting)

or melted coconut oil

1

tsp

vanilla extract

1

tsp

lemon juice
Instructions
Preheat oven to 180 Celcius / 350F and line a 12 hole muffin tray with some cupcake liners

Dry Mix: In a large mixing bowl, sift together spelt flour, almond flour, ginger, cinnamon, baking poder, baking soda, salt.

Wet Mix: In a separate mixing bowl, whisk eggs.Add maple syrup, vanilla, almond milk, lemon juice and olive oil

Add wet mix to dry mix and whisk or fold in until just combined.

Spoon into 12 hole muffin tray (the one you prepped early with liners)

Bake for 15 - 20 minutes. Check at 15 min by touching top of a muffin. If too soft, then allow an extra couple of minutes.

Remove from oven and transfer to wire tray to cool.
Notes
Store your cooled muffins in an airtight container in the fridge for up to a week.
Allow to cool completely before freezing.
---
Recent Posts