* We sometimes use affiliate links, so we may receive a commission, at no cost to you, if you make a purchase through a link. Check our disclosure for more info.
Thick and tasty homemade healthy hash browns. Made with real potatoes and ingredients you already have in your pantry right now.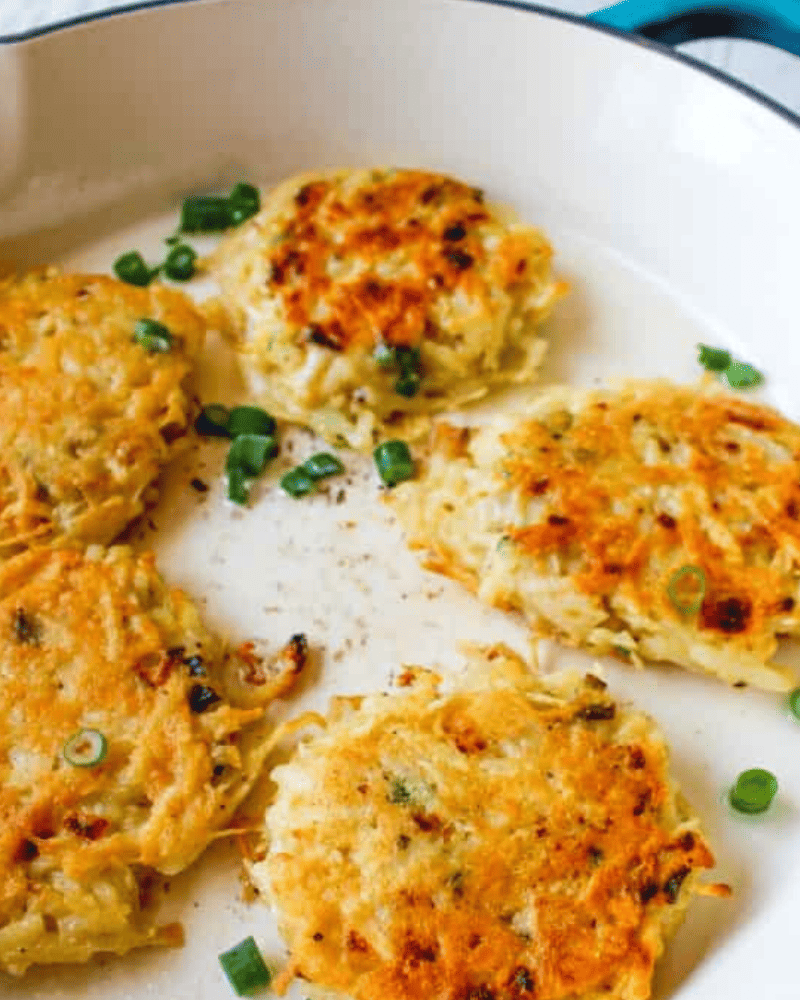 Grab the FREE 18 Meal Ideas CHEAT SHEET Here!
Homemade Healthy Hash Browns
For years, I bought the ready- made-just-heat-and-eat variety from the the Supermarket. The crappy ones. Homemade Hash Browns fell into the 'too hard' basket. This recipe changed all of that. Now I can't go back.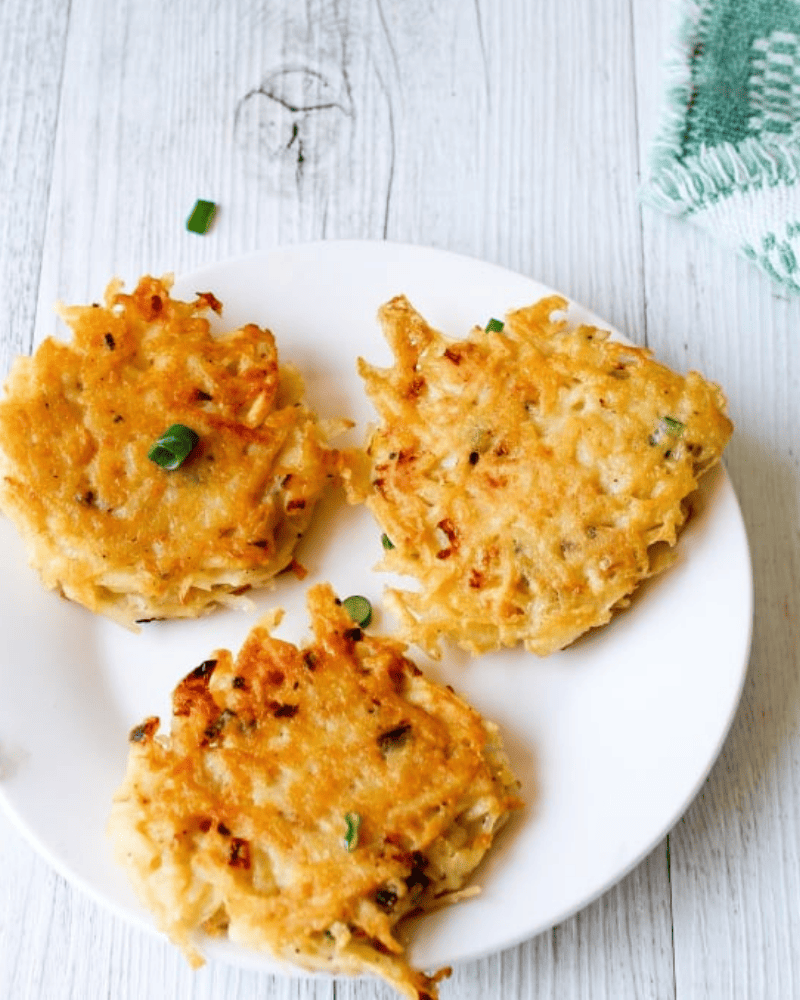 Hash browns make a great alternative to toast. Give them a go topped with a poached egg for a meal I guarantee your children will love. (I really suck at making poached eggs – especially when cooking for a crowd.
So I cheat. I use one of these pans to make 6 perfectly poached eggs every time).
We are lucky enough to have an amazing little cafe near to where we live It's run by a 'retired' chef. She opens the doors four days a week and only has 6 tables. It's a small town.
Her food is beautiful. Everything is made from scratch and customized to suit her every customer. You really do feel special when your egg arrives exactly the way you like it every single time. You don't even have to ask.
Anyway… she makes these hash browns that she serves with breakfast….  and we're not going to tell her… but these Homemade Hash browns taste EXACTLY the same. 
What To Serve With Hash Browns
How To Get Perfect Hash Browns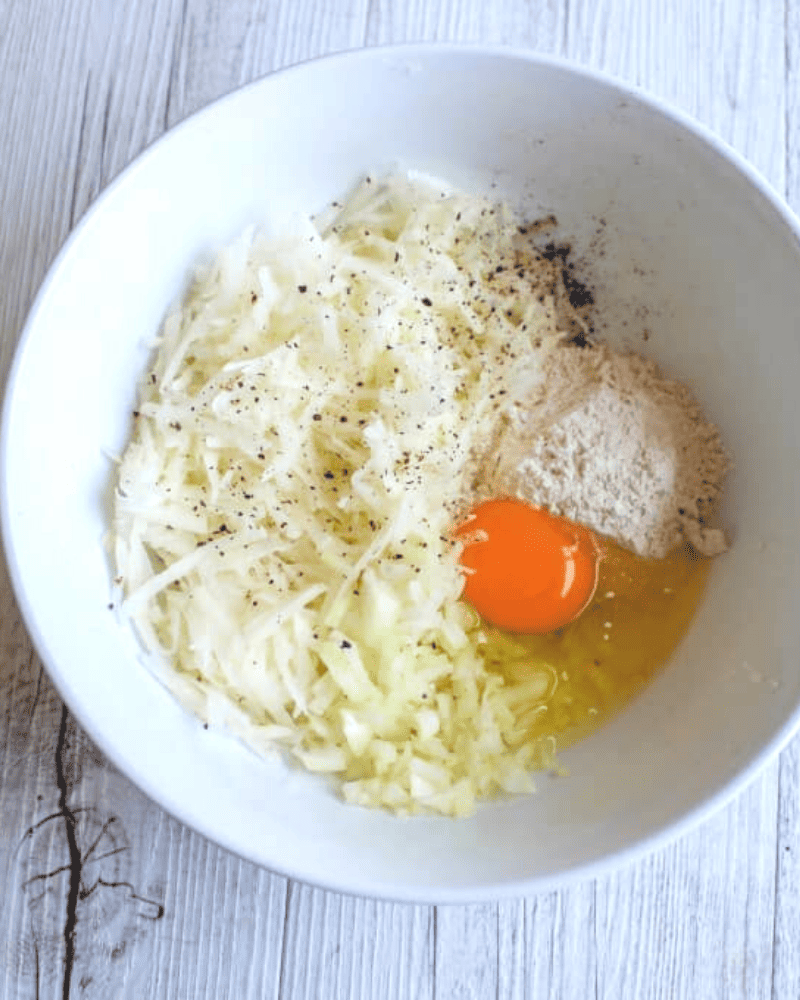 Grate 5 medium sized russet potatoes.
You need about 1 and a half cups of grated potato for 6 serves of hash browns.
Russet potatoes are your classic, everyday potato. If you had to draw a potato – you'd draw a russet potato. It's oblong in shape with a thick dry brown skin and when cooked, it turns fluffy and mashy inside. It's a great potato all round for mashing, baking and it makes the best crispy roast potatoes too.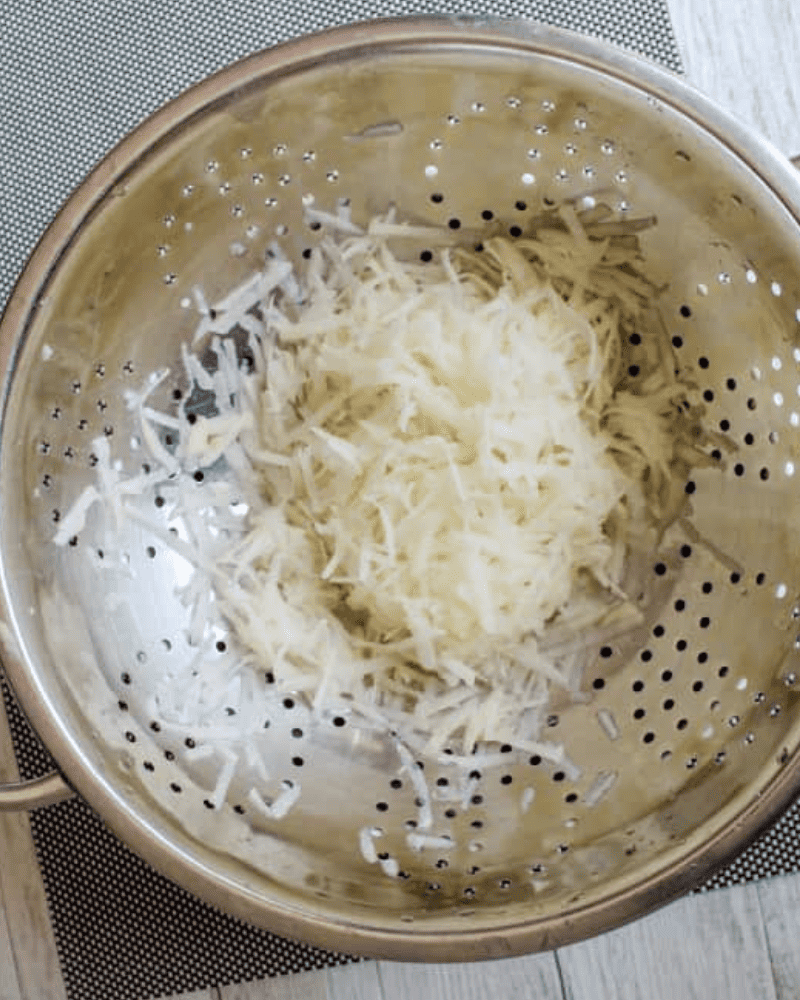 Rinse and Squeeze
Rinse your grated potato under cold water and squeeze out all the moisture. It's a hands on kind of job so don't be shy. 
Add your Ingredients 
Add the flour, egg, salt, pepper and chopped onion.
Mix together well
Mix together until everything is well combined.
Cooking time
Heat a pan on the stove top. Add 1 teaspoon olive oil (or coconut oil). Test your oil is hot enough by popping a piece of grated potato into it. When it starts to sizzle, then it's ready for your hash browns. Measure out 1/4 cup of the mix per hash brown. You should get 6 good sized hash browns.
Cook each side for around 5 minutes on a Medium heat. Turn when golden brown and cook the other side.
Soak up excess oil
Use paper towel to soak up excess oil after cooking.
How To Make Healthy Hash Browns
Ingredients
4 Russet potatoes Peeled and grated
1½ Cups Onion Grated
1 Spring/Summer onion Finely sliced
¼ Cup Flour I used spelt flour
1 Egg
1 tsp Olive oil
½ tsp Salt
¼ tsp Black pepper
Instructions
Peel and grate your potatoes. Rinse thoroughly and then squeeze out all the excess moisture. I use my colander for this job
In a mixing bowl, add grated potato, flour, egg, salt and pepper. Mix well until well combined
Heat a pan to medium heat. Add olive oil
Spoon in ¼ cup of potato mix into pan. It will look like a little potato pancake. Repeat until mixture is finished. You should get 6 hash browns out of your mixture
Cook for around 5 minutes until hash brown is golden underneath. Turn over and cook the other side
Remove from pan and lay on a paper towel to soak up any excess oil. Serve immediately
Notes
Optional: To make a cheesy version, add 1/4 cup grated Parmesan to your mixture
Healthy Hash Browns Recipe
Healthy Hash Browns
Thick and tasty homemade healthy hash browns. Made with real potatoes and ingredients you already have in your pantry right now.
Ingredients
4

Russet potatoes

Peeled and grated

1½

Cups

Onion

Grated

1

Spring/Summer onion

Finely sliced

¼

Cup

Flour

I used spelt flour

1

Egg

1

tsp

Olive oil

½

tsp

Salt

¼

tsp

Black pepper
Instructions
Peel and grate your potatoes. Rinse thoroughly and then squeeze out all the excess moisture. I use my colander for this job

In a mixing bowl, add grated potato, flour, egg, salt and pepper. Mix well until well combined

Heat a pan to medium heat. Add olive oil

Spoon in ¼ cup of potato mix into pan. It will look like a little potato pancake. Repeat until mixture is finished. You should get 6 hash browns out of your mixture

Cook for around 5 minutes until hash brown is golden underneath. Turn over and cook the other side

Remove from pan and lay on a paper towel to soak up any excess oil. Serve immediately
Notes
Optional: To make a cheesy version, add 1/4 cup grated Parmesan  to your mixture