* We sometimes use affiliate links, so we may receive a commission, at no cost to you, if you make a purchase through a link. Check our disclosure for more info.
These Tuna patties with no egg involved are supposed to be something I make with left over mashed potato. But… I admit it, there's never any leftover mash potato in our house. I had to make up a whole new batch specially for this recipe. It was so worth it.
I actually planned on making mini tuna fish burgers for lunch today (and for today's recipe), but in the time that it took me to take a couple of photos for the post, little hands had removed half the batch. So the tuna fish burgers became Tuna Fish Patties with freshly squeezed lemon and they were delicious.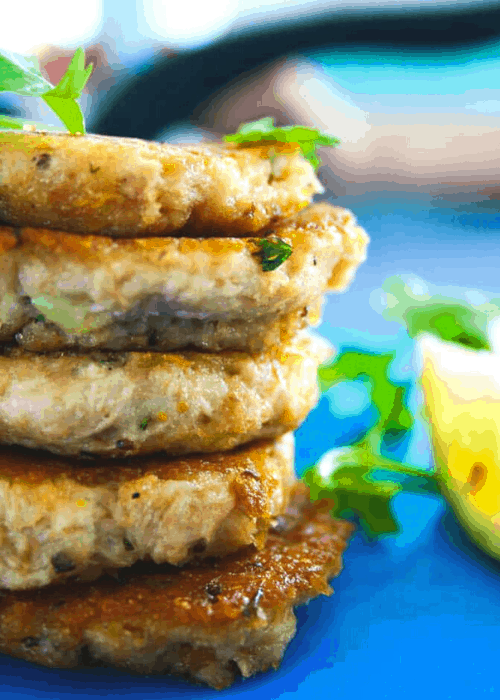 Grab the FREE 18 Meal Ideas CHEAT SHEET Here!
Tuna Patties With No Egg
This recipe doesn't use eggs, simply because it doesn't need it.
Many Tuna Patty recipes use bread crumbs and egg to bind the patty together, but I prefer using mash potato when making my fish patties. I've had my kids taste test both versions and the potato comes out on top every time. I think it's a food texture thing.
Tuna Patties With Mashed Potato
My kids (most kids..?) already love mash, so these are something they're already happy with. Whatever, they go down a treat. The mashed potato also helps the tuna pattie cook better in my opinion. You get fluffy middle of soft mashed potato, and the crispy outside that can be hard to get with breadcrumbs.
And, as if that's not enough, these take a couple of minutes to out together, so if unlike us, you actually do have leftover, there's not a huge amount more to these than adding some Tuna and a few other nits and pieces.
Tuna Potato Cakes Without Breadcrumbs
For the same reason I don't use eggs in this recipe, there's also no need to use breadcrumbs. Potato fries like a dream in a little hot oil, and where the breadcrumbs would give a coating to a patty usually, the potato gives these everything they need.
Grab the FREE 18 Meal Ideas CHEAT SHEET Here!
Ingredients
Tuna
I use canned Tuna for these. I always buy dolphin friendly, and usually Albacore Tuna if I can find it. You don't really find Organic Tuna, simply because most of the Tuna available to us is wild. Farmed Tuna is slowly becoming more common and so Organic Tuna may become more readily available at some point, but…it's pretty hard to get right now, so try to get the best Tuna you can.
Mashed Potato
Make up your mashed potato as you usually would. I chop my potatoes small so they cook quickly and throughly, my kids balk at lumpy mash :)
I also usually add a little butter and season it well. I also invested in one of these potato ricers a while ago. If you thought you couldn't up your mash potato game, I urge you to buy one of these and kiss goodbye to lumpy mash forever!
More Clean Eating Fish Recipes
How To Make Tuna Patties Without Eggs
Tuna Patties (No Egg)
Fluffy on the inside and crispy on the outside, these Tuna patties take minutes to put together.
Ingredients
1

Can of Tuna 375g

½

cup

Mashed potato

½

teaspoon

chopped parsley

¼

teaspoon

wholegrain mustard

¼

teaspoon

grated lemon rind

1

teaspoon

freshly squeezed lemon juice

olive oil for cooking
Instructions
Drain the tuna. NOTE: You can use tuna in water or oil as long as you squeeze as much liquid out as possible.

Mix all ingredients together. Divide into 8 even balls.

Heat oil in a pan and place patties in the pan. Flatten them with your hand.

Cook for about 3-4 min on each side until they are golden brown.

Remove from the stove and allow to cook slightly. The patty will become firmer as you allow it to stand. Serve with freshly squeezed lemon (or as a fish burger with a wholegrain roll, lettuce and tartare sauce).
Recent posts