* We sometimes use affiliate links, so we may receive a commission, at no cost to you, if you make a purchase through a link. Check our disclosure for more info.
Struggling to get the kids eating Cabbage? Try this easy Fried Cabbage With Apples and Bacon recipe, it's sweet from the apples has the familiar taste of smoky bacon, and is fried in butter. Yum :)
Grab the FREE 18 Meal Ideas CHEAT SHEET Here!
Fried Cabbage With Apples And Bacon
Good cabbage recipes can be hard to come by. Cabbage is one of those vegetables that my kids needed a little more persuading to try. I think there were some memories of an over boil soggy Cabbage (yuk!) that had stuck and it took a little more time to get the tucking into.
It took several goes at different ways of cooking the cabbage to find a way they liked, but finally, this is the recipe :)
If your kids like bacon, this is such a good recipe. It's high in fiber and nutrition, cooked on the stovetop and the total time? minutes!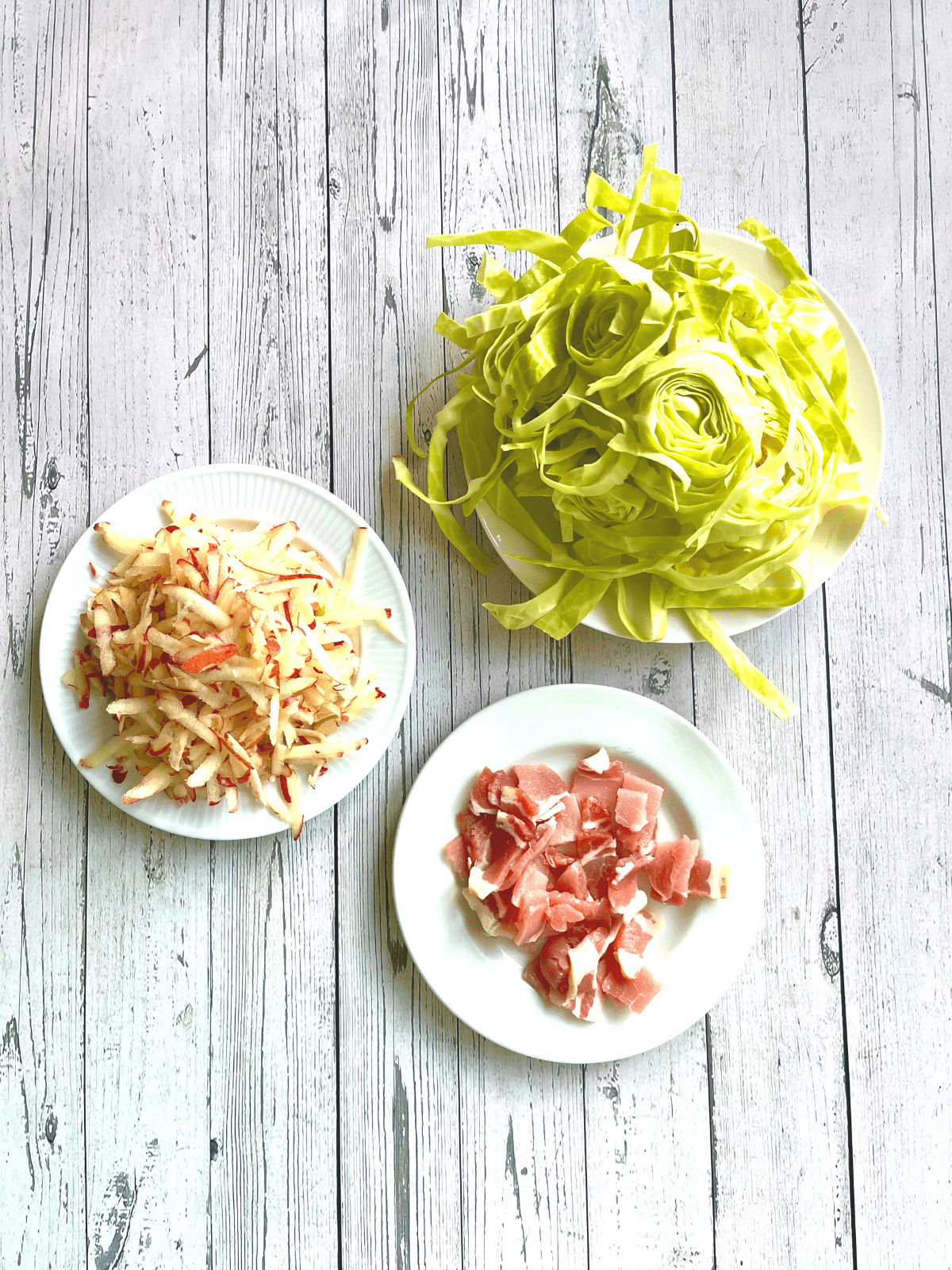 Bacon is often my go-to for adding to vegetables if I'm trying to gently encourage the kids to try new veggies or veggies that, shall we say, aren't their favorites! Because bacon has a strong flavor it's really useful in cooking with vegetables. Add to this some sweet apple and you have a side dish that's not only absolutely delicious but feels more like the comfort food it is rather than something you feel you should be eating.
I use white cabbage to make this side dish, you can also use red cabbage if you like. The flavors mild and it's easy to find in all the supermarkets. You can use any cabbage you can find in your local shops though, of course. If you cut the cabbage into thin strips it fries fast in the pan in the butter and residue fat from your bacon.
The bacon I use is a smoked bacon that I then cut into very small pieces, mainly because they crisp in like a dream but also because they cook fast. I also use bacon with the bacon fat left on to help the bacon really crisp up.
You can either grate the apple into this recipe, or cut it into very small cubes. I prefer to grate it, I think it makes the finished dish look pretty and the apple heats and cooked super fast.
More Clean Eating Vegetable Sides
What To Serve With Fried Cabbage & Apples
I use this cabbage easy side dish a lot if I'm cooking a roast. Apples go really well with pork and if I'm cooking this slow roasted pork belly this is the side I make. If you're roasting a chicken or cooking a joint of meat definitely give this cabbage a go, it's delicious with them.
I'll also make a huge dish if this if we have people over and are having a 'help yourself' type dinner. It's moorish and you may well find yourself sitting eating a bowl of this on its own. And if you're a mustard lover, a little English mustard goes like a dream with this. Just sayin' :)
Grab the FREE 7 Day Clean Eating Challenge Pack & Take The Kids Diet From Zero To HERO!
How Long Does The Cabbage Take To Cook?
You can eat cabbage raw as you do in a coleslaw and so this cabbage can be cooked exactly to your liking. Lots of us have memories of soggy cabbage and soggy cabbage is so off putting it's stopped many of us eating it very often. But it's SO good!
We like to cook cabbage so it's cooked but with a slight crunch. Very slight. Not raw at all and totally cooked through but not soggy! In a pan this takes about 6-7 minutes to Sauté and become tender. You can try the cabbage to make sure it's cooked enough before serving. If it's not quite cooked enough, just keep it in the pan and cook it for another minute or two.
Additions
There are a few things you can add into this if you like:
Garlic – If you have garlic lovers you can add in a crushed clove of garlic a minute or two before your bacons finished cooking and then cook the garlic for the final couple of minutes with the bacon. Try not to let the garlic burn, you may have to turn the heat down a little, and make sure to move it around the pan while it's cooking.
Onion – I keep this onion free, but feel free to add in one small diced onion. If you're going to do this, after you've cooked your bacon and before you cook the cabbage, fry the onion gently until it's cooked through and then remove and put it to one side while you cook the cabbage. Then add it back in when the cabbage is cooked.
Red pepper flakes or Chili flakes – If you'd like to turn up the heat, add a pinch or half a teaspoon of chili flakes to the bacon
Fried Cabbage Leftovers
Usually I'll sit and finish off any of this if there's any leftovers. If you're not like me you can keep this in the fridge for 2 days and then reheat it in the pan when you want to finish it off.
I'd simply put the leftovers in a smaller dish and cover it with food wrap. If you store it in a microwavable dish you can then heat it up straight from the fridge and not have to create any more washing up. Yay! You can of course also use an airtight container.
Grab the FREE 18 Meal Ideas CHEAT SHEET Here!
How To Make Fried Cabbage With Apples And Bacon
Ingredients
1 Cabbage I used a white pointed cabbage
2 Apples Grated
2 Rashers Bacon Smoked, slice into small strips
½ tablespoon of Butter To fry the cabbage
Salt and black pepper To season
Instructions
Wash and chop your cabbage into thin strips, then break them up so they're not stuck together. Grate your apples
In a large pan or large skillet heat half your butter to grease the pan and fry the bacon until it's crispy, then use a slotted spoon to put it on a plate and keep to one side
Add the rest of the butter to the pan you fried the bacon in and heat on a medium heat. Add the chopped cabbage and gently heat until it softens and cooks through. This takes about 6-7 minutes. Season well with salt and pepper
Put the grated apple into the pan with the cabbage and combine. Cook for a couple of minutes
Add the bacon back into the pan, stir through and cook for a further minute
Serve
Fried Cabbage With Apples And Bacon Recipe
Fried Cabbage With Apples And Bacon
Struggling to get the kids eating Cabbage? Try this easy Fried Cabbage With Apples and Bacon recipe, it's sweet from the apples has the familiar taste of smoky bacon, and is fried in butter. Yum :)
Ingredients
1

Cabbage

I used a white pointed cabbage

2

Apples

Grated

2

Rashers

Bacon

Smoked, cut into small strips

½

tbsp

Butter

To fry the cabbage

Salt and pepper

To season
Instructions
Wash and chop your cabbage into thin strips, then break them up so they're not stuck together. Grate your apples

In a large pan heat half your butter and fry the bacon until it's crispy, then put on a plate and keep to one side

Add the rest of the butter to the pan you fried the bacon in and heat on a medium heat. Add the chopped cabbage and gently heat until it softens and cooks through. This takes about 6-7 minutes. Season well with salt and pepper

Put the grated apple into the pan with the cabbage and combine. Cook for a couple of minutes

Add the bacon back into the pan, stir through and cook for a further minute