* We sometimes use affiliate links, so we may receive a commission, at no cost to you, if you make a purchase through a link. Check our disclosure for more info.
One of the most popular spices on earth, Cinnamon make a very regular appearance here around the Holidays and for good reason. It's warming, festive and these healthy cinnamon muffins are just the thing for on the go breakfasts, lunchboxes, after school snacks or with a simple cup of tea. Enjoy :)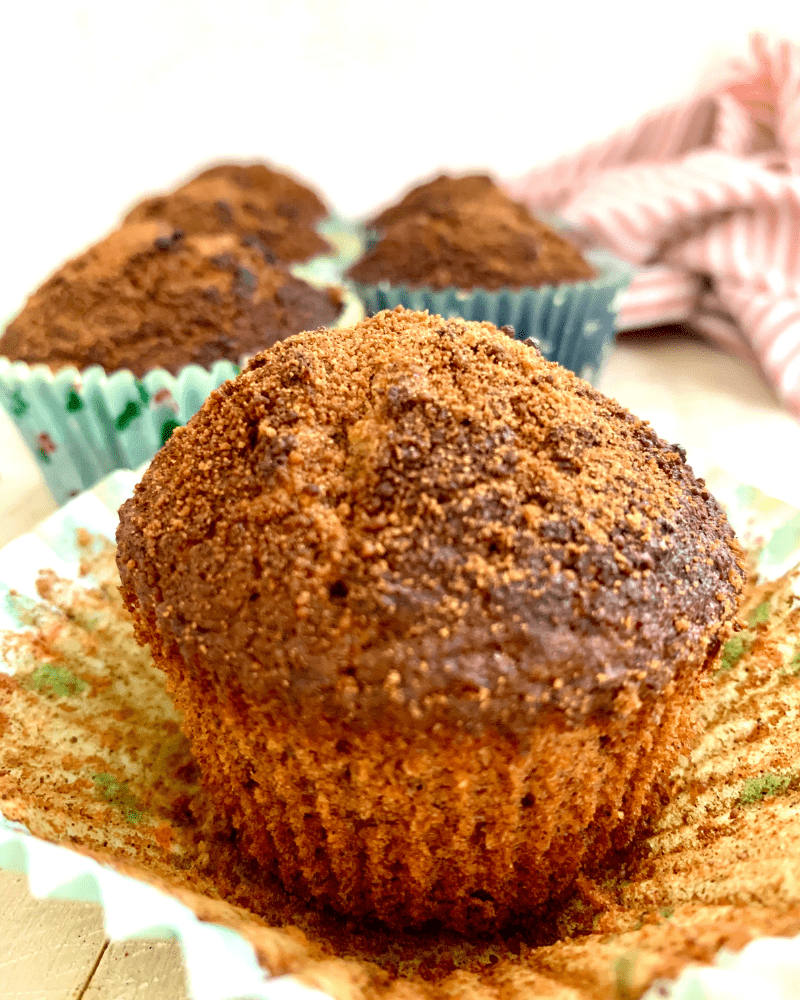 Grab the FREE 18 Meal Ideas CHEAT SHEET Here!
Healthy Cinnamon Muffins
These healthy cinnamon muffins are a straight forward classic muffin flavoured with lots of ground cinnamon. They have no refined sugar in them, I use maple syrup to sweeten these as I do with many muffins and this gives them a more natural sweetness that's not overwhelming. We didn't quit all sugars when we stared eating Clean and you can read about that here.
If you read my blog regularly you'll know I'm a fan (as are my kids!) of all things muffin and if I can bake it into a muffin, I will. I often make savoury muffins but during the Holiday season and the run up to it, I like to have some sweeter snacks on hand for the kids lunch boxes and as any-time snacks. It helps keep us all on track. And so I make more than a couple of batches of these across the Holiday season: They're a well loved classic for us and never seem to hang around long!
Grab the FREE 7 Day Clean Eating Challenge Pack & Take The Kids Diet From Zero To HERO!
Although I do make these at other times of the year as well when we make these at Christmas I like to jazz them up a bit and pop them in some sparkly Christmas cases, if I have any! Usually I'm, more of a fan of either baking muffins right in the tin so they're case-less or in plain paper cases. But this is Christmas and when the kids were smaller the sparkle appealed massively and so I went with it, and tradition's stuck! Obviously they're a little bigger now and waaaay to cool for sparkly cases. So now it's more for me: I'm sticking with the sparkle!
If you're a real hardy cinnamon fan, try adding a touch of this whipped cinnamon butter and eating these while they're still warm for a bit of extra deliciousness :)
Super Healthy Cinnamon
If you like to cook, or even if you hate it and still cook (!) the chances are you've used cinnamon at least a few times in your cooking and baking. Since we started eating Clean I use quite a few spices but cinnamon is the one I have to restock the most often. We get through more cinnamon than any other spice and I don't have any cinnamon haters. Phew. Because I love it too!
Cinnamon Sugar
I like to add a little cinnamon sugar on top of these before they go in the oven and then a teeny tiny bit more when they come out. It's literally just a table spoon of coconut sugar and a teaspoon of cinnamon, mixed, and lightly sprinkled on top. It gives the muffins a nice sweet crunch when you take that first bite!
Other Ingredients
The ingredients list is straightforward and the usual muffin mix ingredients.
Oatmeal
I like adding Oatmeal to muffins in place of flour. It's higher in protein than flour and as per this recipe, I usually whizz the bulk of the oatmeal into a flour and add the last part as whole oats. This gives the muffins a bit of extra texture.
Since oatmeal is traditionally a breakfast ingredient as it's filling and keeps you going, I also give these to the kids for breakfast if we have some left over and I stumble into one of those where's the time gone kinda mornings.
Maple Syrup
Pure maple syrup only, none of the maple flavored breakfast syrup I see so often in the supermarkets now. It can be expensive so shop around for a really good quality maple, and if you see a good one on offer, try to stock up!
Baking Tips
Use beaters like these to get the wet mixture really light and fluffy. This gives you lighter muffins
When sprinkling the cinnamon sugar before baking, be careful not to get it on the baking tin. Sugar bakes hard onto muffin tins and is really really hard to get off :)
If you have really little kids you can turn this into mini muffins. I'd recommend halving the ingredients if you're doing this or you'll end up with 30-40 muffins!
Maple syrup screw top stuck? Mine too! This is the sugar crystallising where you've used the maple syrup before and it's dried hard, hence the lid not opening. Cure? Run the lid under hot water for a few seconds to melt the sugar. The lid unscrews easily. Voila!
Freezing And Storing
These muffins can be stored at room temperature in an airtight container for up to 3 days. Once these are cooked and cooled, put them straight into the tin to stop the air getting to them.
You can also freeze these. Yay! You can freeze these after a day or two if you know you're going to have some left over. Pop them into a freeze loc bag and they'll keep in the freezer for up to a month. To defrost them, leave them out on the kitchen surface for a few hours or over night, covered, until they're fully defrosted and then they're good to eat.
More Clean Eating Muffins
How To Make Healthy Cinnamon Muffins
Ingredients
Cinnamon Muffins
1 Cup Oatmeal Processed into a flour
½ Cup Oatmeal Whole oats
1/3 Cup Butter Melted
2 Medium Eggs Whisked
½ Cup Maple syrup
1 tsp Baking powder
2 tbs Cinnamon Ground
Cinnamon Sugar
1 tbs Coconut sugar
1 tsp Cinnamon Ground
Instructions
Heat your oven to 190°
Line a muffin tin with muffin paper or grease the tin
In a food processor whizz 1 cup of oatmeal into a flour
In a large bowl add the eggs, maple syrup and melted butter and using beaters mix the ingredients together until light and fluffy
In another bowl, add the oatmeal flour, baking powder and cinnamon and combine. Add the wet mixture and mix well with a wooden spoon. Add the whole oats and fold into the mixture
Divide the mixture between the muffin liners
Make the coconut sugar. Combine the coconut sugar and cinnamon
Sprinkle half the cinnamon sugar on the muffins and bake them for 18 minutes, or until cooked through and a skewer inserted comes out clean
When the muffins are cooked, sprinkle the rest of the cinnamon sugar on top while the muffins are still hot and allow them to cool
Enjoy!
Healthy Cinnamon Muffins Recipe
Healthy Cinnamon Muffins
One of the most popular spices on earth, Cinnamon make a very regular appearance here around the Holidays and for good reason. It's warming, festive and these healthy cinnamon muffins are just the thing for on the go breakfasts, lunchboxes, after school snacks or with a simple cup of tea. Enjoy :)
Ingredients
Cinnamon Muffins

1

Cup

Oatmeal

Processed into a flour

½

Cup

Oatmeal

Whole oats

1/3

Cup

Butter

Melted

2

Medium

Eggs

Whisked

½

Cup

Maple syrup

1

tsp

Baking powder

2

tbs

Cinnamon

Ground
Cinnamon Sugar

1

tbs

Coconut sugar

1

tsp

Cinnamon

Ground
Instructions
Line a muffin tin with muffin paper or grease the tin

In a food processor whizz 1 cup of oatmeal into a flour

In a large bowl add the eggs, maple syrup and melted butter and using beaters mix the ingredients together until light and fluffy

In another bowl, add the oatmeal flour, baking powder and cinnamon and combine. Add the wet mixture and mix well with a wooden spoon. Add the whole oats and fold into the mixture

Divide the mixture between the muffin liners

Make the coconut sugar. Combine the coconut sugar and cinnamon

Sprinkle half the cinnamon sugar on the muffins and bake them for 18 minutes, or until cooked through and a skewer inserted comes out clean

When the muffins are cooked, sprinkle the rest of the cinnamon sugar on top while the muffins are still hot and allow them to cool