* We sometimes use affiliate links, so we may receive a commission, at no cost to you, if you make a purchase through a link. Check our disclosure for more info.
Throwing a Minecraft party? We've got all the Minecraft party ideas you could need!
Hosting a birthday party on a (laughable) limited budget means that you may need to be a tad creative when it comes to planning the occasion.
But just because its a birthday party without a big price tag, it doesn't mean you have to compromise on the fun. A Minecraft themed party is a fun and cheap way to make the day special for your little one (or not so little one – We have teens that loved this too!)
Grab the FREE 18 Meal Ideas CHEAT SHEET Here!
Minecraft party ideas
When my kids first begged me to purchase the Minecraft game, I said No. Then No again. And a few more times. Eventually, after countless sessions of negotiating and two car washes thrown in, I gave up.
I never would have believed that a pixelated, 2D, essentially wannabe lego computer game would hold their attention for more than an hour. I believed I had thrown away $20. I consoled myself with the fact that at least I had two car washes out of the deal.
Related Post: Minecraft Gift Guide
I didn't see it coming, but they loved it! Minecraft was (and is) a hit with everyone in the house.
And I still don't understand why. All I know is that green is now the preferred color for everything.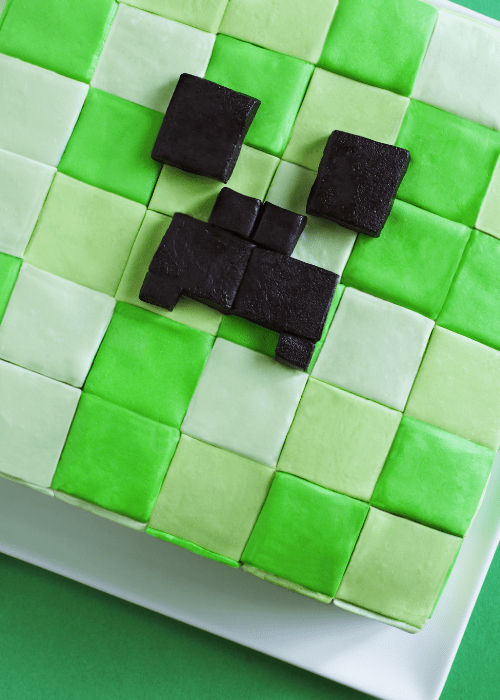 Minecraft party
So, when my son turned 8 we threw him a Minecraft themed party that he still talks about! We hosted it at home and DIY'ed everything.
Our budget was really stretched and I remember sitting down working everything down to the cent. The whole party cost us less than $100 and two hours of our time.
With our kids now aged 9,11,15 & 16, we have hosted our fair share of parties and I have to admit that this one came a close second to being the best ever party. (First place still goes to the Fear Factor party for my daughters 12th birthday – I promise I will share that sometime soon).
The internet and the World has gone Minecraft crazy since my sons birthday so their are tons of brilliant Minecraft inspired ideas everywhere.
I have put together a collaboration of some of the best budget ideas to help you host the most memorable birthday party your child will ever have.
You can download the Minecraft Party Planner Toolkit here. This printable contains all the checklists you will need to take the headache out of the day.
Minecraft birthday party ideas
6 STEPS TO THE PERFECT (& CHEAP) MINECRAFT PARTY
CHOOSE THE INVITATIONS & DECIDE ON THE GUEST LIST
BUDGET $2.00 – $3.00
Once you have decided on your guest list, select the invite you like best, print it out at home and hand out at school (don't waste money on stamps). I know it's always difficult selecting friends for a party because you don't like to leave out anyone.
My kids know that if the entire class isn't being invited, then invites must be handed out in private so that no-one feels left out.
Here are 9 Minecraft Inspired invitation designs to choose from. I have included links to the downloadable templates.
Minecraft party food
AMOUNT ALLOCATED: $40 (I worked on $4-$5 per person).
Planning the menu is a lot of fun. It was actually pretty easy serving up semi healthy party food because even the most basic ingredient got transformed into something amazing just because I gave it a label. You can make your own or Download Printable Food labels here.
You don't have to go crazy with variety. I think 5 – 6 choices is plenty. As a little bonus, it was a lot of fun planning this menu with my children.
Here are a 19 Cheap Minecraft Themed Food Ideas:

Minecraft birthday cake
BUDGET $10 – $12 (we made 12 Creeper Cupcakes for around $7)
It's always all about the Birthday Cake! Ask your kids what they remember about any of their last birthday parties. Guaranteed they remember the cake.
For my son's birthday we made a dozen little creeper cupcakes instead of a cake and decorated each chocolate cupcake with green icing and liquorice faces. I don't have a photo (my son deleted the entire day from the camera).
I'm not that talented at cake decorating, so I have selected a few of the easier options as examples and included tutorials where I can. A little google search will produce a ton of more sophisticated designs, but we are going for budget options this time.
So, if you follow my blog at all, you will know that we eat regular raw sugar on occasion. Birthday Cakes are one of those occasions.
I make a Vanilla or Chocolate sponge using Raw Sugar and Organic White Flour. I have tried tons of birthday cake recipes, and even though a lot of them come close to tasting like a birthday cake, I just prefer this one. It's easy and works for both a cake and cupcakes (just change cooking time).
Technically, I feel as if it still fits into our Clean Eating lifestyle – just a little more sugar than we would normally add to a recipe. If you want to make raw sugar free Clean Eating birthday cake, I recommend trying this one.
When it comes to making green icing, the generic green you buy at the Supermarket is full of nasty chemicals – avoid it if possible.
You can either make up a DIY batch of Natural Green Food Coloring or purchase it ready made. I use this one from Thrive Market (They are also offering a FREE Organic Maple Syrup on Orders at the moment)
Take a look at these 6 Gorgeous Minecraft Birthday Cake Designs (that are realistic for the non chef Mom to make):
Minecraft party games
BUDGET: $20 – $30
Games are the best part of the Party. It's where all the Fun happens. The best games involve a little skill, a little sweating and competition, but need to be easy enough for everyone to stand a chance at winning (so if possible you need to include an element of luck to level the playing field).
If you are holding a two hour party, you will need around 4 games to fill the time. We choose our games based on when they will be played at the party:
Game #1 High Activity, loads of noise and action (Eg: Nerf Gun Fight, Balloon popping, chase, ball games)
Game #2 More skill, Challenge game, less activity (Darts, Target shooting, Pin the tail kind of games)
Game #3 Medium activity (Eg Balloon fight, Water slide, Obstacle Course)
Game #4 Generally end with a Treasure Hunt
Easy Kids 2 Hour Party Schedule:
Kids arrive and get greeted.
Once everyone has arrived, we play Game #1, which is a high activity game.
Food is served.
Game #2 is more of a challenge game or Activity (the girls seem to prefer this) with less running around. I've learned from experience that its never a great idea to let a bunch of food stuffed kids run around too soon after eating.
Cake is served & Opening of presents.
Game # 3.
Game #4. I normally have a treasure hunt last as the kids 'find' their Party bag to take home with them. If I time this well, the parents arrive as this is finishing up.
Here are 12 Fun (For all Ages) Minecraft Themed Games & Activities to choose from:
Nerf Gun Fight (this is pretty obvious)
Balloon Pinata (Filled with prizes, forfeits and booby prizes)
Backyard Bowling (Except paint bottles green and template Creeper Faces
Looking for More Ideas? —->Browse through my Minecraft Birthday Party Pinterest Board for some more party planning inspiration
Decorate your space
BUDGET: $30 – $40
If you're looking for Minecraft party ideas for decorating your space, Minecraft gives you a million options.
Set a budget and work hard to stick to it. It is very easy to just keep adding 'one more thing' and it starts to add up. You theme colors are Green and Black.
We used a lot of green paint and cardboard boxes for our party. We had Creepers everywhere. I picked up a big tin of green paint at the local landfill (they sell leftover and off color tints for a couple of dollars). I added a bit of yellow and black to get it as close to the Creeper color as possible, but the kids didn't notice it was a little off 'Creeper green".
3 Ways we Saved Money on Decorating:
We purchased green and black balloons and streamers from the dollar shop.
We got a lot of FREE cardboard boxes from the recycling centre
We bought off color tinted paint from the dump (paint centers also stock these for cheap)
Minecraft party favors
BUDGET: $12 – $20
We budgeted on $3 per person and cheated a little here and made up mini versions of the some of the food we served at the party. I bought a Zipper Food Storage Snack Bags
and printed off labels which we stapled to the bag.
Here are 14 easy, budget friendly ideas to stock your Minecraft party favors.
*MORE MINECRAFT PARTY PRINTABLES**
As promised, here are the links for your Done-for-you Minecraft party free printables. These were done by Printabelle for Catch My Party and they are awesome! Plus, as a little bonus, there are boy and girl versions.
Minecraft Party Free Printables