* We sometimes use affiliate links, so we may receive a commission, at no cost to you, if you make a purchase through a link. Check our disclosure for more info.
This easy crustless Cheesy Potato and Spinach Quiche is delicious. This tasty lunch can be easily converted into a delicious dinner dish too.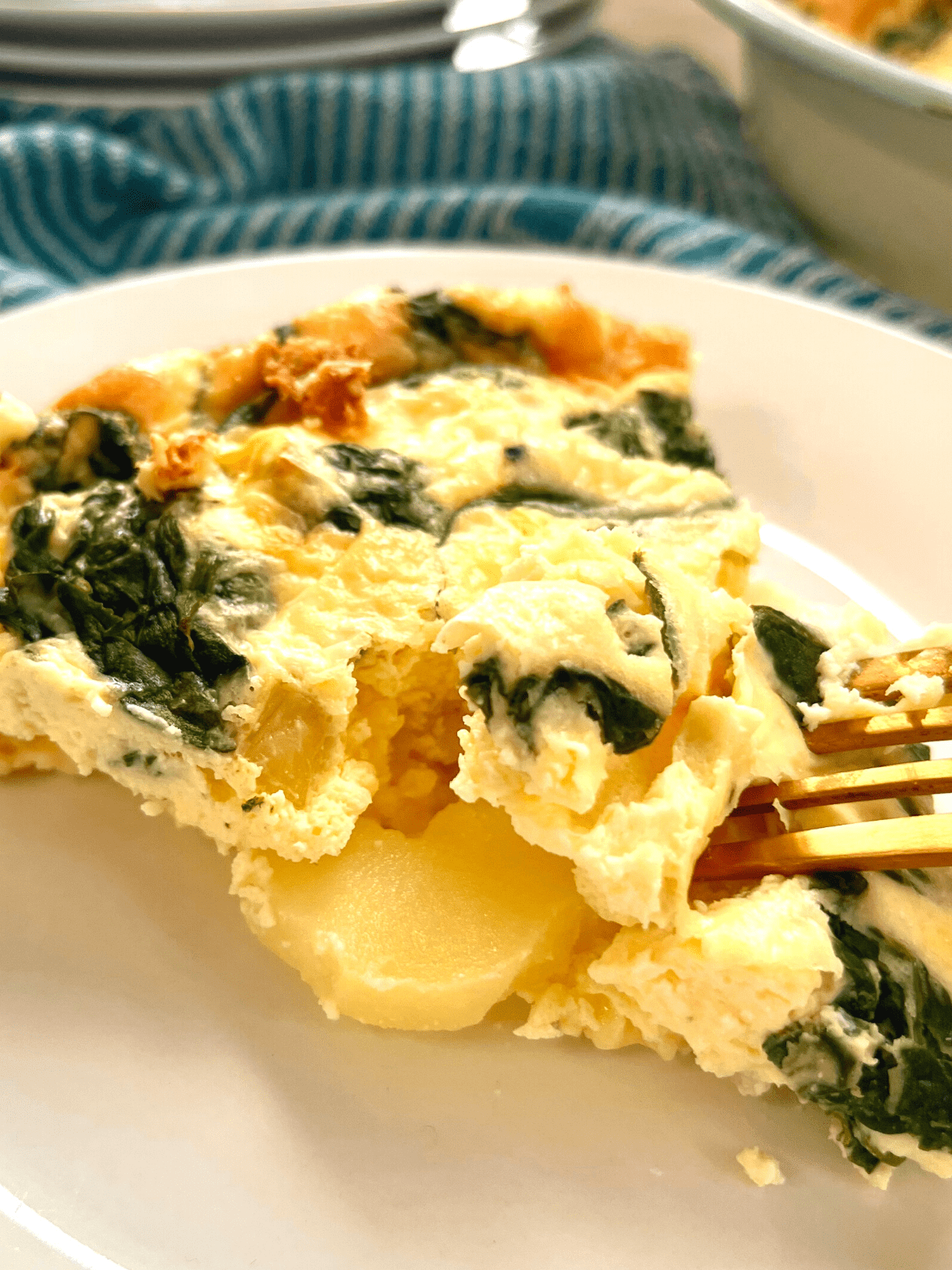 Grab the FREE 18 Meal Ideas CHEAT SHEET Here!
Potato And Spinach Quiche
Quiche is such an easy recipe to make, it's so healthy and so versatile to adapt for most meals. I love to make a quiche for lunch when we're at home but it's also a school packed lunchbox favorite as well.
Quiche travels well thanks to the eggs setting and firming up, it's yummy eaten cold as well as warmed up if you prefer and little slices let the littler kids eat it with their hands. And of course not forgetting it's really good for you.
We eat a lot of eggs here. Breakfast, baking, cooking, we get through a lot of them. They're high in protein and so they tend to keep you full for quite a long time and being a quiche, you get to pack veggies in and they're enveloped into the eggy cheesy yumminess that you get once it's cooked.
I've cooked this recipe without a crust so it's crustless, feel free to add a wholemeal pie crust to it if you'd like to. I haven't because it gets eaten without it and I don't feel it adds all that much but I know some people prefer a crust, so go with whatever you prefer.
If I make this planning for it to be eaten as a weekend lunch or something like that I usually make it in a round tin, but if this is being used for lunchboxes I'll make it in a square tin. I'm sure it's just me but I find cutting this quiche into squares instead of slices makes it feel more 'lunchy'. More than likely just me :)
Ingredients
Eggs, cheese, heavy cream, spinach and new potatoes seasoned with salt and pepper and bake in the oven. The longest part to making this quiche is boiling the new potatoes until they're tender and you can add them to the quiche.
I don't bother peeling the potatoes before I slice them and boil them, I just scrub them and then slice them into disc shaped pieces before boiling them.
Once your pan of water's boiling they take about 10 minutes to cook – my kids are hyper aware of even slightly undercooked potato and so the potato needs to be really well cooked. It will cook slightly more when it's submerged in the quiche mixture but I err on the side of caution and cook them fully first!
Adding a little heavy cream gives the quiche a fluffiness you don't get with just eggs and so while you can leave this out, I don't recommend you do.
The spinach looks like a lot when it's uncooked. When you go to grab it out of the pack it feels like way to much: It's not! I run the hot tap and hold a huge handful under it to wash it and also wilt it, it begins to shrink down when you do this and gets even more 'compacted' as the quiche cooks. Make sure to throughly wring out the spinach after it's been under the hot tap to get all the water off it, I use a piece of kitchen paper to dab it and help absorb the water.
I've used large eggs for this recipe.
I use cheddar cheese because it's easy, it's cheesy and it's a cast iron guarantee my kids will eat it. Yep, it's that simple :)
Grab the FREE 7 Day Clean Eating Challenge Pack & Take The Kids Diet From Zero To HERO!
More Quiche Recipes
How To Assemble This Quiche
Putting your quiche together is easy.
Once the potatoes have boiled and drained and you've made sure to get all the water off them put them where they're handy. Have your egg mixture ready and your pie pan greased with butter or olive oil and ready, and put the prepared spinach next to you.
Take half the potatoes and line them in a single layer on the bottom of the pan you're baking your quiche in. Pour a third of the egg mixture in. Add the spinach, spread out as evenly as possible, then add the remaining potatoes. Pour the rest of the egg mixture over everything and then let it sit on the surface for a few minutes to allow the wet mixture to seep into the layers before it hits the heat. And then cook it.
Grab the FREE 18 Meal Ideas CHEAT SHEET Here!
How To Eat Quiche
Breakfast, brunch, lunch, dinner, quiche is the gift that keeps on giving! While it's light, you also have a good amount of potato baked into this recipe so it's a little more filling than a potato-less quiche. This means it's good anytime.
We prefer our quiche to be fridge cold, but you can heat this up after it's cooled from cooking if you want to eat it later or you have leftovers.
If you're having it for lunch you could add a big green salad and chopped fresh tomatoes, if you're having it for dinner perhaps make a couple of sides of vegetables and have it hot, or even make some garlic bread or focaccia so it's much more substantial.
Storing Quiche
This quiche will store just fine for 2 days kept covered with food wrap in your fridge. Once it's baked and fully cooled you can pop it into the fridge and cut pieces off as and when you need them.
I don't cut this up before putting it into the fridge, I'm almost never sure what I need it for and so I leave it until I decide and then cut it into an appropriate sized piece!
Variations
As with lots of quiche recipes there are usually a number of variations you can make to suit you and your families tastes.
Here's some that would work well:
Add a layer of fresh tomatoes after the spinach payer
Swap the cheese for another cheese: Blue cheese works really well as does goats cheese if the kids like it. Try parmesan cheese for a more grown up feel! Quantities remain the same
Swap the spinach for broccoli. Pre-cook the broccoli and break it into quite small pieces and then form an even layer in the quiche
Add in bell pepper
Use sweet potato instead of new potatoes. They take a little less time to cook than new potatoes so use a sharp knife to check when they're cooked
How To Make Potato And Spinach Quiche
Ingredients
6 Eggs Lightly whisked
8-10 New potatoes Scrubbed and cut into discs
2 Large handfuls Fresh spinach Held under the hot tap to wash and to wilt it, then throughly dried so there's no water on it
1 Cup Cheddar cheese Shredded
1½ Cups Heavy cream
1 Onion Peeled and diced
1 teaspoons Olive oil
Salt and pepper To taste
Instructions
Heat your oven to 200c or 390f depending on your oven. Grease a baking pan big enough for the quiche and put it to one side
Scrub your new potatoes and then cut them into discs. Put to one side
Fry the diced onions in the olive oil on a low heat until they're cooked fully and soft and then take them off the heat
Hold the spinach under the hot tap in handfuls and then lay on some kitchen paper to absorb the water. You don't want any water to be on the spinach when you layer it into the quiche
In a large bowl whisk the eggs and then combine the cream. Stir through the shredded Cheddar cheese and season the mixture with salt and pepper
Drain the fully cooked potatoes so they're holding no water and then layer evenly half of them on the bottom of the baking dish and then pour a third of the egg mixture over them
Spread the spinach out evenly on top of the potatoes and then add the remaining potatoes
Pour the remaining egg mixture over everything and let it sit for a few minutes to allow the wet mix to seep into all the little gaps
Cook for 25-30 minutes until the quiche is ever so slightly wobbly, but not too much so. It will firm up as it cools
Allow the quiche to cool for at least ½ hour before removing it from the tin
Potato And Spinach Quiche Recipe
Potato and Spinach Quiche
This easy crustless Cheesy Potato and Spinach Quiche is delicious. This tasty lunch can be easily converted into a delicious dinner dish too.
Ingredients
6

Eggs

Lightly whisked

8-10

New potatoes

Scrubbed and cut into discs

2

Large handfuls

Fresh spinach

Held under the hot tap to wash and to wilt it, then throughly dried so there's no water on it

1

Cup

Cheddar cheese

Shredded

1½

Cups

Heavy cream

1

Onion

Peeled and diced

1

tbsp

Olive oil

Salt and pepper

To taste
Instructions
Heat your oven to 200c or 390f depending on your oven. Grease a baking pan big enough for the quiche and put it to one side

Scrub your new potatoes and then cut them into discs. Put to one side

Fry the diced onions in the olive oil on a low heat until they're cooked fully and soft and then take them off the heat

Hold the spinach under the hot tap in handfuls and then lay on some kitchen paper to absorb the water. You don't want any water to be on the spinach when you layer it into the quiche

In a large bowl whisk the eggs and then combine the cream. Stir through the shredded Cheddar cheese and season the mixture with salt and pepper

Drain the fully cooked potatoes so they're holding no water and then layer evenly half of them on the bottom of the baking dish and then pour a third of the egg mixture over them

Spread the spinach out evenly on top of the potatoes and then add the remaining potatoes

Pour the remaining egg mixture over everything and let it sit for a few minutes to allow the wet mix to seep into all the little gaps

Cook for 25-30 minutes until the quiche is ever so slightly wobbly, but not too much so. It will firm up as it cools

Allow the quiche to cool for at least ½ hour before removing it from the tin