* We sometimes use affiliate links, so we may receive a commission, at no cost to you, if you make a purchase through a link. Check our disclosure for more info.
Sweet & Sticky Teriyaki Meatballs piled on top of a really yummy broccoli fried rice. Step aside regular old meatballs because we're about to spice up tonight's dinner with these Asian inspired delights.
Grab the FREE 18 Meal Ideas CHEAT SHEET Here!
Teriyaki Meatballs And Rice
These Teriyaki meatballs can be on the table in 30 minutes so if you're stuck for what to make and frozen ground beef is calling you, you'll be glad it did.
They are crazy delicious and a healthy dinner recipe that looks a little like junk food. The kids will be fighting to get the last one!
For some reason ground beef is always the last thing left in the freezer the day before the next grocery shop.
Not that I'm complaining (coz I'm always glad to see a trusty pack of ground beef in there). Mostly because it's a super versatile ingredient and budget friendly.
And a little goes a long way.
I have a couple of regular ground beef recipes which I tend to make on repeat, like these little beauties:
But to be super honest, they have been coming around a little too regularly. As in weekly. In the same order.
So I thought I would take it up a notch and try out an Asian inspired version of this family favourite to serve with my new favorite obsession – broccoli fried rice.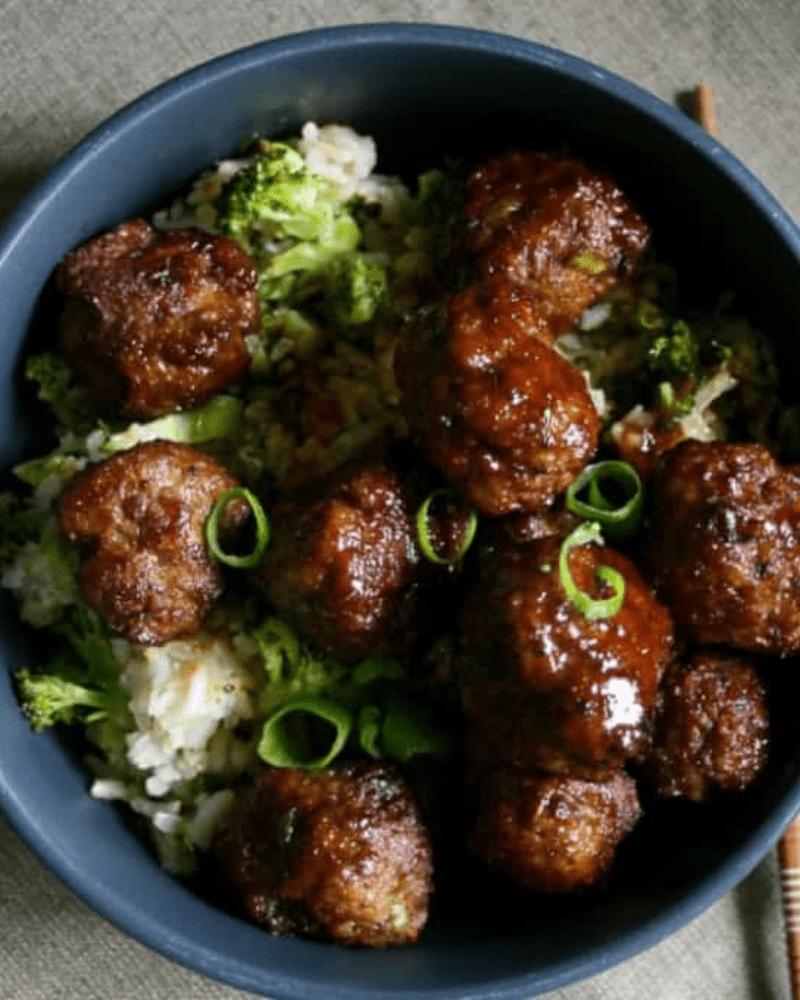 More Ground Beef Recipes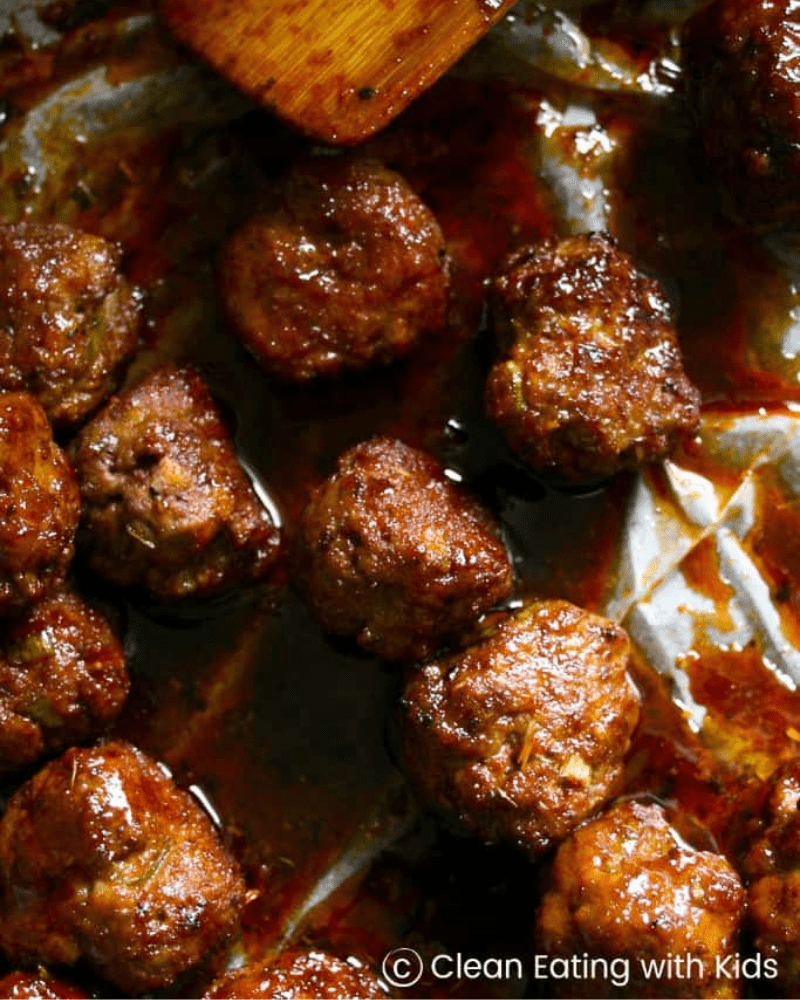 Sticky Meatballs
These meatballs are sticky and sweet and the kids treat this dinner like it's a take out. And it feels like it.
Meatballs cooked the traditional way are a classic, yes, and delicious, also yes, but these something else entirely. This is one dinner that for whatever reason doesn't feel like Clean eating.
Don't ask me why, but it doesn't.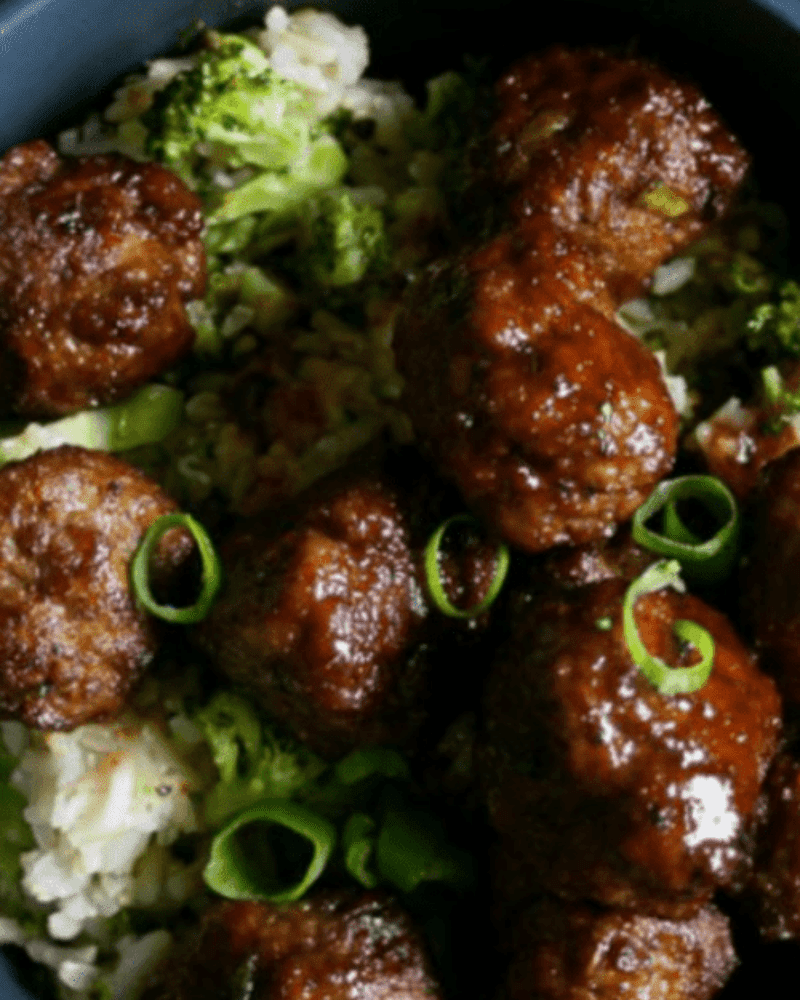 Meatball Prep
Making the meatballs themselves is the most labour intensive thing about this recipe. And they're really easy to make, I promise :)
For a dinner recipe that's got so much taste and so much flavor, they really should be harder to make. Luckily for me, they're not.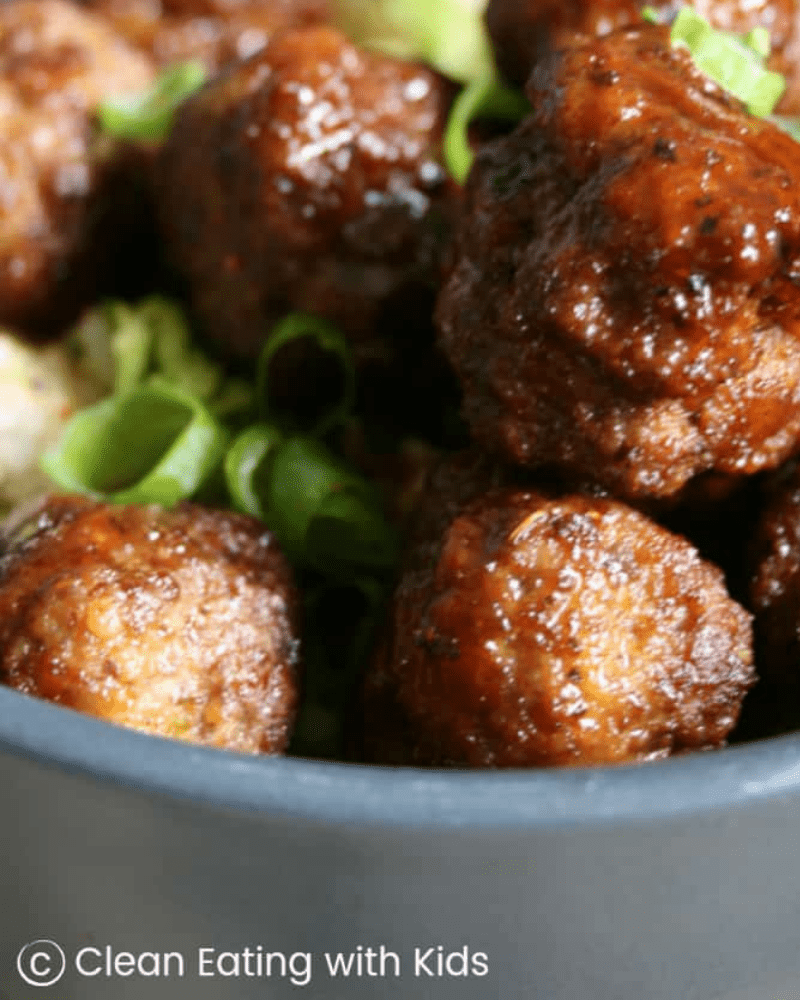 Recipe Notes
While meatballs are not hard to prepare, there's a few meatball making things that'll help you make perfect meatballs.
Choose your ground beef: Fattier meat makes better meatballs. I have no real idea if this is a thing but I find without question, the leaner, lower fat ground beef makes dryer meatballs and they don't bind as well.
Temperature: Keep things cold. The warmer the room, or your hands when you're making these meatballs, the more the fat will break down and this needs ton happen during cooking to keep them juicy, not when you're combining the ingredients :)
Go gently: Put a touch of oil on your hands when you're working with the meatballs and only combine very gently. Handle them as little as possible.
Fry or Bake: I fry these meatballs before I transfer them to the oven on parchment paper on top of a baking sheet to stop them sticking. You can skip the frying step, however I find this gives the meatballs a nice sealed outside coating, so it's worth doing.
Make sure not to push down on the meatballs when they're cooking as this will release the juices and spill onto the baking sheet and not stay in the meatball.
Making meatballs: Use a large bowl to make the meatballs. You need to be able to get your hands into the mixture.
Homemade Teriyaki Sauce
If like I used to you get Teriyaki sauce out of a jar bought from the store, I'm here to welcome you to the homemade Teriyaki sauce club.
I didn't know it was so easy to make. I assumed wrongly that something so indulgent and yummy must be something I wasn't capable of making. And honestly, I never gave making it a thought until we started eating Clean.
As it turns out homemade Teriyaki sauce is a few ingredients you'll likely have if you've been eating Clean for a while and you put them all in the pan together. Yep, together. Then it boils and cooks and thickens and you eat it.
I use the same pan to make the teriyaki sauce as I do the meatballs and then you have less washing up. Despite all the Clean eating, I still loathe washing up. Hey ho.
Grab the FREE 7 Day Clean Eating Challenge Pack & Take The Kids Diet From Zero To HERO!
Meatballs with Broccoli
It's a bit of a myth that Broccoli is one of 'those' vegetables that kids like. As in, all kids like. And you know what? Not all kids like broccoli. There. If your kid doesn't like Broccoli, I hear you. But all kids can be taught to eat it.
In my experience, it's all about the way it's cooked.
If your little one (or big one) is kicking up a fuss about eating broccoli then try serving it up in a different way. For a fussy kid, a heaped pile of the green stuff on their plate is enough to send them into shock.
Fussy Kid Tip: Broccoli can be cut up really fine and once added to casseroles, stir fries or soups, it virtually disappears. Even the most particular child will have a tough time picking out the pieces.
The broccoli fried rice I make for these meatballs is beyond yummy. Cut the broccoli as small (or as large!) as you like, cut it small enough and it almost disappears!!
Grab the FREE 18 Meal Ideas CHEAT SHEET Here!
What To Serve With Teriyaki Meatballs
I most often serve this with broccoli fried rice.
There's a few things you could serve this with though and of course you could always serve this with some plain cooked wholegrain rice if you preferred to.
While meatballs and rice is the most common way to eat them, I've given the kids these meatballs on top of this mashed potato and leeks side to no complaints when I had some that needed eating up, and even once in a wholegrain sub roll when I was trying to recreate a Subway lunch they'd loved.
And I can tell you, both went down pretty well!
You could also pop these meatballs on cocktail sticks and serve them as snacks or a party appetizer at a get together. Yum :)
Variations
These teriyaki meatballs are made with ground beef but there's nothing t o stop you using ground pork or even ground turkey.
Ground pork will be similar in texture to ground beef as the fat content is still high enough to give you a juicy meatball. While I've not tried making these with ground turkey, I feel they'd be on the dryer side unless you add a little extra moisture.
You could increase the moisture content by adding a little extra shredded cheddar cheese so increase the fat content or halving the amount of breadcrumbs you use in the recipe.
Making Ahead And Storing
These teriyaki meatballs are perfect if you're looking for a recipe to make ahead of time. In fact, since the ingredients prefer the cold and stops the fat in the ground beef from starting to breakdown, they're good sitting in the refrigerator for a while.
To make these ahead, make the recipe right up until the meatballs are combined and rolled and then pop them on a plate, covered, in the fridge. If the use by date on your ground beef has enough time, you can keep them in the fridge for up to two days.
If you've used frozen and defrosted ground beef you'll need to cook these sooner, within one day.
How To Make Sweet And Sticky Teriyaki Meatballs
Ingredients
500 g Ground Beef
¼ cup Spring onions
2¼ Crushed garlic
¼ cup Whole Wheat breadcrumbs (or Panko breadcrumbs)
1 Egg
salt & pepper
1 tsp Crushed ginger (or teaspoon ground ginger)
1 tsp Paprika
¼ teaspoon garlic powder (optional)
¼ Cup Soy sauce or Tamari
2 tablespoons Apple cider vinegar
2 tbsp Raw brown sugar or honey
Instructions
Preheat oven to 400F / 180C
To Make the Meatballs: Mix all meatball ingredients together until combined. Using your hands, form the mix into walnut sized, meatballs.I like to think that each meatball is about two bite.
Heat a pan on the stove and add a little olive oil to prevent sticking.
Fry your meatballs in two – three batches for around 5 minutes until lightly browned all over.I use a spoon to turn them over in the pan.
Remove the meatballs from the pan and place them on an oven tray lined with baking paper.This recipe makes around 15 – 20 meatballs
To make the Sauce: Add all sauce ingredients to the meatball pan (this saves on washing). Bring to the boil. Then pour over the tray of meatballs
Pop the tray into the oven and bake for around 15 – 20 minutes until meatballs are cooked through and sauce has thickened
Serve with rice, green onions and sesame seeds and a little and extra soy sauce (optional)
This is a fast and ridiculously delicious family weeknight meal which you should be able to get on the table within 30 minutes. Oh quick disclaimer here – I'm assuming the ground beef is defrosted. Because mine wasn't and I had to wait another 11 min 48 seconds while it defrosted in the dreaded microwave (I still don't like using it).
One last thing … and this is important …because you're the cook, you get to lick the spoon.
Teriyaki Meatball Recipe
Sweet & Sticky Teriyaki Meatballs And Rice
Sweet & Sticky Teriyaki Meatballs piled on top of a really yummy broccoli fried rice.
Ingredients
Meatballs

500

g

Ground Beef

¼

cup

Spring onions

2¼

Crushed garlic

¼

cup

Whole Wheat breadcrumbs

1

Egg

salt & pepper

Teriyaki Sauce

1

tsp

Crushed ginger

1

tsp

Paprika

¼

Cup

Soy sauce or Tamari

2

tbsp

Apple cider vinegar

2

tbsp

Raw brown sugar or honey
Instructions
Preheat oven to 400F / 180C

To Make the Meatballs: Mix all meatball ingredients together until well combined. Using your hands, form the mix into walnut sized ,meatballs.

I like to think that each meatball is about two bite. Heat a pan on the stove and add a little olive oil to prevent sticking. Fry your meatballs in two – three batches for around 5 minutes until lightly browned all over.

I use a spoon to turn them over in the pan. Remove the meatballs from the pan and place them on an oven tray lined with baking paper.

This recipe makes around 15 – 20 meatballs

To make the Sauce: Add all sauce ingredients to the meatball pan (this saves on washing). Bring to the boil. Then pour over the tray of meatballs

Pop the tray into the oven and bake for around 15 – 20 minutes until meatballs are cooked through and sauce has thickened

Serve with rice and extra soy sauce (optional)