* We sometimes use affiliate links, so we may receive a commission, at no cost to you, if you make a purchase through a link. Check our disclosure for more info.
We have finally started our two room extension. Woo hoo!! My husband has been working on preparing the ground in the evenings after work. Our house and garden looks a little like a squatter camp but I'm trying to look past this. He assures me this is normal for a building site.
We had some Rain. Finally!! It's been a long dry spell. The ground was rock hard and starting to look post apocalyptic. There are huge deep cracks  everywhere. Water (or lack of it) was the only conversation topic outside the local town store. I was worried that our little lime trees weren't going to make it. Our dam has gone down quite a bit, but this is also because my husband got in there with a digger to make it a little bigger so that we can capture more water in the Winter.
But… A couple days of wet has changed the landscape. The dam is looking fuller and the grass is going crazy. We seriously have to figure out an effective way to manage it. We have around 4 acres under control between the sheep and 6 cows. But the rest – all 18 other acres …. well, we try not look at the waist high grass as we drive down our driveway. I swear it grew overnight.
We could get more livestock in, but my plan is to extend the lime orchard and I don't want to have too much stock and not enough grass to feed them …. which means I'm in limbo for a bit.
Although Nature may have other plans for my grass. As I mentioned before, our fences are a less than adequate.  Our three Rams (Lenny, Fluffy Feet and Wags) have managed to escape their side of the fence to get to the girls  (Again!! – Despite 8 extra posts and an extra two strings of wire) … so I'm now certain that lambs will be here in the spring. Don't know if I'm happy or scared about this. Last season was a shocker with a prolapsed ewe, one assisted birth and three stillborns. I don't know if I've recovered, but I am definitely more prepared.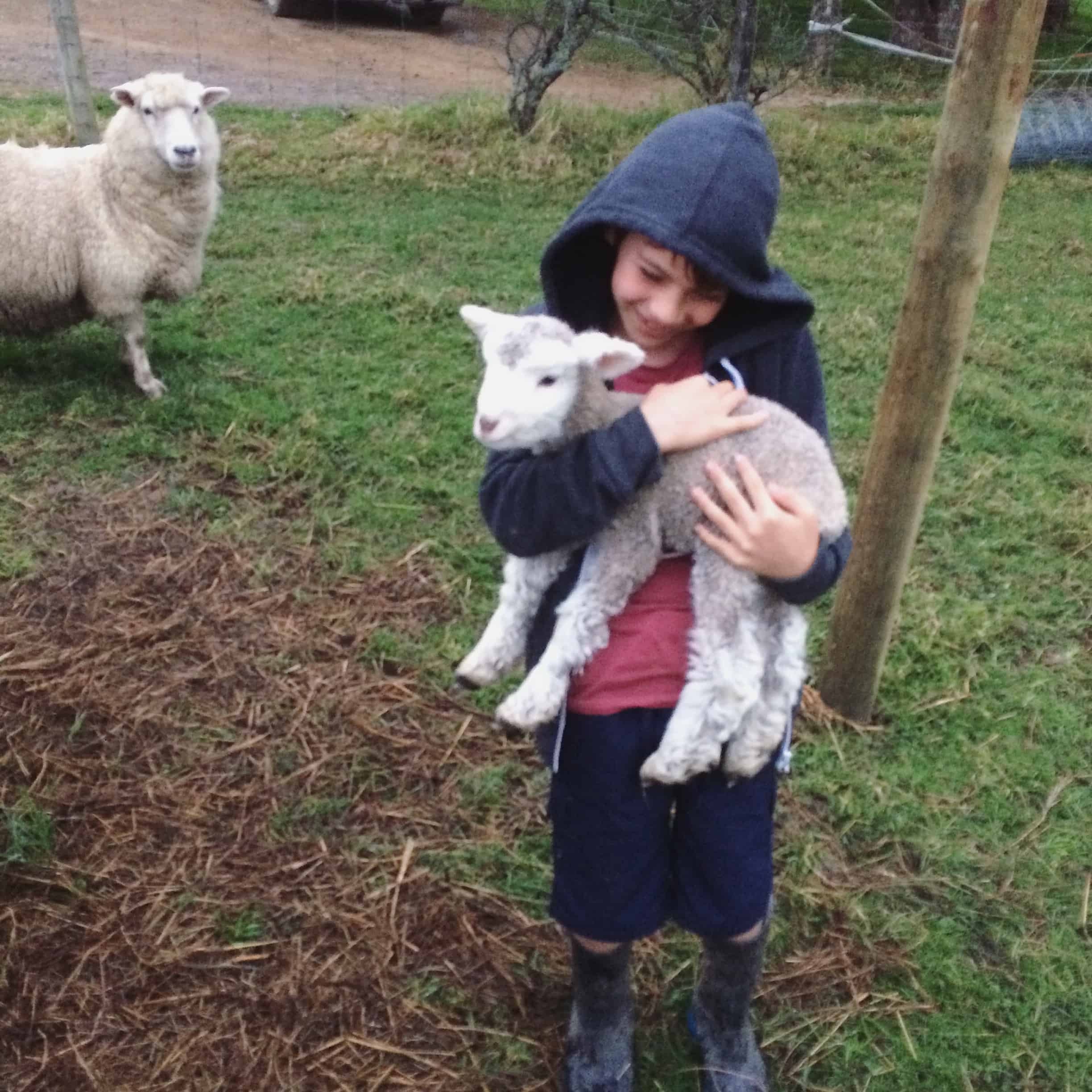 On that same topic, my youngest son now knows all about the birds and the bees. It's a lot easier having that conversation when you are living in the country. It's very Fact of Life'ish. He didn't seem even a bit surprised at the details. Maybe I waited a bit long to tell him? Anyway, I can cross that off my list now. Thank God. I dread having this chat with the kids. Ugh. they look at me funny for weeks afterwards.
One of the Rams, Fluffy Feet, yes that's his name because we were trying NOT to name them, has been lying around a bit more than usual. I think this is odd. Now that the Rams are in the girls paddock, he should be 'up and attem'. But he's not.  Sheep are really good at disguising when they are feeling a little off, plus they tend to hang in a group so unless you can identify one sheep from the rest of them, it's a bit of a struggle picking up on the one that isn't quite right.  I think he has been head butted by the bigger ram, Wags.  Rams are extremely rough with one another. Fluffy Feet, you have my attention. I will be watching you closely.
We have had a ton of wildlife around this month – wild turkeys, thousands of Cidadas and this little guy. He stopped in for a drink and and a cuddle and then went on his way again.
I'm also working on getting my veggie patch started. I have built three raised vegetable gardens. All by myself, Oh yes I did. It was super easy too. I didn't want to pay $120 (!!) from the hardware store for a simple box that I had to build at home anyway so I bought a single piece of wood which I cut into 4 pieces and screwed together to make a box. Took me around 8 – 10 minutes per box – Because I'm not that great with a drill. Oh, and all up each box cost just under $8. I saved $100 per box!!! The hardest thing was getting the wood into my car. By the way, if you ask real nice the guys at the hardware store will cut it for you too – just to get it it in your car.
In his spare time, Zane also finished the kids super high Cubby and got to spend a ton of time building it with the them too. It looks amazing, but honestly, they have hardly been in it. They had more fun making it with Dad. I think I need to turn it into an office.
Next month. I start planting.