* We sometimes use affiliate links, so we may receive a commission, at no cost to you, if you make a purchase through a link. Check our disclosure for more info.
If my kids can eat it with their hands, then you know it's a winner. Super Simple and yummy, these Tuna Salad Pockets are great for home, school and even a quick and easy dinner option.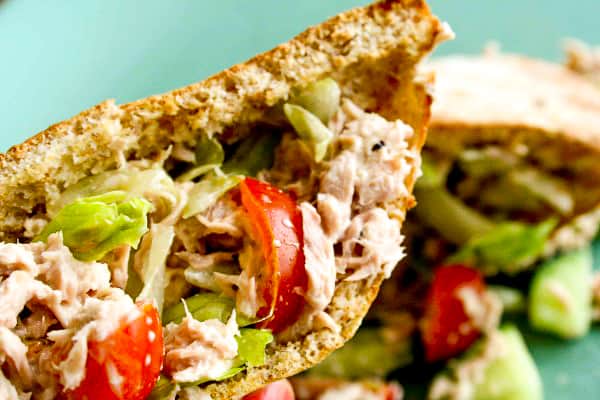 A Quick and Easy Dinner in 5 minutes flat
Today, we got back from a 25 minute road trip from our 'local' beach. It doesn't sound like it's far away, but my husband always insists on finding the 'best' spot (aka looking for surf-able waves) along the 10 kilometer beach front. This means another 15 minute 4×4 drive added on both ways – not counting the countless stopping to stare at the waves every couple meters. You're looking at an all up two hour unplanned road trip.
Bu the time we got back home, kids were arguing, everyone was cold, wet and hungry. I figured I had about 2.5 minutes to feed everyone before that witching hour meltdown turned our home battleground ugly.
–>> 12 Fast and Easy Weeknight Dinner Ideas
An End of the Week Kind of Dinner
I shop once a week, so by the end of the week, we are on super slim pickings. The fridge is bare and I resort to raiding the pantry or freezer to feed the family.
I always have tuna in the pantry and wholemeal pita bread freezes really well, so I can usually dig out some of these too…. add some lettuce, chopped tomatoes and cucumbers and a healthy dollop of mayonnaise (which on this occasion, I did not have so settled for a spoonful of Greek yogurt and squeeze of lemon)… aaaaaand ….. da da … Tuna Salad in Wholemeal Pockets.
I even had time to snap a quick pic for the blog. With my phone of course. No time for that fancy camera nonsense.
Which Tuna is the best tuna to choose?
Narrowing down which type of tuna to buy is tricky. No one type of tuna is more sustainable than others as all are subject to over fishing in some sense and then there is the issue of bycatch – when other marine life gets caught with the tuna.
I try and opt for the most eco friendly and sustainable option when picking the canned tuna we eat. I recommend this product from Wild Planet. In Greenpeace's ranking of the top sustainable tuna choices at the supermarket, it ranks number one.
–>> The Products I stock in my Clean Eating Pantry
These are the things I look for:
Eco Friendly & Sustainable Fishing practices – this means that the Tuna is pole caught rather than fished in nets. This reduces (but doesn't totally avoid) the risk of other marine animals getting caught in the nets.
No added oil, water or fillers.
BUY IN BULK: Wild Planet, Wild Albacore Tuna, 12 5-ounce cans for $36 on Amazon.
BUY ONE CAN: Wild Planet Wild Albacore Tuna, one 5-ounce can for $4 on Amazon

Thawing your Pita Pockets
I guess the regular way would be to let them thaw on the bench top, but I like to toast ours, so to speed things up I either heat them in a hot oven or pop them in the toaster.
Prep Tip: Don't let them get too crispy otherwise they are too hard to open up into pockets.
Tuna Salad in Toasted Wholewheat Pita Pockets
A quick and easy weeknight dinner option that takes all of 5 minutes to get on the table.
Ingredients
2

x 5 ounce Cans Sustainable canned Tuna

10

Cherry tomatoes - quartered

1/4

cup

Cucumber - finely sliced

2

tablespoons

lemon juice

1/4

cup

greek yogurt

6

x wholewheat pita pockets

1/4

teaspoon

wholegrain mustard

2

cups

Lettuce

shredded

Salt and pepper
Instructions
Toast pita pockets in oven or toaster

mix all other ingredients together in a large bowl. NOTE: You can substitute the yogurt and mustard for

Clean Mayo

if you have it.

Spoon salad into pockets. Serve.
Notes
You can get Clean Eating Mayonnaise Brand from the store. Primal kitchen Mayonnaise is the one I'm liking right now. It's made with avocado oil rather than sunflower oil and all clean ingredients. You can check out the ingredient list here. 
Stay in Touch
Be sure to Subscribe to my newsletter, like my Facebook page, and follow me on Pinterest for tasty recipes, clean eating tips, and healthy family resources. For more delicious and nutritious recipes from Clean Eating with Kids, check out all our family friendly Clean Eating Recipe here.
Browse through some of my Most Popular Posts
Declutter Challenge: 200 Things to Throw Away
5 Things I do Everyday to keep my Home Clean
Sweet and Sticky Teriyaki Chicken Meatballs