* We sometimes use affiliate links, so we may receive a commission, at no cost to you, if you make a purchase through a link. Check our disclosure for more info.
How does 5 minutes prep work using store cupboard ingredients, nutritious, delicious, and so easy the kids could almost make these themselves sound? Yep, these Veggie Burgers For Kids are one of the most popular mid week meals I make and easily give their meat equivalent a run for their money. If you're new to eating Clean, these Veggie burgers are a great way to get the kids started!
Grab the FREE 18 Meal Ideas CHEAT SHEET Here!
Veggie Burgers For Kids
One of the first things you might notice about these veggie burgers is that they look a lot like the meat version. This was accidental, but also extremely handy as it turned out.
As a family of non-vegetarians, when we started eating Clean and I wanted the kids to start eating more veggie based meals and a few less meat based meals through the week, a veggie burger was something I knew I'd need to find. It was surprisingly tough.
There are veggie burgers everywhere. Every supermarket sells them, every restaurant has them on their menu and they come in every variety imaginable. The problem was, hardly any of them were Clean and contained more ingredients I'd never heard of than any meat version ever could. They'd be too spicy or too bland, too whatever, and the kids wouldn't touch them.
And so I started to make my own. In started off using chick peas as this seemed to be what most homemade veggie burgers are made of. And then one of the kids said they looked weird (although I'm happy to report they love them now!). They were just too different from what he was used to in a burger. We eat black beans in a fair few meals and so I tried using them. Bingo. We now have a veggie burger that looks like a burger and is every bit as delicious as the meat version the kids knew and loved.
What these burgers are not is spicy. I like a bit of spice, most of my family do not. I wanted a basic veggie burger for the kids that was delicious as it is, but could also be added to in the future if needed. I've used a little paprika for flavor, but no chilli or other spices. Feel free to add some chilli powder if your lot like a spicier burger!
Ingredients
This is such a simple recipe and uses only a handful of ingredients, many of which you're likely to have in your pantry already. Lots of veggie burgers tend to fall apart when you cook them, because they're too dry. Not these!
Here are the main ingredients in these burgers. I told you there's nothing to them. Except goodness :)
Black Beans
Black beans are something I have in the pantry, always. They're cheap. I. buy them in cans rather than dried and then have to soak them. It would probably be cheaper to buy them dried and soak them but the cans are so convenient, so that's what I do.
You can buy the Organic verison, or the non organic ones. The organic are about 3 times the price, and so I stick with the non ones. I prefer to spend my money on Organic meat instead. Feel free to use whichever you prefer.
Rinse and drain the beans before you use them to get the brine off them, and then they're ready to use.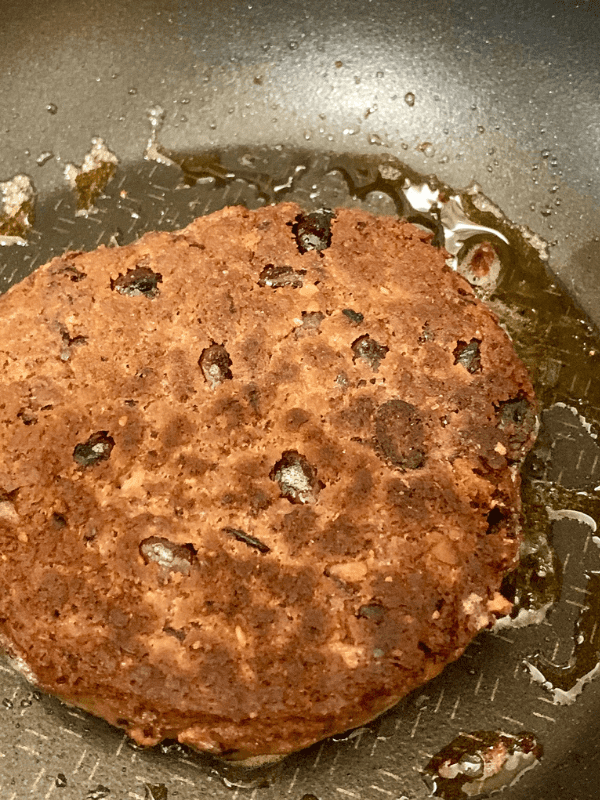 The antioxidants, fibre, protein, and carbohydrates in black beans make them nutritionally powerful. So all good!
Wholegrain Burger Buns
I use shop bought wholemeal burger buns. They're inexpensive and you can get them pretty much anywhere. If your kids aren't used to eating wholemeal burger buns and you're new to Clean eating, I'd recommend letting them have white burger buns until they're used to the burgers themselves, and then introduce brown burger buns later on.
I found that the key to getting the kids to happily eat new foods when we started this was to introduce things slowly. Too much change sends my kids into a frenzy and they dig their heels in. Slow changes is the way to go!
Veggie Burger Toppings
There's so many things you can put in your burgers. Cheese is the most obvious one in this house, and I second that! So once you haver your cheese burger ready to go, what else night you put in it?
Tomatoes – If your kids eat whole tomatoes, these give you some extra texture, extra flavor and extra goodness!
Lettuce – I use a round lettuce. The leaves are thin and it 'folds' easily underneath the burger. You also get a nice boost of color!
Onions – I like to fry an onion in the pan I've cooked the burgers in, as there's already some oil in the pan and it's already hot so the onions fry really fast
Pickles – Pickled gherkins are pretty good here if you like them
Veggie Burger Sides
Are burgers complete without sides? Of course not! Here's some sides that go especially well with these kids veggie burgers.
Naturally you need some sauce with your burger! We like to have either a tomato sauce, BBQ sauce or a chipotle mayo that has a bit of a kick to it.
More Clean Eating Veggie Recipes
How To Make Veggie Burgers For Kids
Ingredients
1 Can Black beans Drained and rinsed
1 Egg
2 Slices of Wholemeal bread Breadcrumbed
1 tsp Onion granules
1 tbsp Sweet paprika
3-4 tbsp Water
2 tbsp Olive oil
3-4 Burger buns Sliced and toasted
4 Slices Cheddar cheese
Instructions
In a food processor add the breadcrumbs, egg, onion granules, paprika, 2 tablespoons of water and half the black beans
Process the mixture until well combined. The mixture will be quite sticky, and if it's not, add another 1-2 tbsp water and process again
Add the rest of the black beans and briefly combine. You should still have a few black beans whole and slightly chopped
Scrape the mixture into a bowl with a spatula and put into a bowl, to one side
On the stove top in a frying pan, heat the olive oil to a medium heat
Using oiled spoons (oil the back of the spoons so the mixture doesn't stick to them) put the mixture into burger rounds in the frying pan and neaten the edges. Make sure the pan isn't too hot
Leave the burgers to cook on one side without moving them for 5-6 minutes and then flip them over
Cook fully on both sides and then add to the burger buns, top with the cheese and add your other toppings
Serve!
Veggie Burger Recipe For Kids
Veggie Burgers For Kids
Simply best veggie burgers for kids you'll ever eat!
Ingredients
1

Can

Black beans

Drained and rinsed

1

Egg

2

Slices of Wholemeal bread

Breadcrumbed

1

tsp

Onion granules

1

tbsp

Sweet paprika

3-4

tbsp

Water

2

tbsp

Olive oil

3-4

Burger buns

Sliced and toasted

4

Slices

Cheddar cheese
Instructions
In a food processor, add the breadcrumbs, egg, onion granules, paprika, 2 tablespoons of water and half the black beans

Process the mixture until well combined. The mixture will be quite sticky, and if it's not, add another 1-2 tbsp water and process again

Add the rest of the black beans and briefly combine. You should still have a few black beans whole and slightly chopped

Scrape the mixture into a bowl with a spatula and put into a bowl, to one side

On the stove top in a frying pan, heat the olive oil to a medium heat

Using oiled spoons (oil the back of the spoons so the mixture doesn't stick to them) put the mixture into burger rounds in the frying pan and neaten the edges. Make sure the pan isn't too hot

Leave the burgers to cook on one side without moving them for 5-6 minutes and then flip them over

Cook fully on both sides, and then add to the burger buns, top with the cheese and add your toppings