* We sometimes use affiliate links, so we may receive a commission, at no cost to you, if you make a purchase through a link. Check our disclosure for more info.
Christmas might be over but do you really need to pack away those twinkling fairy lights you've been loving all Season. I say Hell No! In fact, go buy more on the after Christmas sales. Get joy out of these little lights all year round. Here are 12 Gorgeous DIY Fairy Decor Designs to inspire you to hang those little lights in every room.
DIY Fairy Lights
I bought three sets of Fairy lights last this Christmas. And it's now February and I still haven't taken them down. I love them. They operate off electric power but because they are LED it doesn't cost much AND I don't have to buy batteries. In the evenings I tuck the kids in bed, turn off the the main lights and just peace out with only my fairy lights twinkling on the ceiling.  It's magical and I intend to keep them up for the rest of the year.


I have had a few comments like, "Oh, your Christmas lights are still up?". It's never a question. More of a statement. Then a look.
But I don't care. Fairy Lights=Peace. And at less than $10 a set, it's the cheapest way I know of making an entire room feel like a spa.
Fairy Light Ideas
String Light Photo Wall
We went on holiday last year and spent the night at a friends house. Her teenage daughter kindly gave up her room for our family. Now out of the entire holiday the thing that I remembered most was the photo display she had made in her room. She had strung a set of fairy lights and pegged small Polaroid pictures to the string and then run them across her ceiling. It was beautiful. I will most definitely be doing this in at least one of our bedrooms this year.
Ambient Evening Fairy Light Fire
Winter may be over and the evening fires coming to an end but you can still create that cozy feeling without the heat. Wrap some logs with a string of fairy lights for an all year round firelight.

Peaceful Reading Nook
What a gorgeous gift this would make. A Book, A bed canopy and a string of fairy light to create the never ending experience of a secret reading nook.
Bedroom Starry Night
I truly love this. Just haven't been brave enough to actually paint my ceiling a darker color. Maybe one day?

DIY Fairy Light Mirror
How stunning is this mirror? You can make it this weekend.
Fairy Light Shelves
This can be made with any shelves. Drape your fairy lights around the outside of the shelving unit for some beautiful fairy lit lighting.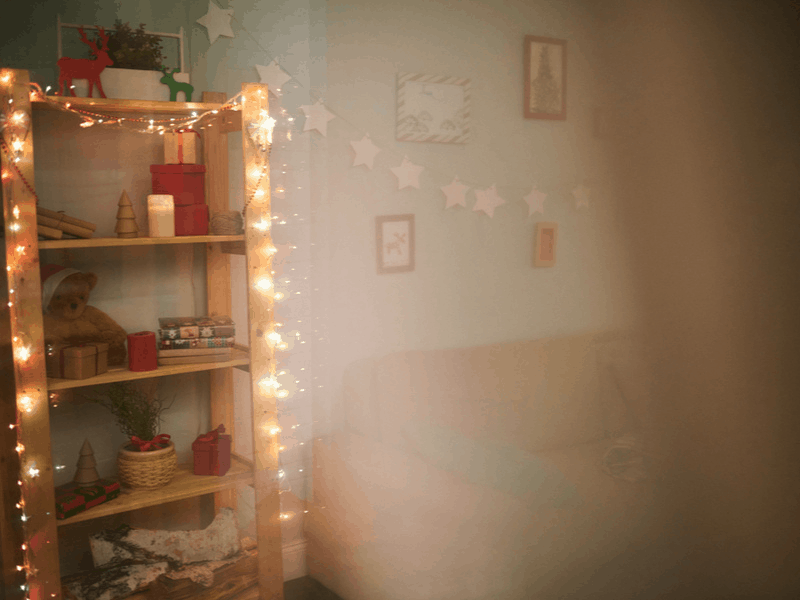 Fairy Light Headboard
Create some easy ambience with a fairy light lit headboard.
Fairy Light Bedside Lamps
Or… wrap twinkling lights around anything for a rustic pair of custom made night lights. I'm sure that this would make you feel like you're falling asleep in fairyland!
Mason Jar Lights
I'm totally in love with this idea! Easy solar lit fairy lights hanging in Mason jars. Beautiful!
More Home Making Posts