* We sometimes use affiliate links, so we may receive a commission, at no cost to you, if you make a purchase through a link. Check our disclosure for more info.
Meal planning is the number 1 thing you can do in your home to stay on top of the whole 'Mommy thing'. It takes 10 minutes to plan a weeks worth of meals, but those 10 minutes will be the most productive thing you do all week.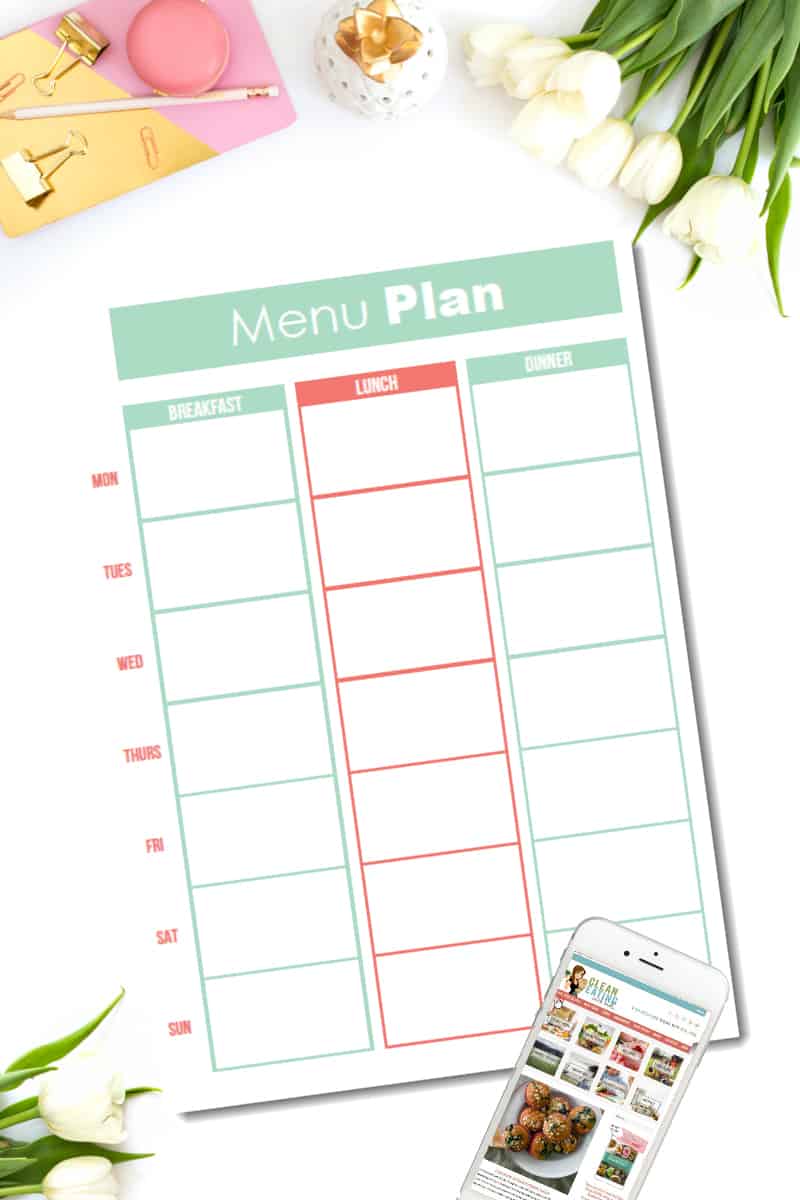 THE "WHAT TO HAVE FOR DINNER" ISSUE
Don't actually do this, because you're likely to hyperventilate … but if you did happen to count the number of times you asked yourself the "what shall I make for dinner" question, I reckon it would be in the thousands.
It's a big question that is honestly harder than it sounds. You've got to juggle the budget, the family schedule, allergies, food intolerance's, picky eating, time … and of course the fact that if you made it yesterday, you can't possible make it again tonight. Could you?
I've got a few resources that are going to make Dinner time so much easier for you.
FREE Weekly Dinner Planner Printable. Print off my free Weekly Dinner Planner here.
Weekly Clean Eating Meal Plans – these come with a done for you printable meal plan. Go collect them here.
The 10 MINUTE Weekly Meal Plan
There are a couple of things that are important to me when it comes to feeding my family:
cooking fast, healthy food and
sticking within my grocery budget.
Dinner planning doesn't have to be complicated. This is an easy dinner planning strategy that works well every week for our family of 6.
1. PRINT OUT THE ONE PAGE DINNER PLANNER.
Print and use a new dinner planner each week and keep them in your recipe binder. You will soon have a library of meal plans customized for your family.
2. CHECK THE FAMILY SCHEDULE.
Look at your family's schedule for the week. What days involve late nights and limited (or no) cooking time? Extra mouths to feed? What's going on this week? Do you have to work late, do you have plans for dinner with friends, or a kids party? Which days are busy school days needing fast breakfasts and easy lunches?
–>> Get the Family Weekly Schedule Printable here
3. CHECK YOUR STOCK.
Check what you have in your kitchen. Take a look through your pantry, fridge and freezer for any ingredients you want to use up that week. Keep track of what's in your pantry, fridge and freezer using Inventories. I include all three of these printables in the CEWK Recipe and Meal Planning Binder).
–>> FREE PRINTABLE: Pantry and Freezer Inventory
4. CHECK STORE SPECIALS.
Take a minute to browse through your local grocery mailer for specials that you can work into your meal plan. This will help reduce the grocery bill for the week. If you keep record of prices then compare this weeks grocery prices to the past weeks. Stock up on anything that's a real bargain.
5. FILL OUT THE PLANNER.
Decide on the meals you want to cook and write them on your meal planner and stick it where you and everyone else in the family can see it (this avoids the countless "What's for Dinner, Mom?" questions).
To help you choose some Dinners:
6. WRITE OUT YOUR SHOPPING LIST.
Once you've decided on your meals, checked your stock and grocery specials, you're ready to write out your grocery shopping list.
–>> Free Printable Grocery Shopping List
18 Fast and Easy Dinner Options to make meal Planning a Breeze.
We all get stuck wondering 'What shall I make for Dinner tonight' every now and again. To be a little honest, I find myself pondering this question most days.
While Meal planning has helped me get on top of my dinner time game, it still leaves me with the question of 'What should I make for dinner on Monday (or Tuesday, …)
So I came up with this little cheat sheet to make life a little easier. This Free Printable with 12 18 Fast and Easy Weeknight Meal Ideas (I add to it every now and then) that makes fast and easy dinner time meal planning a whole lot easier! GET YOUR COPY HERE
---
To Sum it all up:
RECENT POSTS