* We sometimes use affiliate links, so we may receive a commission, at no cost to you, if you make a purchase through a link. Check our disclosure for more info.
We can't protect our children from every bad situation. They will face adversity, mean kids, conflict, fear. And a lot of the time they will have to face it on their own. As much as we want to be there for them, we simply won't. I'm going to share with you a simple technique to build resilience and instantly help your child feel braver, stronger and more powerful no matter what they need to deal with in the next moment.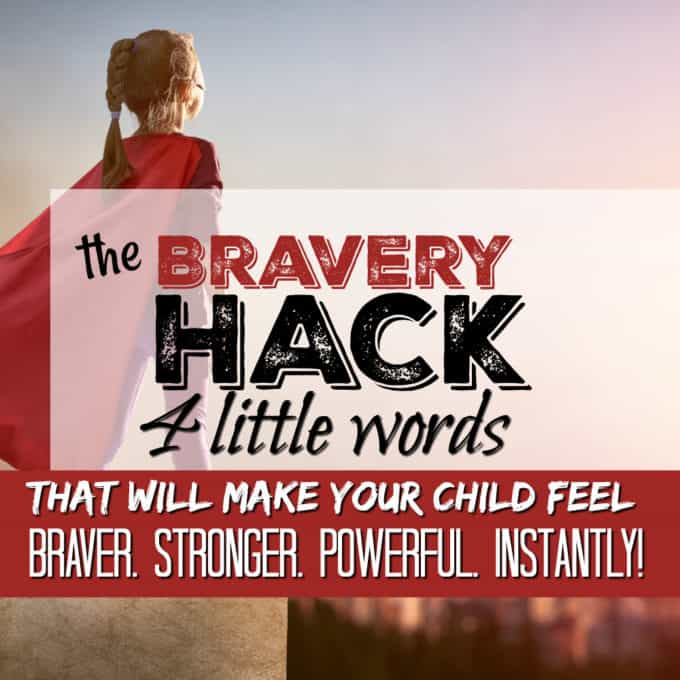 My children love Superhero movies. To be honest, so do I. And it's not just because Thor looks damn fine in his little outfit. No. That's not it. I secretly love the whole 'good always wins' concept. Give me a good action movie any day. As long as there is a strong hero or heroine (I have two girls so I actively seek these out), popcorn and a happy ending, you know movie night in our house guaranteed to be a success.
The Hero Agenda is not only in movies.
I have been reading 'hero' books to my children for as long as I can remember. All four of them have gone on to be readers and the 'hero' theme still dominates their book choices.
Video Games take this idea a bit further. When my Boys play computer games, they get to actually be the 'hero' in the story. I think that it's the reason that boys get so hooked on this online past time. They get to role play as the hero on a level playing field. The more they play, the better they get. Their confidence grows along with their gaming ability. They are Masters of their destiny. And they feel empowered.
Now if only we could get them to transfer those emotions to the real world.
In real life our kids often don't feel like heroes. Like most of us, they internalize failures and can be effected by comments or ridicule from their peers. We have all experienced this at some point – and our kids are no different. And it hurts to see it.
There is something you can do to help them when you are not there to provide back up.
And it takes all of 2 seconds for the Power to kick in.
When my children find themselves in situations like these, they use a little trick to help them instantly feel more resilient, powerful and braver – and it works for adults too!
An Invisible Super Power
A few years ago, I came across the concept of Neuro Linguistic Association. Stick with me here. I'm going to Geek out a bit BUT this is where it gets interesting and I promise it will be worth it!
The Power of Neuro Associations
Neuro-Associations are invisible links between the thoughts and emotions in your brain. These links effectively create and shape what you think about and how you react in certain situations.
For example, when I smell chicken soup cooking. It takes me back to spending holidays with my Gran on her farm. It's instant. The emotions, the memories. They are crystal clear in my mind – all because of a single smell.
It works the other way too. I don't like the smell of pool chlorine. It reminds me of being 4 years old and starting at a day care I didn't like. I remember feeling alone, scared and lost and thinking how long the days were.
I have associated those two smells to emotional events in my life. Because of this, I can relive those emotions instantly 36 years later, triggered only by a single smell.
Now, there are other associations that happen in our brains every day. Every thought you have is linked to a number of other related thoughts or emotions that are associated in some way through common themes and/or experiences. You may not even be aware of it.
These links create a bridge between our thoughts and our emotions. So a single thought can very easily trigger an emotional experience through association, not logic.
These emotional links or bridges can be made through smells, thoughts, memories or words. Some are personal and some are more common, cultural themes – like the concept of 'hero'.
The Hero Association
What do you think of when you think of a Superhero?
Chances are, like most of us, you immediately associate the image of strength, confidence, ability and power.You haven't consciously decided to do this.  We have been programmed through movies, stories, our own daydreams and video games to make these associations. The link is already in place. And we can teach our children to use this to their advantage.
The Four Magic Words that make you braver – Instantly!
When my children find themselves in a situation where they need a little more confidence of a surge of bravery, they say these four little words quietly to themselves:
"Put on your Cape"
That's it. 4 Little Words.
My children used this little trick when starting a new school last year. They use it when standing in front of the class and doing speeches or starting a race or when facing conflict. It doesn't take away the problem, but it does help them deal with it better. It's a simple technique that transforms their emotions and helps them draw on their own power -instantly in that situation.
How this Trick Works
When I first taught this trick to my children, I told my children I was going to teach them a Bravery hack that would make them feel braver, stronger and more confident in 3 seconds. All four of them wanted to learn it.

First Play the Game
We had a bit of fun playing a simple imagination game.  I asked them to imagine they were a Superhero wearing their Superhero cape. Join in on this. Moms need a little bravery too some days:).
What color is the cape? (They normally choose red).
Is it heavy?
Is it soft?
How does it make you feel?
Imagine what it feels like on your shoulders
What powers would you have? (one had super strength, one could shoot flames out of their hands).
How would you stand when you were wearing it?
Watch their body language as they play.
Do they stand taller?
Do they push their shoulders back?
Do they hold their heads up a little higher?
When you see the change in their body language, you will know that the association has been made.
This is where the magic happens. A lifetime of power associations and programming is made available in an instant. You will see you child stand a little taller. Hold their head a little higher. They will feel braver and more capable. Instantly!
Building their Power
Over the next few days, reinforce the superhero association.
Get them to imagine "Putting on their cape". You can do this randomly during the day.
Keep the game going (how do they feel, how would they stand, imagine what it feels like on your shoulders)
Watch their body language change as they image "putting on their cape".
Remind them to "try it on" when they need to feel braver or when they are feeling a little insecure.
Learning Resilience
Resilience is that ineffable quality that allows some people to be knocked down by life and come back stronger than ever. Rather than letting failure overcome them and drain their resolve, they find a way to rise from the ashes. Psychologists have identified some of the factors that make someone resilient, among them a positive attitude, optimism, the ability to regulate emotions, and the ability to see failure as a form of helpful feedback. Even after misfortune, resilient people are blessed with such an outlook that they are able to change course and soldier on. (source: Psychology today)
We can all do with feeling a little braver at times. Sometimes all it it takes is something small trick like this little Bravery Hack to get you though the moment and help overcome fear or anxiety and deal with any situation a little better.
I am so excited to share this little trick with you. It has helped my children immensely this past year with all the changes we have made – moving country, changing schools, leaving friends, dealing with anxiety – to name a few.
I would love to know if you tried The Bravery Hack and how it worked for your child.