* We sometimes use affiliate links, so we may receive a commission, at no cost to you, if you make a purchase through a link. Check our disclosure for more info.
Get the kids helping out with this healthier pineapple upside down cake recipe. All the awesome taste, none of the refined sugars!
Grab the FREE 18 Meal Ideas CHEAT SHEET Here!
Healthier Pineapple Upside Down Cake Recipe
This really is a childhood throw back for me! Upside down Pineapple cake was a staple in our house and we'd bake this fairly regularly. It was a magical cake when I was a kid, even though the upside down part was simply that the cake was baked and then turned upside down so you could see the pineapple. But I promise you, it seemed like there was way more wizardry involved :)
Pineapple Cake Ingredients
This cake is moist and absolutely bursting with flavor. There's no butter involved here, and where the traditional sweetener used would be refined white sugar I first tried making this with coconut sugar but it affected the taste and so a better alternative is Maple syrup. You get the sweet taste without taking away from the main cake flavor.
Greek yogurt added to this recipe keeps the cake light and replaces the butter and it works really well. The cake batter comes together easily, while the mixture isn't quite as heavy as you might expect.
'Cake flour' is usually all purpose flour, self rising. I've used a white buckwheat flour and then added a teaspoon of baking powder to help the cake rise. I've found it really hard to find self rising flour in the flours I like to buy and so always generally make my own. Self rising flour is simply flour with added baking powder so it's not hassle to make your own.
I've used pineapple rings right out of a can for this, they're in their natural juice and not syrup, although I have left off the maraschino cherries, those bright red sugar drenched cherries that you'd normally find on this. Very 1970's!
If this cake is simple not the same for you without the cherries, you could use fresh cherries if you liked.
You could use fresh pineapple, but pineapple slices are definitely easier to use. The rest of the ingredients are really pantry store staples, so this cake, dessert, snack (whatever you want it to be!) is a great throw together recipe that kids loving help out with.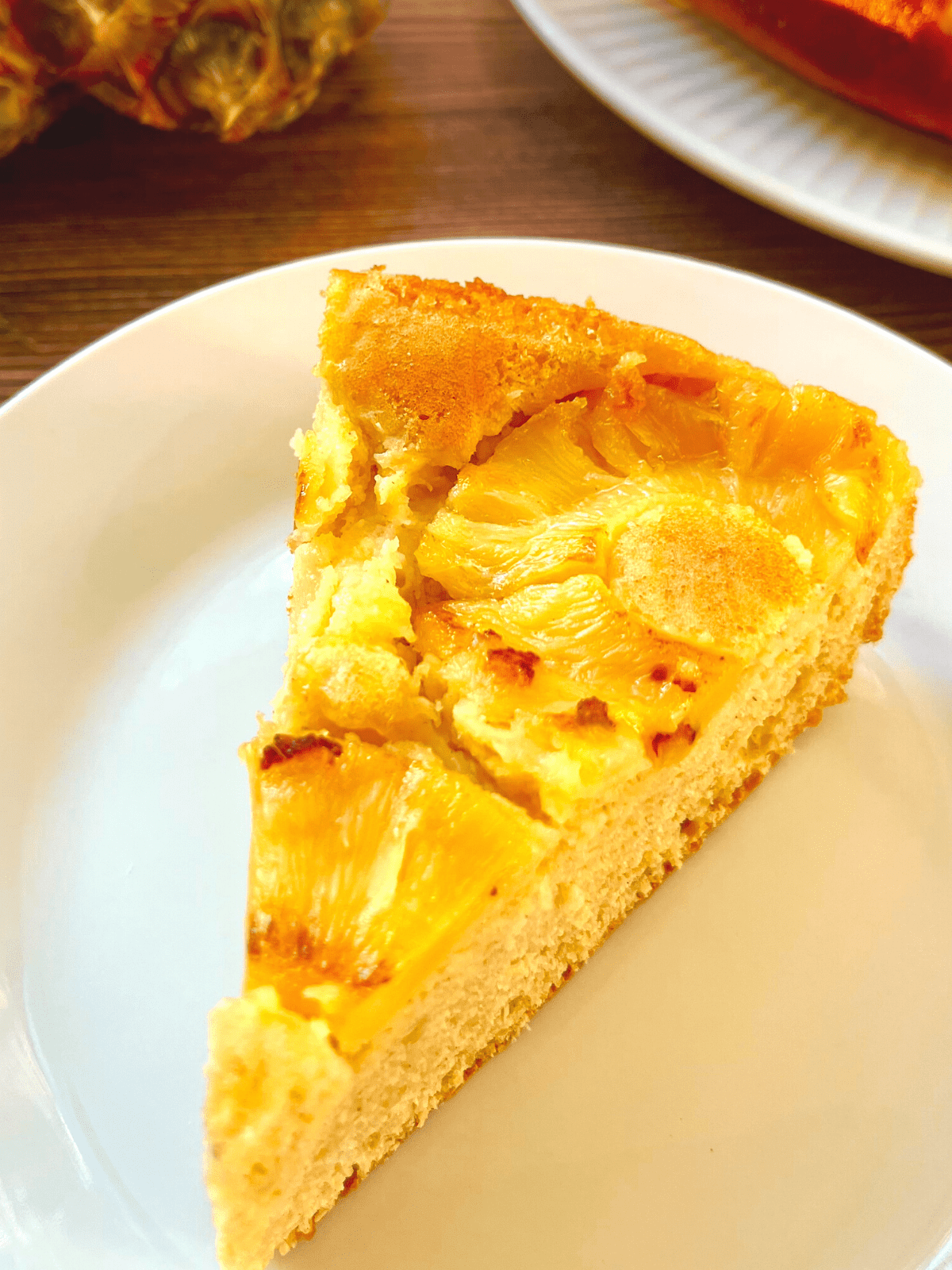 More Healthier Cake Recipes
Fresh Or Canned Pineapple?
You can use whatever pineapple you like, but i've always used canned pineapple rings right out of the can. I have lots of tinned fruit in my pantry, it lasts for ages and when you haven't planned anything and decide to put something in the oven, canned fruit comes in handy for loads of recipes.
I make sure to buy the tinned fruit in natural juice and not syrup. So many of them seem to be in syrup which is simply sugar and even drained (as I do even with the pineapple juice) the sugar's going to be soaked into the fruit, so I avoid that.
If you want to use a ripe fresh pineapple you might want to invest in one of these pineapple corers.  They're pretty inexpensive and make the job of coring and slicing a fresh pineapple easy.
What To Eat With Pineapple Cake
We tend to eat this as it is as you would any other cake. If you want to have this as a dessert you could have it with some of this Clean ice cream, or even heat it up and make a quick batch of this custard. It's really up to you!
Grab the FREE 18 Meal Ideas CHEAT SHEET Here!
Storing Your Pineapple Cake
Your Upside down pineapple cake can be stored in an airtight container for up to 3 days. The cake, like most others does dry out a little after about 2 days but it's absolutely fine to eat up to 3 days after it's been baked.
I have tried to freeze this cake it's just…okay. It's a moist cake to start with a the freezing process doesn't do much for it!
Grab the FREE 7 Day Clean Eating Challenge Pack & Take The Kids Diet From Zero To HERO!
How To Make A Healthier Pineapple Upside Down Cake
Ingredients
1½ Cups Flour I used Buckwheat flour
3 Eggs Whisked
4-6 Pineapple rings Tinned, in natural juice, drained
½ Cup Greek yogurt Full fat
¼ Cup Maple syrup 100% Pure
1 level tsp Baking powder
1 tsp Butter Melted, unsalted
Instructions
Heat your oven to 200c or 390f depending on your oven and line a cake pan with parchment paper. I draw round the tin to cut out the base and then line the sides, using a little room temperature butter to stick the parchment to the tin
In a large mixing bowl add the whisked eggs, Greek yogurt and maple syrup and combine well. You can use either a hand whisk or electric beaters to do this
Sift the dry ingredients: flour and baking powder into the wet ingredients and mix until just combined
Use the melted butter to grease the bottom of the cake tin and then place your pineapple rings into the cake pan and then pour the cake batter on top of the pineapple rings
Bake for 25 minutes and check it's cooked through using a sharp knife, skewer or a toothpick inserted into the middle of the cake to make sure it comes out clean. If it doesn't, put the cake back into the oven for another 5 minutes
Cool the cake down in its tin for at least 25 minutes and then turn it out onto a wire rack, gently peeling the parchment paper off the top
Healthier Pineapple Upside Down Cake Recipe
Healthier Pineapple Upside Down Cake Recipe
Here's a quick and easy recipe for a healthier pineapple upside down cake. All the awesome flavor, none of the refined sugars!
Ingredients
1½

Cups

Flour

I used Buckwheat flour

3

Eggs

Whisked

4-6

Pineapple rings

Tinned, in natural juice, drained

½

Cup

Greek yogurt

Full fat

¼

Cup

Maple syrup

100% Pure

1

level tsp

Baking powder

1

tsp

Butter

Melted, unsalted
Instructions
Heat your oven to 200c or 390f depending on your oven and line a cake pan with parchment paper. I draw round the tin to cut out the base and then line the sides, using a little room temperature butter to stick the parchment to the tin

In a large mixing bowl add the whisked eggs, Greek yogurt and maple syrup and combine well. You can use either a hand whisk or electric beaters to do this

Sift the dry ingredients: flour and baking powder into the wet ingredients and mix until just combined

Use the melted butter to grease the bottom of the cake tin and then place your pineapple rings into the cake pan and then pour the cake batter on top of the pineapple rings

Bake for 25 minutes and check it's cooked through using a sharp knife or skewer inserted into the middle of the cake to make sure it comes out clean. If it doesn't, put the cake back into the oven for another 5 minutes

Cool the cake down in its tin for at least 25 minutes and then turn it out onto a wire rack, gently peeling the parchment paper off the top