* We sometimes use affiliate links, so we may receive a commission, at no cost to you, if you make a purchase through a link. Check our disclosure for more info.
Honey shortbread cookies are quick and easy to make, and you probably already have the ingredients in your kitchen. Check out this super easy cookie recipe.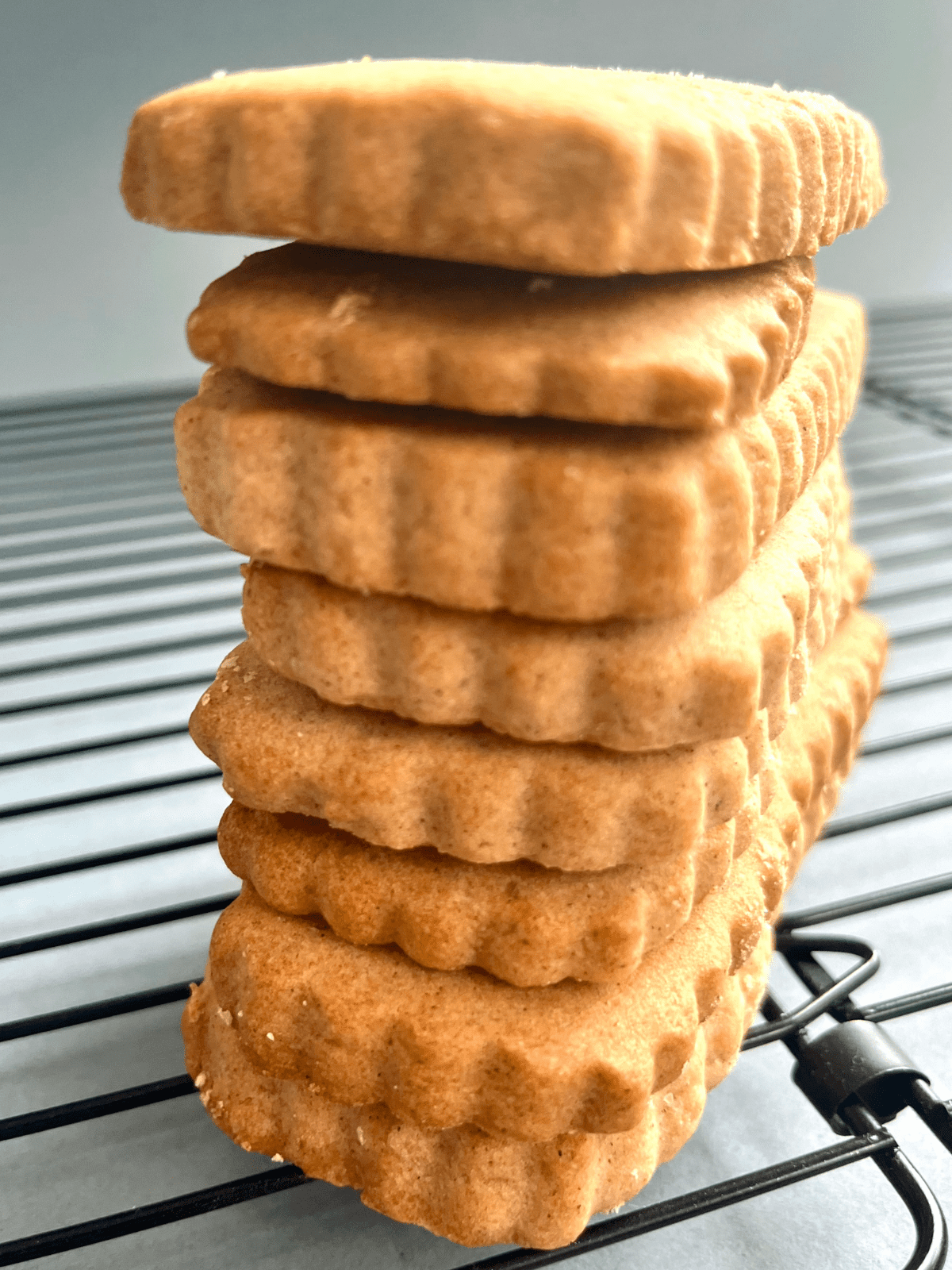 Grab the FREE 18 Meal Ideas CHEAT SHEET Here!
Honey Shortbread Cookies
These simple, refined sugar free delicious cookies are lightly honey flavored, sweet and crumbly.
Before we started on this crazy Clean eating journey we're on, the one where I attempt to make the things, within reason, that we all used to like that were store bought, we used to eat our way through quite a lot of cookies. While we're not talking mountains of the things, we ate way more than we should have done.
And yep, that's my fault since I bought the things.
These days however we do still eat cookies but now they're homemade and better than the shop bought ones.
As you have to actually make them I find we eat far less, a batch is more often than not gone the same day they're made and then that's it until the next time someone wants to bake some. Which one of my kids who'll remain nameless would happily do every-single-day :)
Shortbread were one of the cookie biscuits I used to buy a lot. I know come people think they're a bit boring given the huge variety of cookies lining the supermarket shelves but we loved them. I loved them, especially with an afternoon cup of tea. Luckily for me, these are as good if not better and so my afternoon snack time remains in place!
If you need a 'better' homemade version of simple, plain cookies to feed your kiddos do give these a try. I hope you'll love them as much as we do!
What Is Shortbread?
It's thought shortbread got it's name from the dried out, left over bread dough that was made in Medieval times. It was dried out and left to harden over a very low heat. It is though, not a bread at all as we know it today but like so many things today, the names stuck from a long time ago and I kinda like that!
The shortbread we know and love today is a very simple dough made from butter flour and sugar. The store bought shortbread is almost always made with refined white sugar. Mine is not. I sweeten these cookies with honey, so while they're sweet they also have a honey taste.
You still get the crumbly, biscuity taste, they're still moorish like you wouldn't believe and the kids still go crackers for them. So it's all good, with none of the nasties.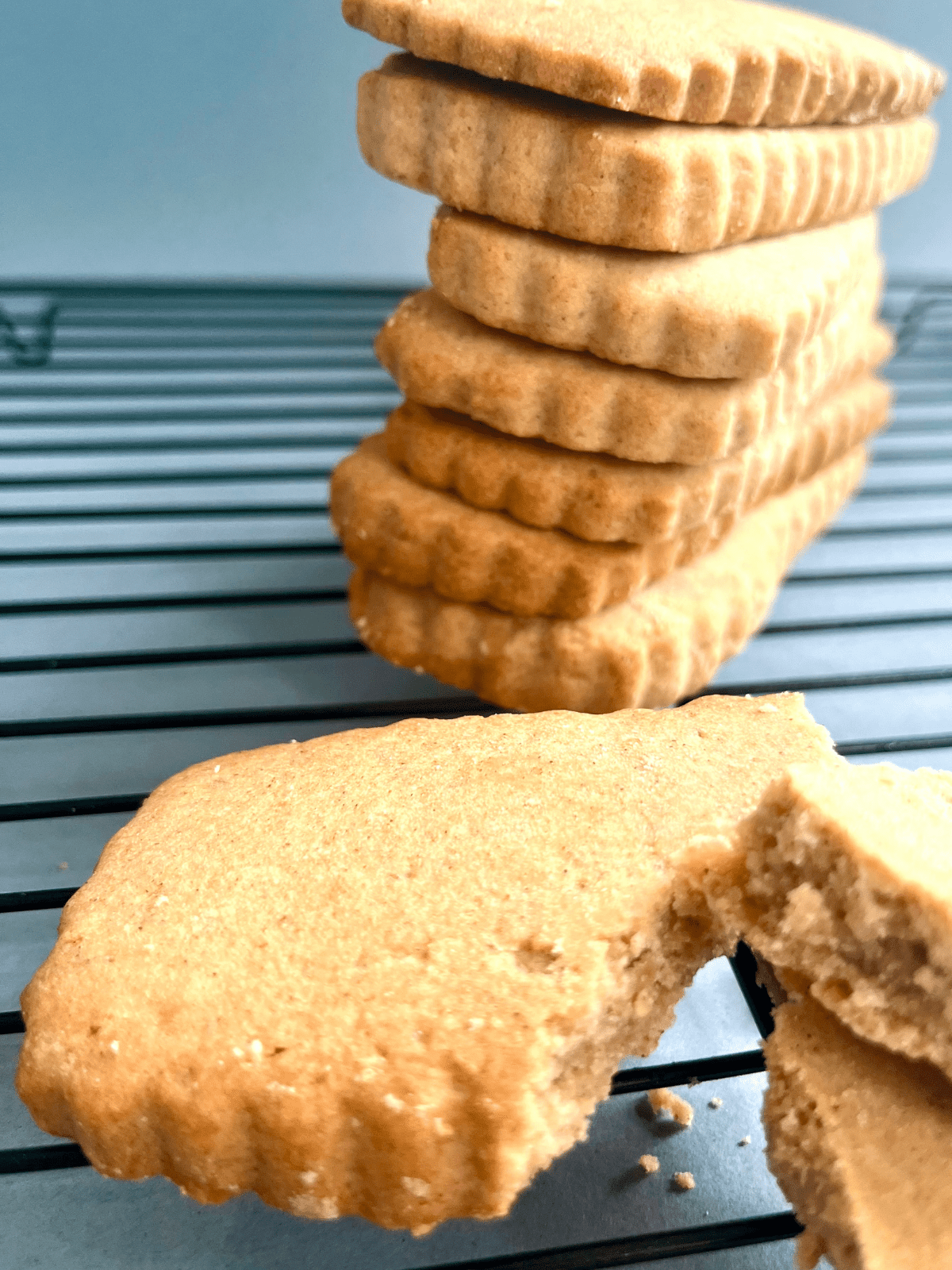 Ingredients
3 Ingredients. And you've most likely got them in your pantry right now.
Butter
I use slated butter to make these as the salt helps bring out the flavors. You can add a pinch of salt to the recipe if you only have unsalted butter, it won't make any difference which way you add the salt, through the butter or adding it in.
Flour
I used Buckwheat flour to make these. You could also Einkorn flour or white Spelt flour if you have them at home. I tried to make these with Wholewheat flour once. The flour gives them an odd taste and they weren't great. I recommend you stick to white healthier flours when you make these.
Honey
I used the thicker, cloudier honey to make these. It's paler in color than the runny honey you buy: What ever honey you go for, make sure it's got nothing added to it and is just 100% pure honey!
Grab the FREE 18 Meal Ideas CHEAT SHEET Here!
Additions
We like our shortbread plain.Shortbread to me is kinda plain, that's the beauty of it. However, there are shortbreads with all sorts of things added to them, here's some you could try out if you wanted to make these a little fancier:
Chocolate chips – Dark, milk, white chocolate chips can all be added to these biscuits. A quarter of a cup combined into the dough before you roll it out will give you a little chocolate hit!
Dried cranberries – Dried cranberries (fresh cranberries carry too much moisture) add some fruity goodness
Dried cherries – As with cranberries, but cherries!
Cinnamon – Add a tablespoon of cinnamon to the flour before you make the dough if you're a cinnamon lover
Vanilla – A tsp of vanilla bean paste adds a subtle flavor and sweetness to the honey
Lemon zest – Adding the zest of one lemon to the dough before baking and making sure it's well rolled though the dough makes these taste zingy!
Nuts – Love nuts? Add a quarter cup of mixed chopped nuts to the dough before rolling it out for extra crunch
Lavender – Lavender? Uh huh! If you can find culinary Lavender (I wouldn't eat the Lavender from the garden!) try adding a tablespoon of it finely chopped to the dough. It's very potent. Mu kids are not huuuuge fans!
Cutting Your Shortbread
We have cookie cutters in abundance here. Seriously, there must be over 50 of them. In every shape, size and color. And yet I still love the classics!
You can either use a knife to cut your cookie dough into straight line cookies, or use a cookie cutter. Obviously your cookie cutter will dictate how many cookies you get to eat at the end!
Storing Honey Shortbread
Once these are cooled you can keep them in an airtight container for up to 2 days.
More Cookie Recipes
How To Make Honey Shortbread Cookies
Ingredients
½ Cup Butter I used salted butter, room temperature
1½ Cups Flour I used buckwheat flour. Have a little extra flour around for rolling out and dusting your work top
¼ Cup Honey I used a Clover, thick honey
Instructions
Heat your oven up to 190F or 370C and line a baking sheet with parchment paper
In a large mixing bowl add softened butter and honey and using an electric mixer beat the two ingredients until you have a pale fluffy mixture
Add the flour in 3 lots and use a wooden spoon to bring the mixture into a dough
Dust your work top with a tablespoon of flour and roll the dough out until it's about ¼ inch thickness. Then use a cookie cutter to cut out your cookies with shortbread mold and place them onto the parchment paper
Bake for 12 minutes and then cool on a wire rack
Honey Shortbread Cookie Recipe
Honey Shortbread Cookies
Honey shortbread cookies are quick and easy to make, and you probably already have the ingredients in your kitchen. Check out this super easy cookie recipe.
Ingredients
½

Cup

Butter

I used salted butter, room temperature

1½

Cups

Flour

I used buckwheat flour. Have a little extra flour around for rolling out and dusting your work top

¼

Cup

Honey

I used a Clover, thick honey
Instructions
Heat your oven up to 190F or 370C and line a baking pan with parchment paper

In a large mixing bowl add softened butter and honey and using beaters beat the two ingredients until you have a pale fluffy mixture

Add the flour in 3 lots and use a wooden spoon to bring the mixture into a dough

Dust your work top with a tablespoon of flour and roll your dough out until it's about ¼ inch thick. Then use a cookie cutter to cut out your cookies and place them onto the parchment paper

Bake for 12 minutes and then cool on a wire rack