* We sometimes use affiliate links, so we may receive a commission, at no cost to you, if you make a purchase through a link. Check our disclosure for more info.
Kids can be accident prone. Some more than others. Keeping a well stocked medical kit around at all times is essential if you are a Mom. You don't want to be caught off-guard with an injured child and no supplies to treat them! Keep your Mom's First Aid Kit well stocked with these essential items.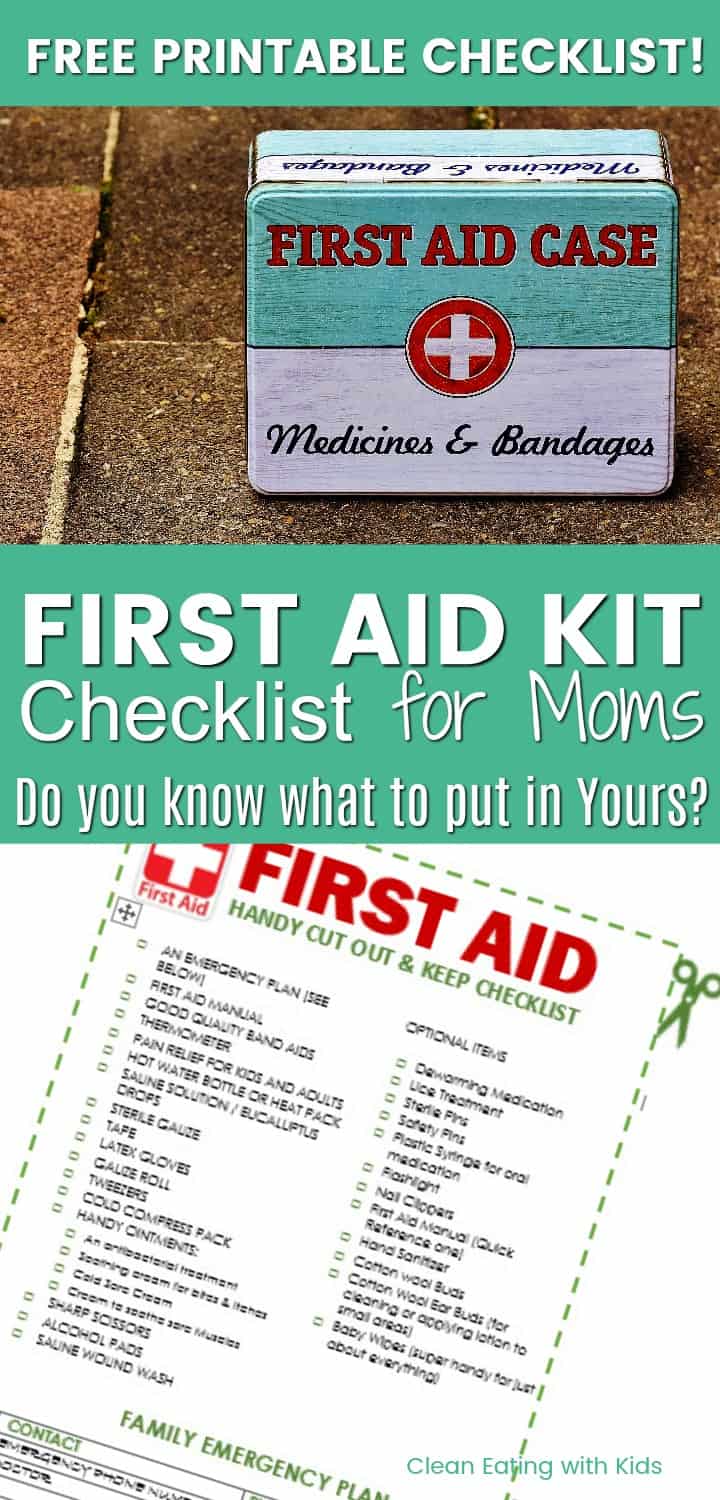 ---
More Mom Posts
The Simple Hack to Save a $1500 Emergency Fund this Year
5 Healthy Eating Tricks to Cut The Crap by 80%
The 5 Second Bravery Hack
---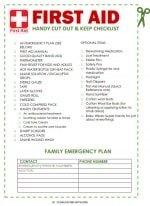 GET YOUR FREE PRINTABLE: First Aid Checklist Upgrade and update your Family First Aid Kit with this handy printable checklist.
Since having kids, the first aid kit has become one of my most valued Mommy tools. It's been the thing I go to first when dealing with everything from bites, cuts and scrapes to other unpleasant ailments (we will get to this later).
FIRST AID 101
Nothing beats having the knowledge of 'what to do in an Emergency'. Seriously consider doing a basic first aid course. It's a couple of hours of your time that could possible save lives.
GO WITH YOUR GUT
I have spent way too many hours in emergency rooms and doctors offices. Unfortunately kids sometimes get sick and it's our job to help them. With my first child I would go in to the doctor for everything and I remember getting 'that look' from nurses or doctors when they asked if it was my first child.
But do you know what? I would do it all again. I would be that new Mom sitting that waiting room any day rather than be alone and worried at home.
Don't risk it when it comes to your child. If you are uncertain about dealing with an ailment, take your child to the doctor. Who cares if they look at you funny? Even if it ends up being a false alarm or something small – at the very least you learned how to deal with the issue next time.
Don't wait until you actually need it. You can get a fully stocked first aid kit for under $15. 
As a Mom, you want to provide the best care for your child, and a properly stocked first aid kit is essential for every single household, and this is what you should have in it:
WHAT YOU NEED IN YOUR FAMILY FIRST AID KIT
AN EMERGENCY PLAN
Keep a copy of emergency numbers and contacts taped to your first aid kit. This includes your Family Doctor, emergency services, fire department, family members. Click here for a Printable Family Emergency Plan for home and for on the go.
GOOD QUALITY BAND AIDS
You go through A LOT of these as a parent. Forget about the novelty stickers and go with the ones that work. The ones that work best for us are the fabric ones. They are super sticky and tend to stay on really well. I buy them in packs of 100 and it's surprising how fast we work through them. I don't bother getting all the different sizes because I just cut them to the size I need. This saves me a little money too.
THERMOMETER
Invest in a good quality digital thermometer that you operate with one hand without causing the child unnecessary stress. I love my ear thermometer – it's quick and easy to use and kids don't mind me popping it in their ear. NOTE: Keep an spare set of batteries at all times. I cannot even begin to say how much I love mine, it's been one the best things I keep in my first aid box!
PAIN RELIEF
I'm not going to recommend a brand because I'm not a doctor. But having both adult and child appropriate pain relief on hand is great for dealing with late night tummy aches, lowering temperatures and growing pains.
HOT WATER BOTTLE OR HEAT PACK
Oh my goodness! This has been so useful over the years. We have the good ol' fashioned hot water bottles and a couple of microwaveable wheat packs for the younger kids in our bathroom cabinet and they are amazing to help with tummy aches or as a comfort for kids with colds. I tuck them in on the couch with a blanket and hot water bottle and it works it's magic.
SALINE SOLUTION & EUCALUPTUS DROPS
I have been kept awake by stuffy noses for more nights than I can remember. A couple drops of saline solution in the nose does wonders. If your child doesn't like that (and I have two who don't) then a few drops of eucalyptus oil onto cotton wool works wonders. Tuck the treated cotton wool into their pillow case or if your child is still young, put a couple of drops onto the back of their clothes (or somewhere they can't reach).
STERILE GAUZE:
Sterile gauze is the workhorse of every first aid kit. It is far more effective to use to stop bleeding than a band aid and it's not sticky so can be removed much easier than the plaster if you need to access the wound to treat.
TAPE:
Medical tape can come in handy for many different things, such as adhering gauze on to a wound, or splinting.
LATEX FREE GLOVES:
If you are treating anyone other than your child or immediate family where medical history is unknown, you will want to use sterile gloves to be safe.
GAUZE ROLL:
Sterile Gauze rolls are also great for wrapping a wound while putting pressure on it at the same time. They are inexpensive and versatile enough that having a few on hand is always suggested.
TWEEZERS:
Tweezers are great for removing small splinters of pieces of glass from little fingers. Make sure they are sterilized (pop them in boiling water and then allow to cool) before using.
COLD COMPRESS PACK:
Keeping a cold pack in the freezer is always handy for bumps and bruises. I use the sponge in a bag hack. It works perfectly. But a bag of frozen peas works great too.
OINTMENTS:
The ointments that you keep are generally a personal thing, the generic ointments we keep in our first aid include:
• An antibacterial treatment
• Soothing cream for bites and itches
• Cold Sore Cream
• Oil to soothe sore Muscles
If your child needs specific medication, then make sure you always keep it ready to go in your first aid kit. Get hold of your family doctor and request an additional emergency supply.
SHARP SCISSORS
Keep these sterile and sharp. Don't be tempted to use them for random things around the house. These stay in the first aid box because you will need them to cut band aids, gauze and tape.
ALCOHOL PADS:
Alcohol Pads are optional for home first aid kids, because simple anti-bacterial hand soap also will do the same job, and won't sting. I like them because since we live on a farm we are often away from hit water and soap. These are always in my first aid box.
SALINE WOUND WASH
Saline wound wash is great for cleaning out the wound before treating. Make your own by filling a sterile bottle with cooled, boiled water. This works well as an EYE WASH too if you need to flush dust or glitter out of a child's eye.
THE UNMENTIONABLES:
You think it won't happen to you, but maybe you've noticed, kids bring home some really nasty bugs that we don't always like to talk about. Keeping these treatments on hand can save a lot of unnecessary stress.
WORM MEDICATION
These little buggers really gross me out, but since moving to a farm, I have been paranoid when it comes to avoiding these parasites. I keep a full dose of worm medication in my first aid at all times. Doctors may tell you that you can't get them from the family pet or livestock, but my Vet wasn't so certain. So I'm not taking any chances.
LICE TREATMENT
Last year we had an outbreak of lice in our home. It was scary. I struggled to get on top of it and at the end of the day, the thing that worked best was sitting and coming my children's hair. There are plenty of over the counter options available for treating lice. And I would recommend spraying your children's hair with a lice repellent as soon as you hear about lice going around the school.
OPTIONAL ITEMS:
These are things that I have really useful to keep in the first aid kit over the years:
Sterile Pins
Safety Pins
Plastic Syringe for oral medication
Flashlight
Nail Clippers
First Aid Manual (Quick Reference one)
Hand Sanitizer
Cotton wool Buds
Cotton Wool Ear Buds (for cleaning or applying lotion to small areas)
Baby Wipes (super handy for just about everything)
Eye Wash
Olive oil for ear wax removal (a coupe drops in the ear for three nights does a great job dislodging ear wax).
FIRST AID BOX
A Fishing Tackle box makes a great first aid box. It's portable, waterproof and generally cheaper than a first aid box (I don't why). And you can get them just about everywhere.
Get your FREE PRINTABLE FIRST AID BOX CHECKLIST here or Click on the image below. Your printable will open up immediately in a new window.