Two Ingredients? YES! I know it's hard to believe, but trust me – This is the recipe you have been looking for. I use this for pizza bases, garlic pitta bread and even camping bread. It is Amazing!!!
The Two Ingredients you will need:
2 cups Wholemeal Self Raising Flour
200ml Greek Yogurt
Knead flour and greek yogurt together until you have a well mixed dough. Divide into 2 or 8 or 10 even balls (depends on the size pizza you want). Roll out with a rolling pin and ….. drum roll please …. your pizza bases are ready to go.
To FREEZE: I like to have these ready to go, so stack bases on top of each other with baking paper between. Then wrap the stack in cling film and freeze. To thaw, simply remove and leave on bench top for around 5 min.
I get a ton of questions about this recipe, so I have updated it by showing you what would happen by using different kinds of flour to make up your two ingredient pizza dough. I whipped up three standard Margarita Pizzas using one of these flour types:
Self Rising Flour
Whole Wheat Flour
Self Raising Wholemeal Flour (A Note on this one. Sometimes Self Raising Wholewheat Flour is hard to find.  If you want to use the Wholemeal flour, I recommend you add 1/2 teaspoon baking powder per cup of flour to get a slightly lighter crust).
Each of the pizza dough recipes contain only two ingredients: 1 sup of flour and 1/2 cup plain Greek Yogurt.

Self Raising Flour
Using Self Raising flour results in a tasty and fluffy pizza base that everyone will love. Try it, I know that everyone in your family will love it.
Now to make up our pizza using Plain Flour in our dough.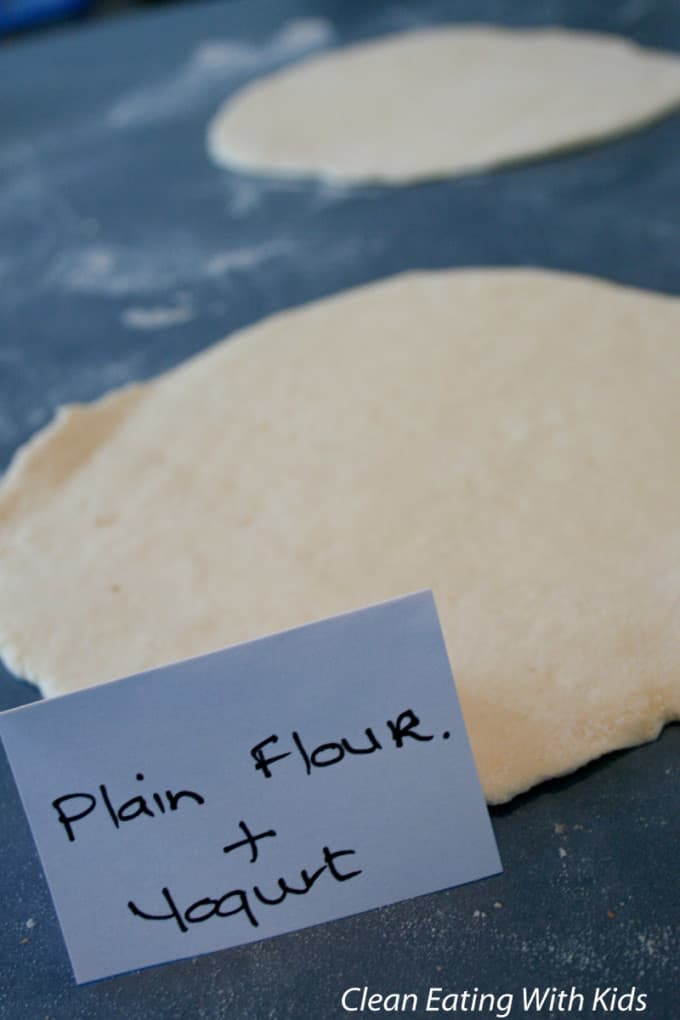 Self Raising Wholemeal Flour

Finally I used Self Raising Wholemeal flour in the dough. This results in a ridiculously rustic and beautiful pizza. The crust is a bit chewier than the first two, but tastes delicious and is by far the favourite.
Clean Pizza Dough (ONLY Two Ingredients)
Author:
Clean Eating with Kids
Prep time:
Cook time:
Total time:
Ingredients
1 cup Self Raising Flour (White or Wholemeal)
½ cup Greek Yogurt
Instructions
Mix flour and yogurt together until a smooth dough.
Roll out on a floured surface. This amount will make 1 large or 2 medium sized pizzas.
Add your favourite toppings and bake for 10 min at 180 degree Celsius or 350 degree Fahrenheit. I have a fan forced oven, so you may need to increase cooking time slightly (1-2 min) with a standard oven.