* We sometimes use affiliate links, so we may receive a commission, at no cost to you, if you make a purchase through a link. Check our disclosure for more info.
Whether you are trying to disguise road noise, add a little intrigue to a small backyard or just wanting to appreciate the peace that the sound of running water gives you – then take a look at these absolutely stunning backyard pondless disappearing waterfall designs. They're low maintenance and water efficient options with all the benefits and non of the hassle that goes along with maintaining a pond.
Pondless Waterfall Ideas
I've been eyeing up this pondless waterfall garden trend for a while. There is this little area between the driveway and our home that needs 'something'.
I didn't know what that something was until I popped over to a friends house and saw her pondless disappearing waterfall. Disappearing waterfall. Doesn't the name even sound magical? It just rolls off your tongue.
We sat drinking a cuppa and chatting, but I swear I can hardly remember the conversation. I was obsessed with the little waterfall making this amazing water flow sound on the sidelines and I was secretly analyzing how it was built.
She must have noticed my state of distraction because she mentioned that they (hubby and her) had built it over a weekend with a DIY kit, some boulders and instant concrete. Sounded easy enough.
I just have to figure out how to get the hubby involved. That might be the hard part, I guess. I might have to just get started. He stresses when I get the tools out. It's like going fishing. You just need the right bait. In my case, all I have to say is, "Babe, where can I find the battery for the circular saw".
The Benefits of a Pondless Waterfall
No Pond being the most obvious benefit. You will appreciate this if you have ever tried to maintain a pool of water in your garden. They can get pretty gross and green without the proper care. It's a bit like owning a pet really. By going pondless, you skip all that. Al go straight to the enjoying bit.
The Sound of falling water soothes the soul. And disguises any unwanted noises like vehicles passing or too close neighbours.
You don't need a lot of space to set up your waterfall. You can put them pretty much anywhere: Along a garden path, in an unused corner of the property, in a flower bed or even a small entrance way or patio.
They use very little water. The same water is pumped in a never ending circle back to the top of the waterfall. If you live in a sunny region, the pump can be set up to be run by solar energy.
Safe. They make a fantastic, safe water play area for kids.

Backyard Pondless Waterfalls
Here are some of the best pondless waterfalls I've found:
Magical Fairy Garden
This disappearing waterfall is the perfect place to build a fairy garden. Big round boulders and flat sitting spots make it perfect for little kids. Look closely and see how many fairies you can count. My daughter would be obsessed with this.
Also see: Magical fairy gardens you can make in a weekend
Transform an ugly wall into something stunning
Do you have an old wall or side of the house that you just can't disguise? Make it a feature like this wall with a simple cascading sheet of water.
Natural stone and pebbles
Battling to grow plants in a dry area of the garden? This natural rock and pebble waterfall gives a feeling of coolness and distracts from the arid landscape surrounding it. This is the one I am looking at buying. It's a simple rock waterfall which I think I could actually DIY – maybe even without my husbands help.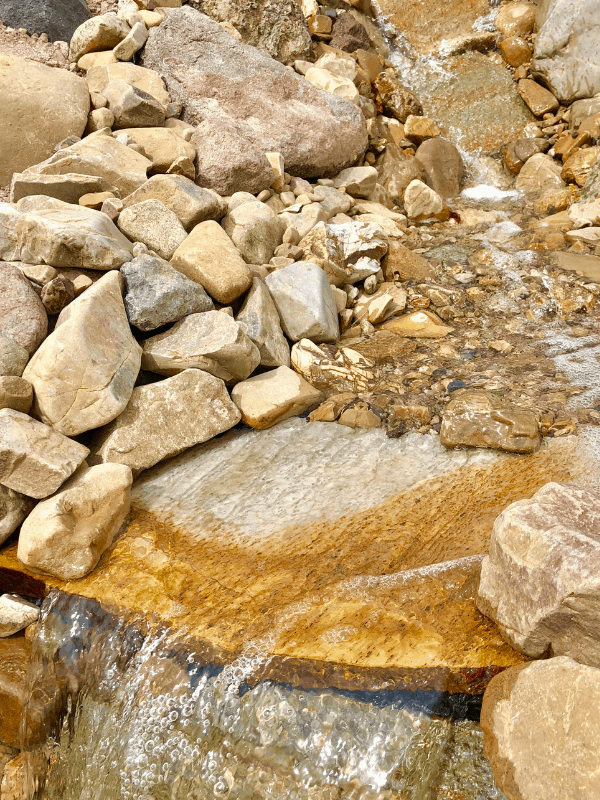 Join two parts of a Garden
Forget boring pathways. This DIY bubbling brook is an interesting way to connect two areas of your garden and make it feel more alive.
Disguise the Effluent field
Effluent fields can be a large and unsightly necessary addition to rural homes. A pondless disappearing waterfall can detract from the unsightly area without contamination as it operates within it's own sealed off water system.

Rainwater Runoff
Soggy lawns a problem when it rains? A pondless waterfall can double as an effective way to guide rainwater runoff away from the house and lawn.
Patio Waterfalls
Even the smallest garden can benefit from a pondless waterfall. This waterfall was built at the end of a small patio.
Add a pond if you really, really want to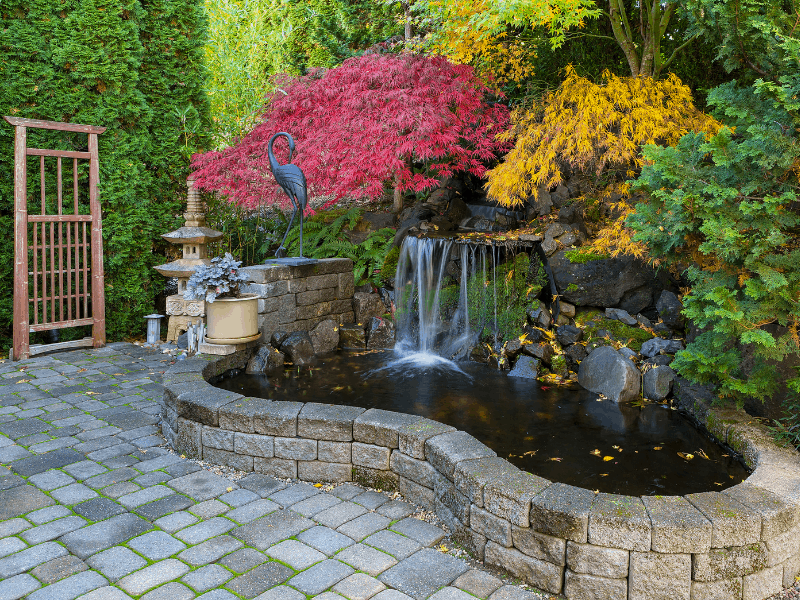 Maybe you want a spot to watch the birds swim, or keep a couple of goldfish? Dig a larger capture area at the base of you waterfall for a makeshift pond. The falling water should be enough to aerate the water and keep it fresh and clean.
Create an Outdoor Shower
This will keep the kids happy!


Trending Now in Home & Garden
How to Plan and rganise a Real Food Pantry
12 Cheap but Beautiful DIY Fairy Light Decor Ideas for Every Room in the House
10 Super Stylish Laundry Rooms for Small Spaces
Want More Backyard Inspiration?