* We sometimes use affiliate links, so we may receive a commission, at no cost to you, if you make a purchase through a link. Check our disclosure for more info.
Looking for a yummy, healthier cookie recipe? Try these super kid friendly, soft, chewy, buckwheat chocolate chip cookies.
Grab the FREE 18 Meal Ideas CHEAT SHEET Here!
Buckwheat Chocolate Chip Cookies
These Buckwheat Chocolate Chip Cookies are so simple to make, seriously. 5 everyday ingredients and you get a fresh batch of soft, chewy, sweet cookies. Oh, and the rather delicious waft of baking floating through your house drawing the kids into the kitchen!
If you read my blog or get my emails you'll know we bake often here. Snacks are a feature of this home and they're usually pretty popular. I use Real whole food ingredients and keep the recipes simple.
And this one is nothing if not simple. Minutes in prep time and then the oven takes over for less than 15 minutes. Perfect.
Ingredients
Five ingredients. Thats it (ok, there's also a teeny pinch of baking powder…hardly counts :). And you're likely to have them in your pantry already: Does it get much better?!
Buckwheat flour gives you flavor! This flour has an earthy type of taste and it works brilliantly in this recipe. I've tried lots. of flours with these delightful cookies and this is the kids favorite…say it all!
Egg
The humble egg. Just one.
Butter
I use Real 100% butter in most of my baking if I can as I find butter in baking helps the texture and overall end result. I've used both salted and unsalted butter depending on what I have in, and I don't find anyone's ever noticed a difference!
Maple Syrup
In a lot of baking recipes I use Maple syrup, always 100% pure maple syrup (don't be fooled by the maple syrup flavored offerings in the supermarket, they're filled with refined sugars).
You get the sweetness of sugar with none of the nasties or crazy manufacturing additives and processes.
Many traditional cookie recipes use brown sugar as it gives baking a slightly sweeter, caramel kind of taste. Maple syrup does the same thing and is great for kids who love it's sweetness.
Chocolate Chips
Yep, chocolate chips. I use semi-sweet choc chips for these cookies, usually milk chocolate. They also come in white chocolate or dark chocolate, so use those if you prefer. I don't use vast quantities but am not afraid to use them. We're not perfect :)
If you can't find choc chips, you could grab a bar and turn it into chocolate chunks yourself.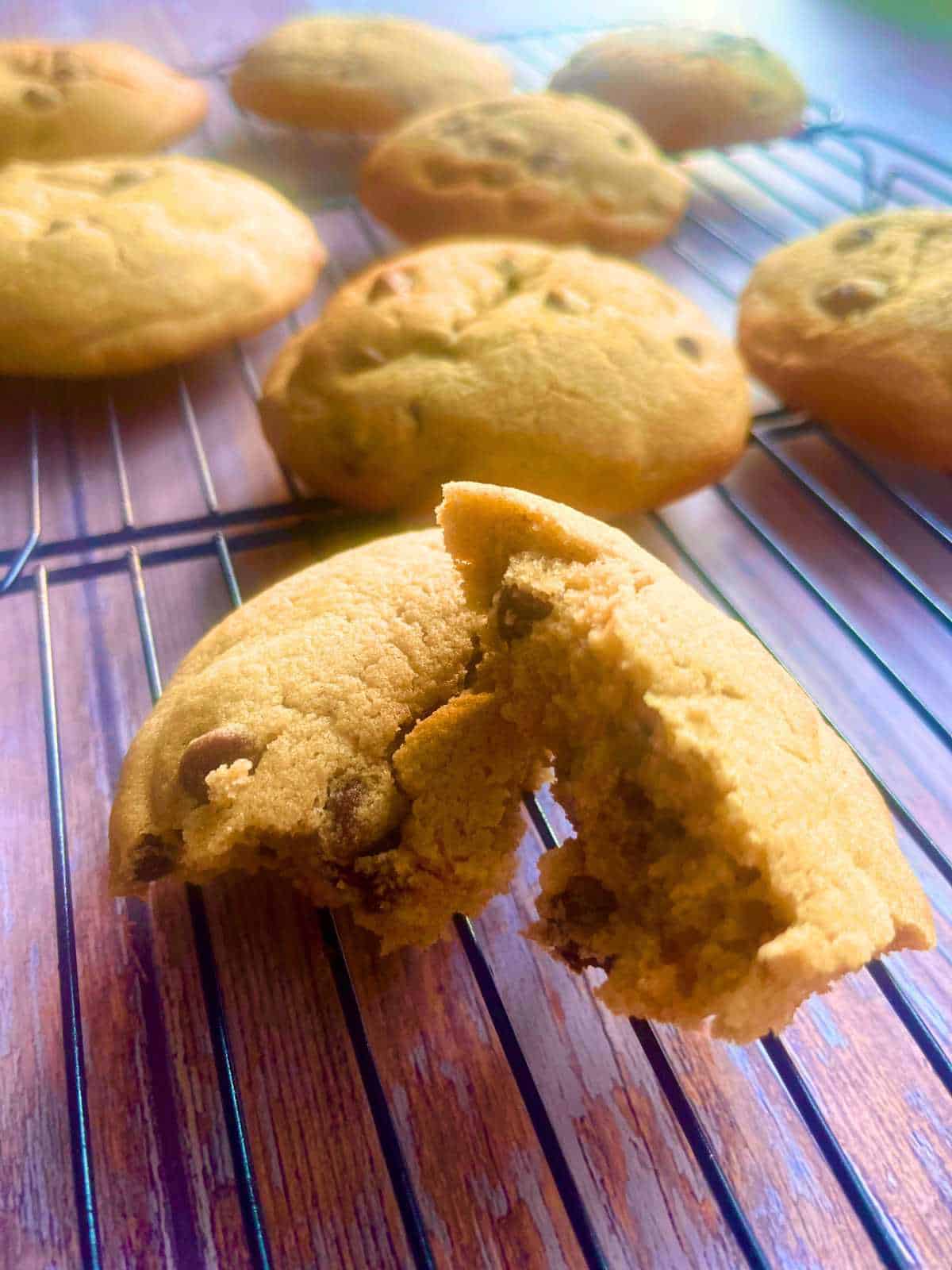 Buckwheat flour makes for brilliant baking. It's a dense flour and so helps the cookies keep their shape, which since these are soft and chewy is a very good thing!
This gluten-free alternative to wheat (since it's a grain) also offers a few health benefits.
It's pretty high in fibre and packed with nutrients like magnesium, iron, and B-vitamins. It's also high in protein as well as fiber, so these cookies keep little tummies fuller for longer. That's a win!
Additions
Something that works well in this recipe is to leave out the chocolate chips and add a heaped tablespoon of cocoa powder. The flavor of the buckwheat flour with cocoa is delicious, so if you prefer not to use the chips, perhaps try this.
There's also the option of leaving the chocolate chips out all together or adding a teaspoon of vanilla extract. You end up with a simple cookie that's sweet and, I can confirm, totally delicious.
Storing Buckwheat Cookies
Treat these choc chip cookies as you would any other. Once they've cooled completely (they need to cool to firm up) you can keep them in an airtight container for 3-4 days and they'll stay fresh.
I've not tried freezing these cookies as I prefer baking to be fresh, but if you want to you can. I'd stack them in a Ziploc bag before freezing, and once they've fully thawed, gently heat them up in a warm oven for a couple of minutes to get their chewiness. back.
How To Make Buckwheat Chocolate Chip Cookies
This will give you 12 good sized cookie portions!
Ingredients
1½ Cups Buckwheat flour All purpose, you can use oat flour as an alternative
1 Medium Egg
¾ Cup Maple Syrup
¾ Cup Butter Melted
¼ Cup Chocolate chips
½ tsp Baking powder
Instructions
Heat your oven to 190c or 375f and allow it to heat up while you prepare the cookie dough
Prepare a baking sheet with parchment paper and out to one side
In a large bowl, add the dry ingredients, flour and baking powder, and combine
In another bowl, whisk egg. Then add your melted butter and maple syrup and whisk to combine well
Add the wet ingredients to the dry ingredients bowl and stir together to create a dough
Add the chocolate chips and gently knead into the dough
To make your cookies, use a table spoon to scoop a little dough and roll it into a ball. Place it on your prepared baking sheet and repeat, leaving room for the cookies to spread out while cooking
Bake your cookies for 10-12 minutes and then remove from the oven
Transfer your cookies to a wire rack using a wide spatula so you don't break them and allow them to cool down fully. They'll firm up as they cool
Serve or store!
Buckwheat Chocolate Chip Cookies Recipe
Buckwheat Chocolate Chip Cookies
Looking for a yummy, healthier cookie recipe? Try these super kid friendly, soft, chewy, buckwheat chocolate chip cookies.
Ingredients
1½

Cups

Buckwheat flour

All purpose, you can use oat flour as an alternative

1

Medium

Egg

¾

Cup

Maple Syrup

¾

Cup

Butter

Melted

¼

Cup

Chocolate chips

½

tsp

Baking powder
Instructions
Heat your oven to 190c or 375f and allow it to heat up while you prepare the cookie dough

Prepare a baking sheet with parchment paper and out to one side

In a large bowl, add the dry ingredients, flour and baking powder, and combine

In another bowl, whisk egg. Then add your melted butter and maple syrup and whisk to combine well

Add the wet ingredients to the dry ingredients bowl and stir together to create a dough

Add the chocolate chips and gently knead into the dough

To make your cookies, use a table spoon to scoop a little dough and roll it into a ball. Place it on your prepared baking sheet and repeat, leaving room for the cookies to spread out while cooking

Bake your cookies for 10-12 minutes and then remove from the oven

Transfer your cookies to a wire rack using a wide spatula so you don't break them and allow them to cool down fully. They'll firm up as they cool