* We sometimes use affiliate links, so we may receive a commission, at no cost to you, if you make a purchase through a link. Check our disclosure for more info.
Five ingredients and about 5 minutes of prep time are all you need for this fabulous store cupboard canned peach cobbler. It's great served warm with vanilla ice cream.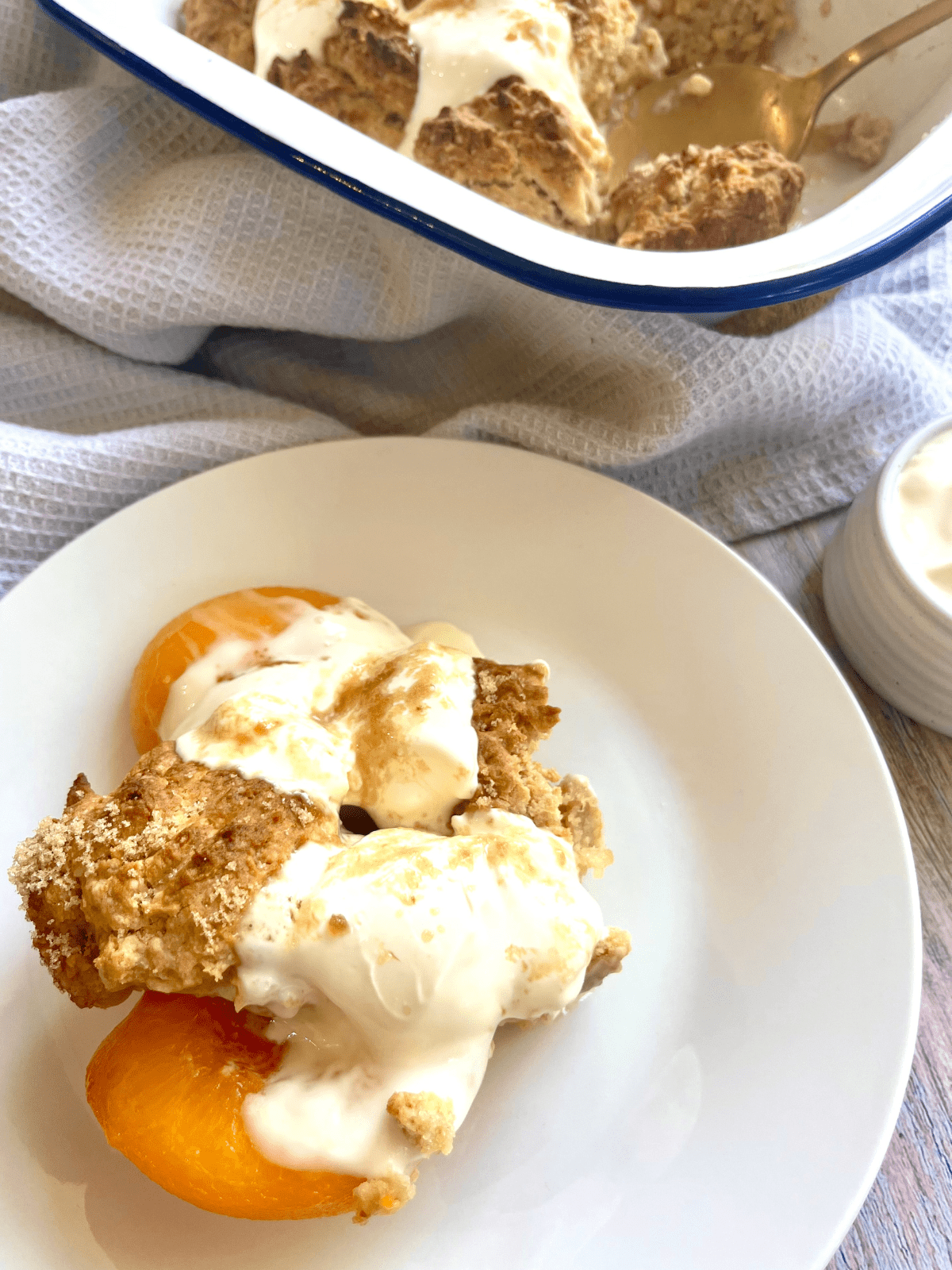 Grab the FREE 18 Meal Ideas CHEAT SHEET Here!
Canned Peach Cobbler
Fresh peaches are yummy but tinned peaches come into their own in this super fast easy peach cobbler recipe. Yep, eating Clean does not mean no dessert. Absolutely not :) You can make this in about five minutes and then let the oven do the rest of the hard work as you eat. And then a hot pudding awaits you.
I usually have canned fruit in the pantry. It's versatile, it can be turned into a whole load of things and it keeps for ages and so it's something I like to have on hand for when that last minute pudding thing strikes. As it inevitably does!
Knowing how to make a peach cobbler is one of those great dessert recipes and really is pretty simple stuff. The peaches are used right as they are, you can either buy tinned sliced peaches or peach halves. If you can find frozen peaches then this works too once they thaw, so take your pick as to which ones you'd prefer to use.
I always buy them in their natural juice rather than the ones you buy in syrup, since the syrup is almost entirely sugar. Check the tins as you grab them, they tend to look almost identical except ones in juice, ones in syrup.
This is kind of an old fashioned peach cobbler recipe, it uses store cupboard ingredients and is very straight forward.
More Clean Eating Desserts
What is A Cobbler?
A cobbler refers to the topping that sits on top of your canned peaches and turns a delicious golden brown in the oven as it looks with the juices releases from the peaches and a little raw sugar. Essentially it's a dough, made in a similar way to the crumble you make for the top of an apple crumble, except with a cobbler you add an egg and so you create a more 'dough' like topping.
Grab the FREE 7 Day Clean Eating Challenge Pack & Take The Kids Diet From Zero To HERO!
I like to make little balls of cobbler and place them on top of the peach mix in the bottom of the baking tin, they spread out a bit as they cook and I like the peaches to come through a bit as and where they choose to, so i don't cover the whole of the top, I leave little gaps between the cobblers.
The cobbler crisps up nicely this way too.
Making The Cobbler
I make the cobbler by hand as i find it the easiest way, in that I rub the butter into the flour to make the crumbly base with my fingers. You can use your food processor to do this but honestly, it takes as much time to get the processor out and then clean it down after using it that being the 'least washing up possible' kinda Mom, a bowl and my fingers do the work just fine.
Small kids like to help out with this kind of cooking and so I can't promise you'll not end up with cobbler crumbs all over the place, it's fun for them to do.
What To Serve With Peach Cobbler
This Clean eating ice cream goes perfectly with peach cobbler if you have a batch ready made in the freezer or have some ripe bananas you want to use up. You could serve this with some whipped cream or some yummy custard (our personal favorite!).
And I can testify to this also being absolutely awesome just as it is on it's own!
Substitutions And Additions
There are a few different things you can substitute or add to this cobbler if you fancied it. If you want to make the cobbler itself a little jazzier, you could add some ginger spice to the mix. I'd recommend adding 1 teaspoon, this gives you a mild ginger flavor and ginger goes well with peaches. Ditto nutmeg if you like it, although I'd start with half a teaspoon the first time you make this and see how you find the flavor, Nutmeg is a little stronger than ginger so perhaps add a touch less!
Grab the FREE 7 Day Clean Eating Challenge Pack & Take The Kids Diet From Zero To HERO!
Adding a second fruit to the peaches also not only adds more fruit to the dessert but also some texture. Blackberry work well, as do blueberries. Both of these can be added frozen or fresh, although if you're adding them frozen be prepared for a little more juice as the water is released from the fruit as it cooks.
Storing Cobbler Leftovers
While peach cobbler is always better straight from the oven and served hot, the leftovers you might find yourself with are not to be sniffed at!
You can keep the leftovers in the fridge for up to 2 days in the tin they were cooked in, and then transfer them to a microwavable bowl to reheat them for a minute or two and microwave until they're hot throughout. You won't get the crispiness of the fresh baked cobbler after it's been kept in the refrigerator but they're just as delicious as a next day warmed up pudding, I certainly don't get any complaints!
Grab the FREE 18 Meal Ideas CHEAT SHEET Here!
How To Make Canned Peach Cobbler
Ingredients
1 Can Peaches Drained, save 2 tbsp of juice
1½ Cups Flour I used Spelt flour all purpose flour
½ Cup Butter Cold from the fridge
4 tbsp Maple syrup 100% Pure
1 Small Egg Whisked
1 level tsp Baking powder
1 tsp Raw sugar To sprinkle on top
Instructions
Heat your oven to 190c or 375f and lightly grease a baking dish with butter
Drain your peaches, saving 2 table spoons of the juice
Arrange your peaches in a single layer in the baking pan and add the 2 tbsp of peach juice to the tin. Drizzle 2 table spoons of maple syrup over the peaches
In a mixing bowl, add the flour and baking powder and stir
Cut the butter in small cubes and use your fingers to rub the butter into the flour until you have a mixture that resembles crumbs or the beginnings of a biscuit dough
Add remaining maple syrup and whisked egg and combine to form a dough
Put small balls of the dough roughly over the top of the peaches. It's fine if you have areas uncovered, your cobblers will spread out a little as they cook
Bake for 30 minutes until the homemade peach cobbler is golden and the cobblers are cooked through
Remove from the oven and allow to cool for 10 minutes before serving, the sugars in the peaches mean they very hot when they come out!
Sprinkle a tiny bit of raw sugar over the top as it cools
Serve with a scoop of vanilla ice cream or cream
Canned Peach Cobbler Recipe
Quick & Easy Canned Peach Cobbler
Five ingredients and about 5 minutes of prep time are all you need for this fabulous store cupboard canned peach cobbler. It's great served warm with vanilla ice cream.
Ingredients
1

Can

Peaches

Drained, save 2 tbsp of juice

1½

Cups

Flour

I used Spelt flour

½

Cup

Butter

Cold from the fridge

4

tbsp

Maple syrup

100% Pure

1

Small

Egg

Whisked

1

level tsp

Baking powder

1

tsp

Raw sugar

To sprinkle on top
Instructions
Heat your oven to 190c or 375f and lightly grease a baking dish with butter

Drain your peaches, saving 2 table spoons of the juice

Arrange your peaches in a single layer in the baking tin and add the 2 tbsp of peach juice to the tin. Drizzle 2 table spoons of maple syrup over the peaches

In a mixing bowl, add the flour and baking powder and combine

Cut the butter in small cubes and use your fingers to rub the butter into the flour until you have a mixture that resembles crumbs

Add remaining maple syrup and whisked egg and combine to form a dough

Put small balls of the dough roughly over the top of the peaches. It's fine if you have areas uncovered, your cobblers will spread out a little as they cook

Bake for 30 minutes until the peach cobblers golden and the cobblers are cooked through

Remove from the oven and allow to cool for 10 minutes before serving, the sugars in the peaches mean they very hot when they come out!

Sprinkle a tiny bit of raw sugar over the top as it cools

Serve with ice cream or cream