* We sometimes use affiliate links, so we may receive a commission, at no cost to you, if you make a purchase through a link. Check our disclosure for more info.
Quick, easy and really delicious tuna and carrot patties. Best thing about them is that they are always a hit with fussy kids and can be made using budget friendly canned tuna.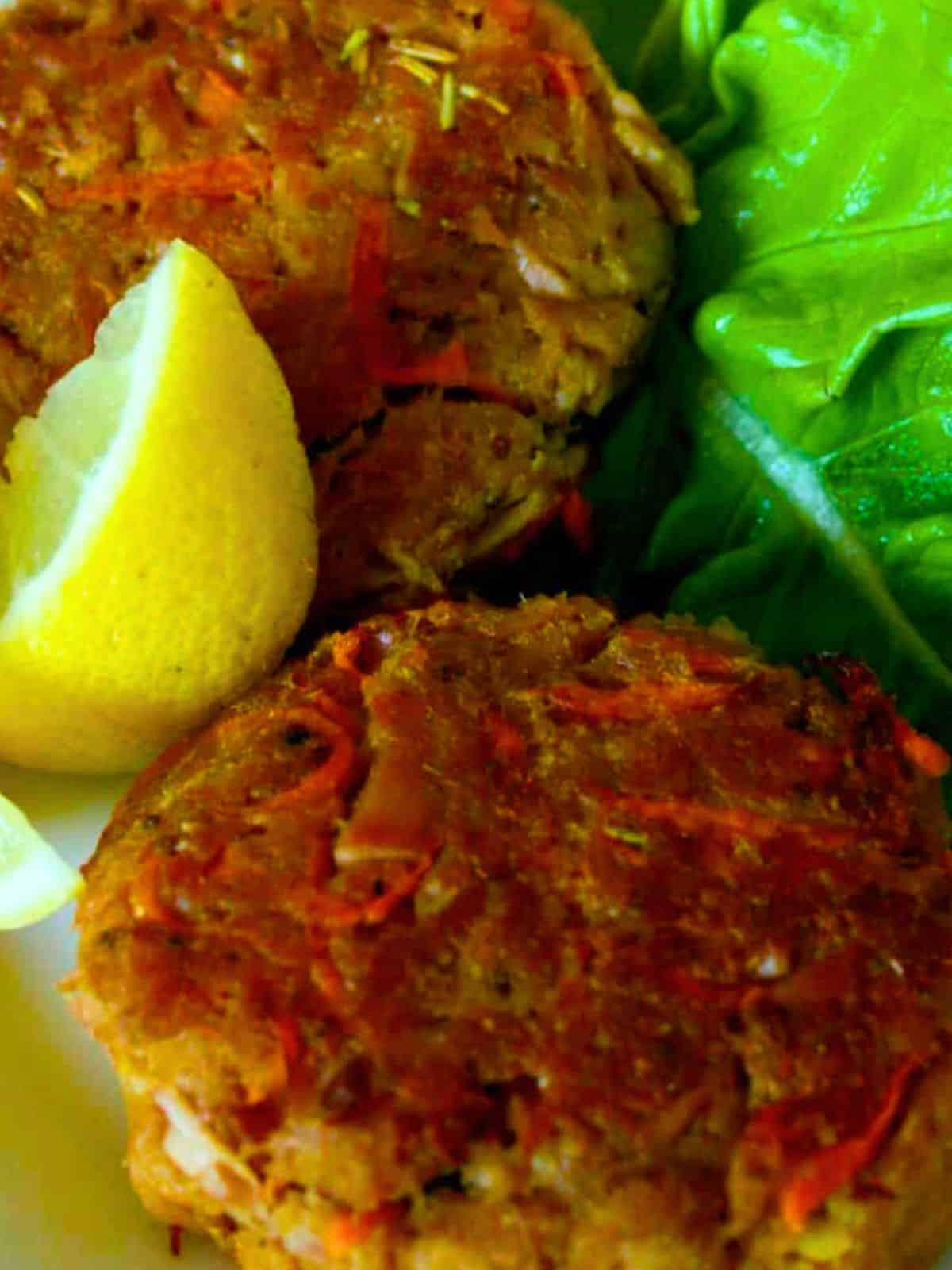 Tuna Carrot Patties
When I was growing up, canned tuna was just a salad ingredient. We never used it in cooked foods at all. Which is a pity because my mother worked full time away from home and always came home rushing to get food on the table. I feel as if she missed out on a lifetime of delicious, quick, budget friendly tuna meals.
Not me. Canned Tuna fish is a God send when you need to make something quickly. Filled with shredded veggies in the from of carrots, these golden brown patties can be on plates in mere minutes.
All you need is a hot frying pan or skillet to cook them in, and you'll have a crispy edged patty the kids love.
Lots of recipes require you to flour and breadcrumb your tuna cakes once you've made the pattie mix but I don't do this. I find you still get the crunch without having to do this extra step. And sometimes, time saved means everything!
More Kid Friendly Patties & Burgers
Canned Tuna Patties
Lucky for me, the internet has introduced me to a whole assortment of tuna meals that makes my dinner times a little easier (especially when budget gets a little tight at the end of the month).
Canned Tuna doesn't get the praise it deserves. Tuna's full of protein, B12 and Omega 3 fatty acids, so it's something I'm happy to see the kids tucking into. And these tuna patties are thick, chunky and taste amazing.
I buy canned Tuna fish in water rather than oil. I find it will drain easier and doesn't leave the oily residue you get with fish packed in oil. Albacore tuna is one of the better quality tunas you can buy.
Tuna Patties For Kids
There's something about the flavor of these patties that kids love. Maybe it's the miniature nature of them (I make them little!) or the crispy crunch they can bite into, but they always eat these.
I like to add a few vegetables to the mix, this is normally whatever I have available.
For todays recipe it's carrots. But you can just as easily substitute zucchini, broccoli or corn. While we're talking substitutions, you could also make Salmon patties using this recipe.
I've made them as a main course and served them in buns so they're more of a burger and I've served them as snacks. Either way, they get eaten.
What To Eat With Tuna Carrot Patties
If you want to eat these tuna carrot patties as burgers, add them into a wholemeal bun and load it with lettuce, tomatoes, Parmesan cheese (or cheddar cheese). If your kids like tartar sauce or mayonnaise you could add some to these.
Using some natural yogurt you could try chopping some dill very finely and mixing it into the yogurt for a super healthy dip.
As a snack, I offer a dish of a small bowl of sauce for dipping, sometimes a wedge of lime or lemon, and watch them get gobbled down.
Storing Leftovers
When you've cooked your patties you get the lovely crispy crunchy coating the kids go crackers for. While you can throw any leftovers in the fridge (cover with food wrap), you tend to lose the crisp.
If I have mixture leftover when I do these, I pop the uncooked mix in the fridge and then fry them as and when they're about to be eaten.
Either way you can keep these in the fridge for 2-3 days.
How To Make Tuna And Carrot Patties
Ingredients
2 Cans Tuna 6 ounce/ 180g (drained)
½ Cup Wholewheat breadcrumbs (or Panko breadcrumbs)
1 tsp Wholegrain mustard
1 tsp Lemon zest
1 tbsp Lemon juice
½ tbsp Olive oil
? Cup Vegetables: grated carrot Chopped chives, corn, parsley
1 Egg
Salt and pepper
Pinch Rosemary Dried
Instructions
Mix all ingredients together in bowl. Test tuna mixture stays together when rolled into a ball. If too dry, then add 1 tablespoon water
Divide mixture into golf ball sized balls and flatten into patty shape. You can refrigerate and firm up patties a bit more before cooking, but I cook immediately
Heat up pan to medium heat and add a little olive oil. Place patties in pan and cook for 3-4 minutes until browned. Turn and cook the other side
Serve immediately
Tuna And Carrot Patties Recipe
Tuna & Carrot Patties
Quick, easy, kid friendly Tuna and Carrot Patties. Best thing is, you make them using canned tuna. Fussy kid & budget friendly recipe.
Ingredients
2

Cans

Tuna

6 ounce/ 180g (drained)

½

Cup

Wholewheat breadcrumbs

1

tsp

Wholegrain mustard

1

tsp

Lemon zest

1

tbsp

Lemon juice

½

tbsp

Olive oil

⅓

Cup

Vegetables: grated carrot

Chopped chives, corn, parsley

1

Egg

Salt and pepper

Pinch

Rosemary

Dried
Instructions
Mix all ingredients together in bowl. Test tuna mixture stays together when rolled into a ball. If too dry, then add 1 tablespoon water

Divide mixture into golf ball sized balls and flatten into patty shape. You can refrigerate and firm up patties a bit more before cooking, but I cook immediately

Heat up pan to med-high and add a little olive oil. Place patties in pan and cook for 3-4 minutes until browned. Turn and cook the other side