* We sometimes use affiliate links, so we may receive a commission, at no cost to you, if you make a purchase through a link. Check our disclosure for more info.
Super easy Clean Eating Breakfast Egg Muffins that are high in protein and will keep little tummies from rumbling throughout the morning. Cook a batch of these in a hot oven the night before you need them and you'll have some very healthy, very yummy and very popular breakfast muffins the following morning.
Grab the FREE 18 Meal Ideas CHEAT SHEET Here!
Clean Eating Breakfast Egg Muffins
If you read my blog regularly you'll know we're big muffin fans here. Really big. I've baked many food stuffs into muffins in an attempt to get the kids to try new vegetables and for the most part, it works. These clean eating breakfast egg muffins are just another form of those, simply made only with eggs and the egg muffin fillings.
I guess these are really the muffin form of a quiche :)
This recipe will make 6 regular sized muffins. Each egg used makes 2 muffins so go by that ratio to increase or decrease the recipe. Because egg muffins don't rise the same way regular muffins do, even though I use a regular sized muffin tin here the muffins are small enough for little hands. If you wanted to make the muffins tiny, you could use a mini muffin tin like this one and have a double batch of mini breakfast muffins.
I like to put these egg muffins in lunchboxes as well as having them for breakfast. These are really versatile, they travel well and they're popular. They are also a great little snack for those moments when you want a snack in the afternoons…just saying!
Recipe Notes
Grease the muffin tin – I cannot tell you the amount of times I've forgotten to grease the muffin tin and only remembered as I'm pouring muffin mix into the last muffin tin hole. You then either have the option to scrape out the mix and start again or scrape the muffin out after cooking and have muffin-y scrambled eggs. Just grease the tin :)
Use a ladle to divide the mix – Using a spoon to divide the mixture doesn't work when you're dividing raw egg mix. It's too slippery and rather frustrating. Using a ladle means the egg mix can't fall off the edges.
If you spill egg muffin mix on the muffin pan (not the muffin holes obviously!) wipe it off with kitchen paper before cooking. It'll burn and stink and it's not nice!
Don't overcook egg muffins – Over cooked eggs can become rubbery so make sure not to overcook them. Eggs continue cooking after they're taken out of the oven as they cool down.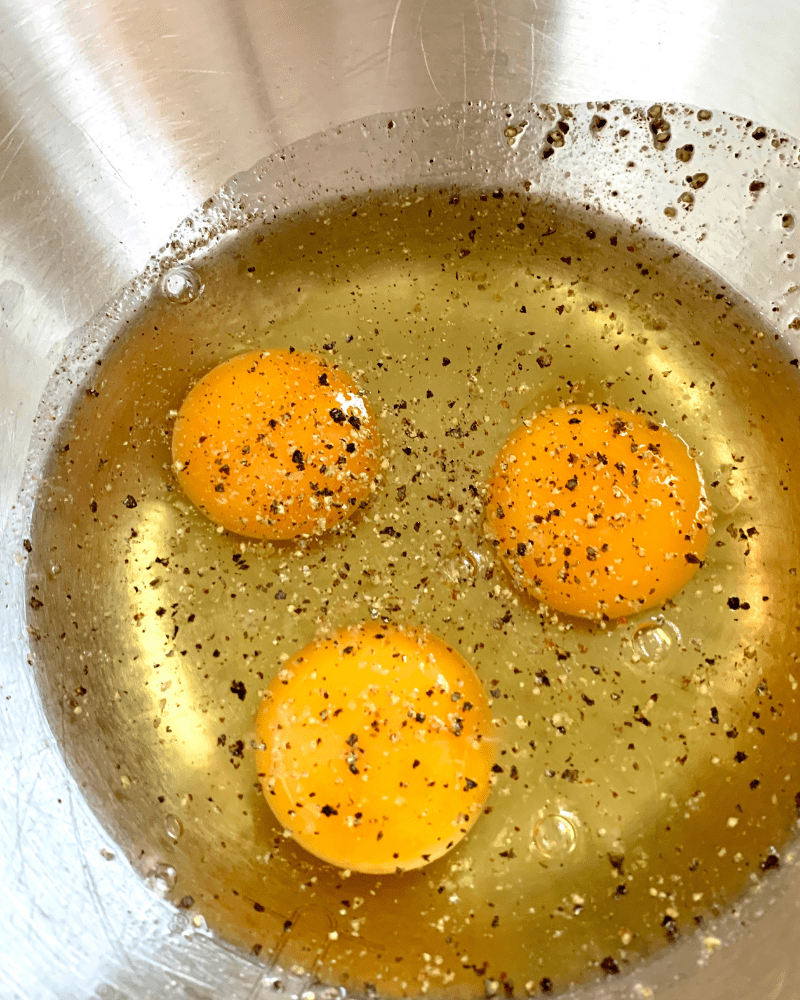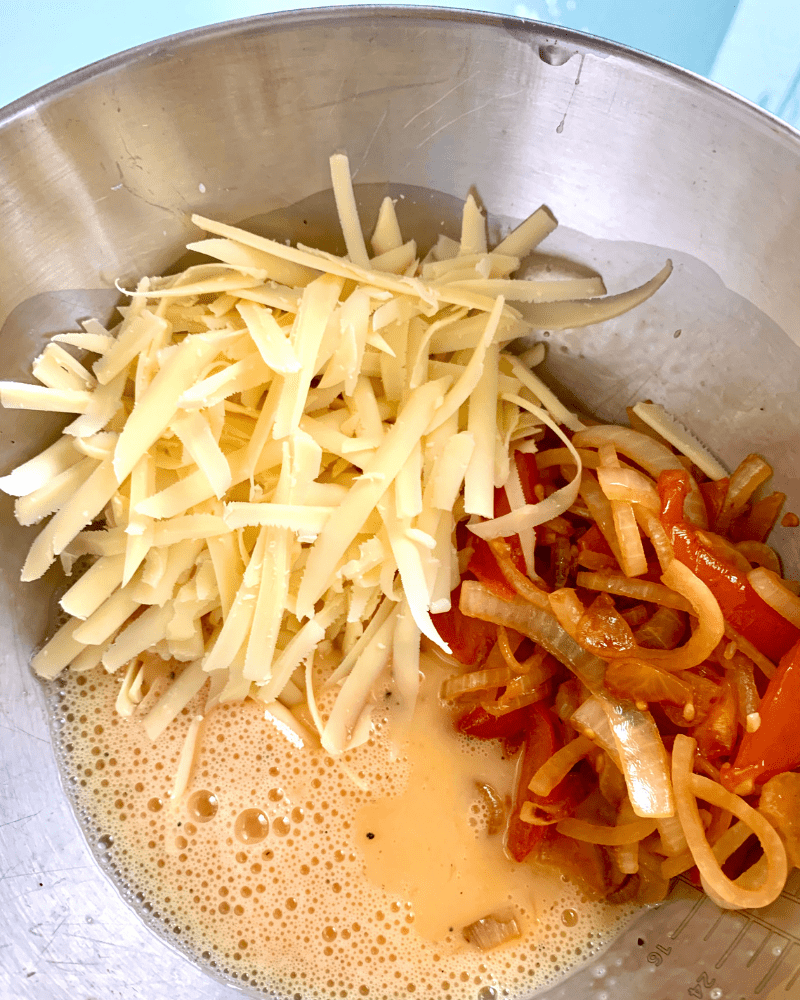 Can You Freeze Egg Muffins?
You sure can. If you want to freeze these let them cool down until cold to the touch and then you can freeze them and leave them frozen for up to a month. I freeze these with a small piece of parchment paper in-between each muffin or they can stick together and become really hard to prize apart if you don't want to defrost the whole lot.
To defrost these take them out of the freezer and leave them over night on a plate on the fridge to fully defrost. We prefer to eat these with the chill taken off them so if you have the oven on you can reheat these by popping them in for 3-4 minutes. Or you can put them in the microwave for 45-60 seconds before eating.
One thing to note. When you freeze and then defrost egg muffins they can sometimes become 'spongy'. This is due to the water content from them being in the freezer. One way to get rid of some of the water is to use a piece of kitchen paper and gently squeeze down on the muffin before reheating it. The texture of the muffin may change a little after they've been frozen but they keep 100% of their taste!
More Clean Eating Savoury Muffins
How To Make Clean Eating Breakfast Egg Muffins
Ingredients
3 Large Eggs Whisked
2 Tomatoes Stalk removed, skin on, sliced thinly
1 Handful Cheddar cheese Shredded
1 Onion Peeled and thinly sliced
Salt and pepper To season
1 tsp Olive oil
Instructions
Heat your oven to 190° and grease a six hole muffin tin
In a frying pan heat the olive oil and gently fry the onions and tomatoes until soft
Season the whisked eggs with the salt and pepper. Add ¾ of the grated cheese to the egg mix and combine
When the onions and tomatoes are cooked add them to the egg mix and combine
Divide the mixture between the muffin tin holes and add the remainder of the grated cheese
Bake for 14 minutes until the cheese is golden and the muffins are cooked through
Clean Eating Breakfast Egg Muffin Recipe
Clean Eating Breakfast Egg Muffins
Kids friendly cheese and tomato breakfast egg muffins. This yummy little healthy muffins are high in protein and will keep little tummies going all day.
Ingredients
3

Large

Eggs

Whisked

2

Tomatoes

Stalk removed, skin on, sliced thinly

1

Handful

Cheddar cheese

Shredded

1

Onion

Peeled and thinly sliced

Salt and pepper

To season

1

tsp

Olive oil
Instructions
Heat your oven to 190° and grease a six hole muffin tin

In a frying pan heat the olive oil and gently fry the onions and tomatoes until soft

Season the whisked eggs with the salt and pepper. Add ¾ of the grated cheese to the egg mix and combine

When the onions and tomatoes are cooked add them to the egg mix and combine

Divide the mixture between the muffin tin holes and add the remainder of the grated cheese

Bake for 14 minutes until the cheese is golden and the muffins are cooked through