* We sometimes use affiliate links, so we may receive a commission, at no cost to you, if you make a purchase through a link. Check our disclosure for more info.
Love muffins? Well of course….and these spinach and cheese muffins do not disappoint. In fact, they do the opposite. You don't expect much from a muffin loaded with spinach, right? I'm so happy to say… wrong! These deli style muffins are a well loved family favorite: They're fluffy, cheesy and bursting with flavor. They're perfect for lunchboxes, and breakfast, and lunch and snacks and, ok, i'll stop. I'm a big fan :)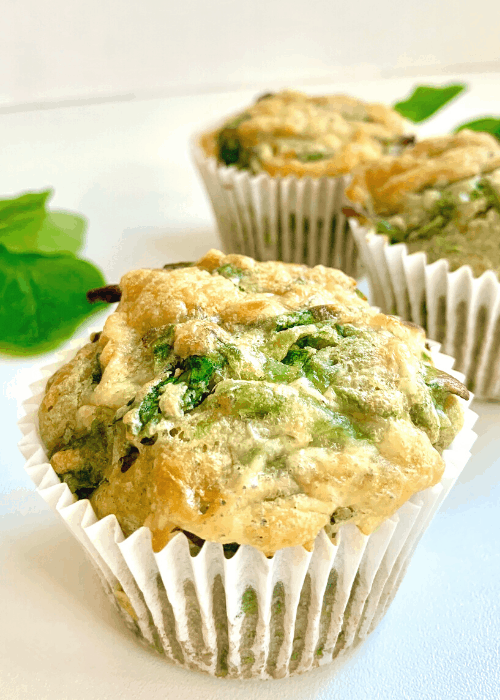 Grab the FREE 18 Meal Ideas CHEAT SHEET Here!
Spinach and Cheese Muffins
My eldest son is a fussy eater. That may be a bit of an understatement. He has been known to fuss over the smallest piece of green …. and yet he munches these little spinach and cheese muffins down without hesitation.
If I had to recommend a recipe to introduce your fussy child to spinach – this is it. Your kids might be wary at first, this might well be unchartered territory. But bring out the one bite rule fast, these yummy savoury muffins are gonna turn things around!
Cheese & Spinach Muffin Ingredients
You might well have most of the ingredients used in this recipe already in your store cupboard. I use Wholemeal flour. If you can't find self-raising, use a little baking powder (see recipe) to help the rise.
You can use frozen spinach, but I prefer to use fresh. The water content in frozen spinach makes the muffins a little denser. If you prefer a fluffier muffin, use fresh spinach.
If you do use frozen spinach, make sure you squeeze as much moisture out of the spinach before adding it to the recipe.
Your muffin batter will be thick. It almost looks a bit too thick, but stay with it! Fill the muffin tin, or case, almost to the top. These muffins will rise, but they're loaded, and so you don't get the rise you would with a regular sweet muffin.
This picture show you just how thick the batter is.
Making Ahead & Storing
You can make these ahead of time and they'll happily sit for 3 days in your fridge, in an airtight food container. We love these cold as much as we do warm. Either take them out of the fridge an hour before eating so they can warm up to room temperature, or pop one on the microwave for 30 seconds, depending on if you want them hot or cold.
These also freeze beautifully and can live, wrapped, in your freezer for up to 4 weeks. Leave them out to defrost fully and then either pop them into a hot oven for 5 minutes to heat through, or eat them cold. Either way, yummy!
You can also put these, frozen, into lunchboxes. They take a good hour to defrost before you can eat it so by the time it the kids lunchtime the muffin will be ready, and they have the added bonus of keeping the lunchbox cool. Just don't do this if the kids have a habit of leaving their lunch in the sun, you'll end up with a warm, sweaty mess :)
More Clean Eating Savoury Muffins
How To Make Cheese & Spinach Muffins
This recipe makes 12 large deli style muffins.
Spinach and cheese muffins
Servings
12
Large muffins
Ingredients
2

Cups

Wholemeal self-raising flour

1

tsp

Baking powder

(if your flour IS NOT self raising)

2

Eggs

4

Large handfuls

Spinach

Fresh, chopped finely

½

Cup

Cheddar cheese, plus a little extra for muffin tops

Shredded

¼

Cup

Feta cheese

Crumbled

¼

Cup

Butter

Melted

1

tsp

Sea salt

Ground

1

Cup

Milk

Dairy, or dairy free
Instructions
Preheat oven to 180 degrees Celsius or 350 degrees Fahrenheit

Mix the flour, cheddar and baking powder (if using) together

Whisk the eggs, and add the salt to the eggs, then add to the flour bowl

Add the melted butter to the flour bowl

Add the milk and mix well

Stir in the crumbled feta

Stir in the chopped spinach

Spoon the mixture into your muffin tin, or into muffin cases

Throw a little extra cheddar on top of the muffins

Take out of the oven when the muffin tops are golden brown and cooked through

Allow to cool down in the muffin tin
Recent posts