* We sometimes use affiliate links, so we may receive a commission, at no cost to you, if you make a purchase through a link. Check our disclosure for more info.
I absolutely LOVE this easy, clean eating pizza dough recipe. It's made with ONLY two basic ingredients (which you most probably have in your kitchen right now).
I know it's hard to believe, but you're going to have to trust me – You can eat pizza without guilt. Clean Eating isn't about dieting. It's simply means starting your recipes with good quality ingredients.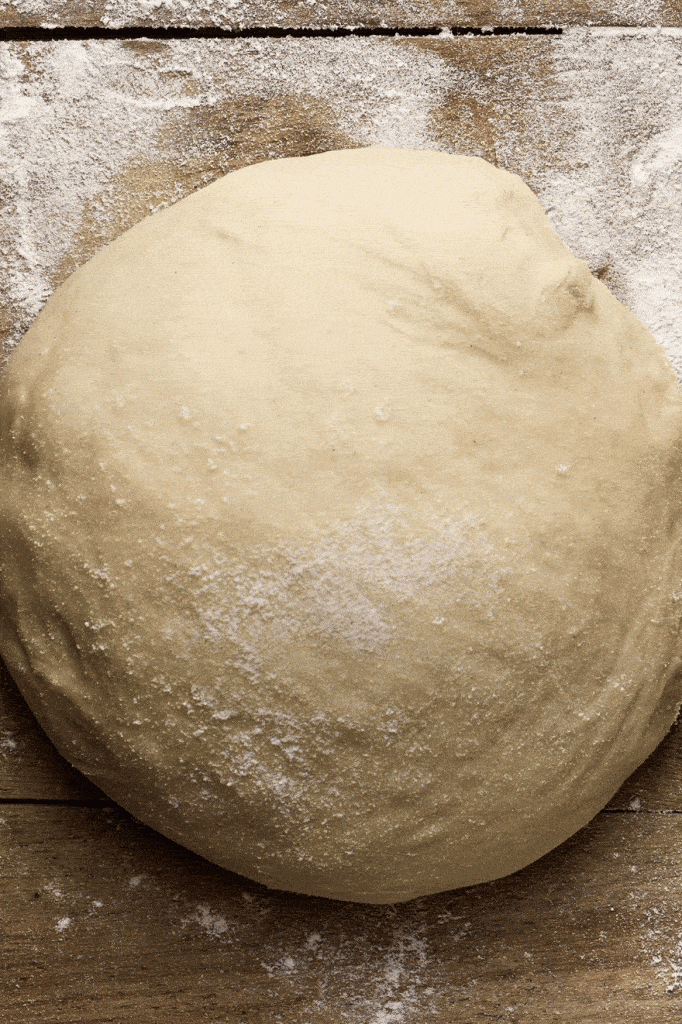 Grab the FREE 18 Meal Ideas CHEAT SHEET Here!
Clean Eating Pizza Dough
I originally posted this recipe 3 years ago, and it's still one of my absolute favourites.
We use this amazing two ingredient clean eating pizza dough recipe for pizza bases, garlic pitta bread and even camping bread. Top these 5 minute healthy pizza bases with pizza sauce and your favourite toppings for a healthy, takeout alternative.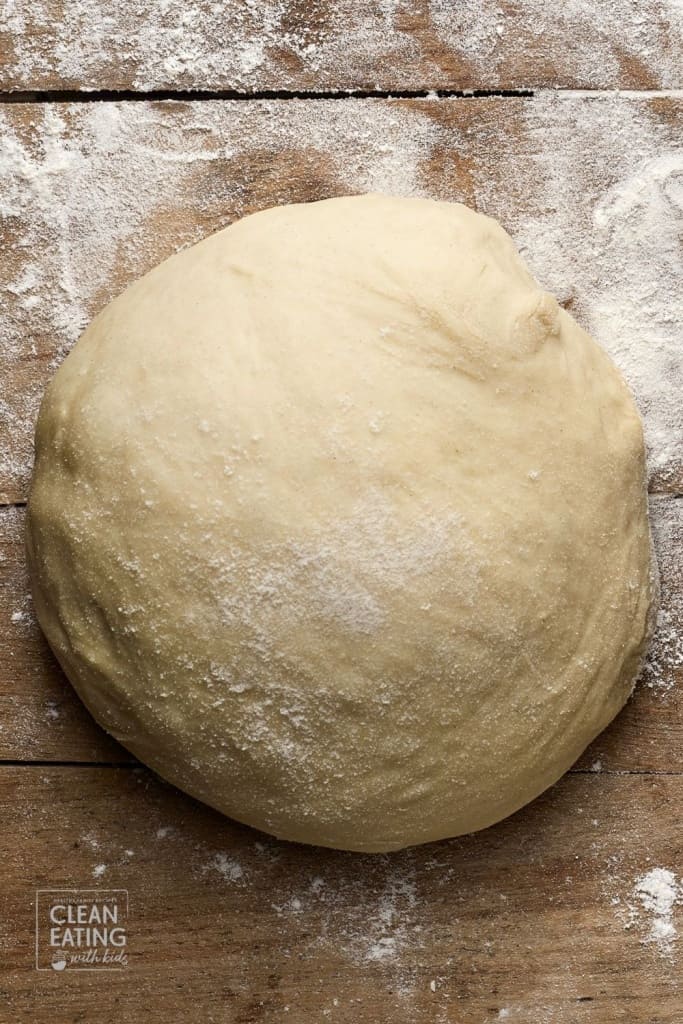 2 Ingredient Pizza Dough
OK, so you have a bunch of hungry kids. It's 5pm and the 'grumpy' is setting in. You're with me here right!
I'm about to show you how you can get a home made clean eating pizza (a big one) on the table quicker than the time it would take to get takeout. It's delicious, it's clean and the kids devour it just like they would any other. Except with this one, there's no guilt. Nope, none.
2 Ingredient Pizza Dough Recipe
Right, ready?
Ingredients
Instructions
Knead flour and Greek yogurt together until you have a well mixed dough. The general rule is the same weight of flour to yogurt (weight not volume).
I normally just guess this part. As I have a big family, I double the recipe and use two cups of flour, then add 1 cup of yogurt until I get a nice, play dough kind of dough.
Divide into 2 or 8 or 10 even balls (depends on the size pizza you want). Roll out with a rolling pin and ….. STOP TIMER PLEASE …. your pizza bases are ready to go!!
More Clean Eating Pizza Recipes
Any pizza topping you would normally have on a pizza, you can have on a pizza made with two ingredient dough. Here's some you might like:
Recipe Notes
I get a ton of questions about this recipe, so I have updated it by showing you what would happen if you used different kinds of flour to make up your two ingredient pizza dough.
Can you freeze 2 ingredient dough?
Yes you can!! I normally just make up a new batch of dough each time (because it's quicker than waiting for dough to thaw). But you can most definitely freeze the dough.
Freezing
Can you make pizza dough with self raising flour?
In this recipe, I've used self-raising flour, and it's my preferred recipe. That said, so far, I have not found a flour that doesn't work with this recipe. It's just a case of playing with the quantities as some flour is (like coconut flour) is a bit more absorbent.
Which leads us to …..
Pizza Dough Flour
For the tasty little experiment, I whipped up three regular Margarita Pizzas using each of these 3 Flour types:
Self Raising Flour (I LOVE Bob Red Mill Flour but they don't have a Self Rising Version yet. I make my own using this flour and some baking powder.)
Self Raising Wholewheat Flour
Each of the pizza dough recipes contain only two ingredients: 1 cup of flour and 1/2 cup plain Greek Yogurt.
TWO INGREDIENTS: Plain Flour + Greek Yogurt
If you want a crisper, flatter, more rustic kind of pizza then this is the recipe for you. Plain flour doesn't have a raising agent inside so the dough cooks flatter and crisper. Like a 'thin crust' pizzayou'd get at a Deli. It's the same amount of flour, just without the baking powder.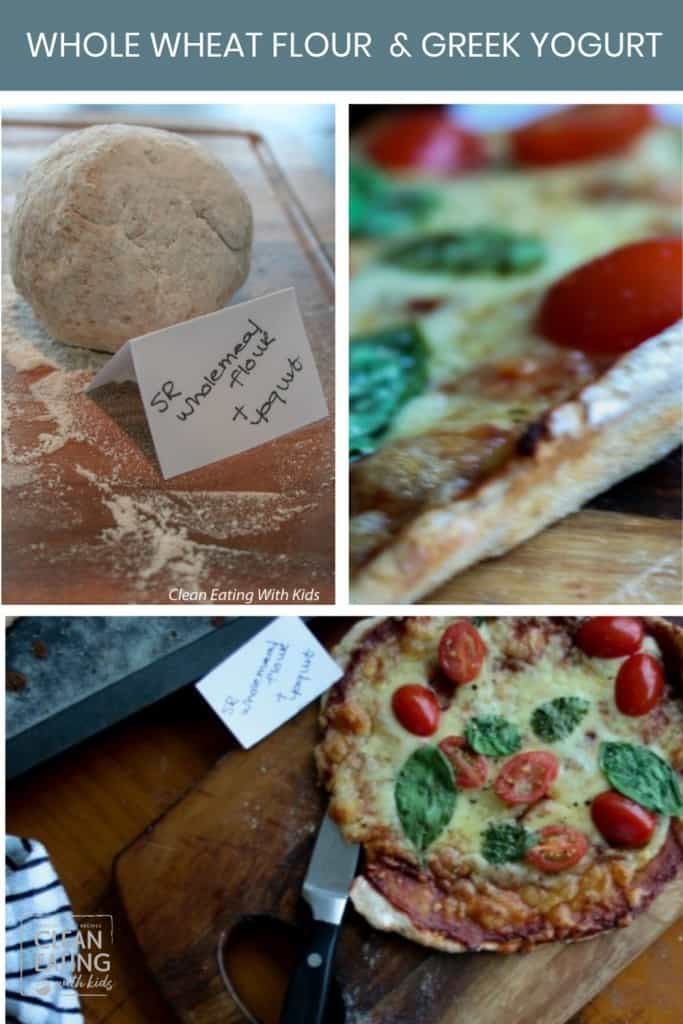 TWO INGREDIENTS: Self Raising Wholewheat Flour + Greek Yogurt
Finally I used Self Raising Wholewheat flour in the dough. This results in a ridiculously rustic and beautiful pizza. The crust is a bit chewier than the first two, but tastes delicious and is by far the favourite.
How To Make Your Own Self Raising Wholewheat Flour
Self Raising Wholewheat Flour is really hard to find near me so I often resort to making up my own.
To make your own self raising Wholewheat flour, add 1 teaspoon baking powder per cup of plain wholemeal flour.
Clean Eating Pizza Dough Recipe
Clean Eating Pizza Dough
This is that OMG game changing pizza recipe that you will make ALL THE TIME.  Two Ingredients? Yup!
Ingredients
1

cup

Self Raising Flour

250ml, White or Whole wheat flour

½

cup

Greek Yogurt

125ml
Instructions
Mix flour and yogurt together until a smooth dough is formed

Roll out on a floured surface. This amount will make 1 large or 2 medium sized pizzas.

Add pizza sauce, cheese and your favourite toppings

Bake for 10 min at 180 degree Celsius or 350 degree Fahrenheit. I have a fan forced oven, so you may need to increase cooking time slightly (1-2 min) with a standard oven.