* We sometimes use affiliate links, so we may receive a commission, at no cost to you, if you make a purchase through a link. Check our disclosure for more info.
Struggling with the school morning hair pony routine? Help's here! It all starts with this easy to make DIY Hair Detangler Spray!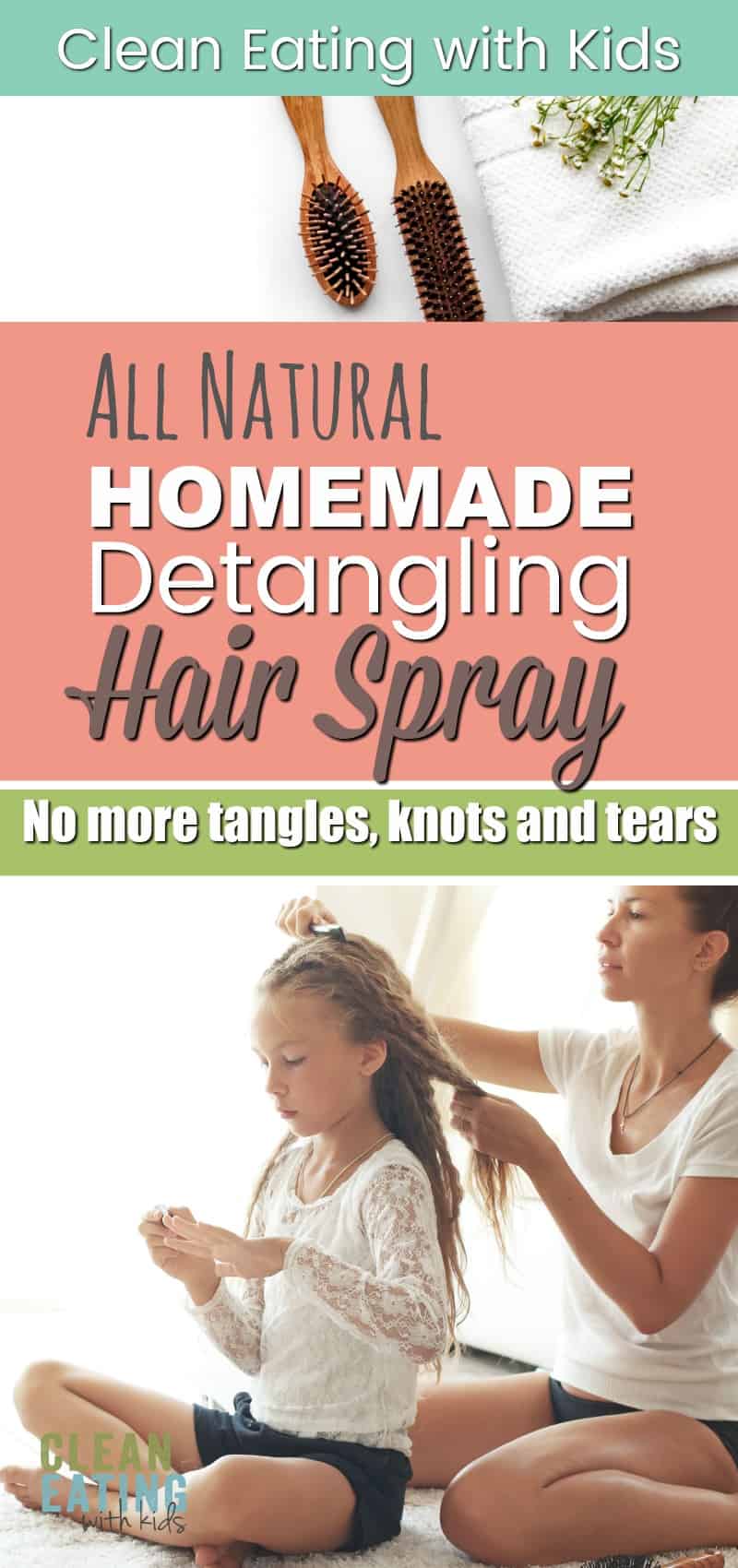 Homemade Hair Detangler
I really do admire the Moms that can pull these kinds of hairstyles together on a school morning while I'm patting myself on the back when I get a regular ol' ponytail right.
Both my daughters and myself have long hair so I've dealt with my fair share of knotted, tangled hair over the years. Up until my eldest daughter was around 10 years old, she had really fine flyaway hair. Puberty put an end to that, but for a long time we would wake up to a tangled mess of blonde curls every single morning.
If I got a little lazy over the weekend and missed even one day of hair brushing we would end up with a hair tangling disaster! It didn't help that the child was a very energetic sleeper.
I tried the over the counter detanglers but was worried about all the chemicals on the label. My daugther started complaining about having an itchy scalp, so I scrapped these all together.
Then I tried making my own detangler spray with a mix of conditioner and water, and this worked really well – except that it would leave a conditioner residue on her scalp which I wasn't happy with. If you wash your hair often, this option will work great but I wouldn't recommend it for when your children are little.
More Life Hacks
In the event that you need a solution now and need to make up the Conditioning Detangler Spray, any conditioner will work, but I prefer a natural one. The brands we love are:
I finally discovered this recipe (below) – it is easy to make and conditioned the hair as well as moisturizing the scalp without any product buildup. It works well as a general after wash spray too to add a little extra shine to hair and stop those little side flyaway bits if your hair is prone to fizziness.
DIY Hair Detangler Supplies
4 oz. glass spray bottle – Choose Glass containers when making your homemade products. They last forever and don't absorb oils or leech harmful products. Try this one  if you prefer a bigger trigger spray.
1 Tbs. 100% pure jojoba oil – This is a fantastic 'all in one' natural oil to keep at home. It hydrates the skin and hair because it mimics the natural oils our bodies produce.
10-15 drops Lavender essential oil – Lavender oil is widely known for it's relaxing and calming properties (which is much needed at the morning hair brushing session)
Measuring spoons
DIY Homemade Hair Detangling Spray Recipe
Use your measuring spoons and funnel to carefully pour these ingredients into a clean glass bottle:
1 Tablespoon Jojoba oil
10 Drops of Lavender Oil (You can use your favorite essential oil here. Many essential oils can help promote hair and scalp health, including lavender, rosemary, peppermint, and geranium)
Then fill the bottle with cool water. I just use tap water, but feel free to use distilled water if you prefer.
Because this is a natural product, each time you use it , just give the bottle a quick shake before you spray.
How to Apply your DIY Hair Detangling Spray
Lightly spray your DIY Detangler on wet or dry hair and slowly comb through working in small sections from the bottom up.
Wide tooth combs & detangling brushes work best. We've found a couple of special detangling brushes that really help (especially this one and this one).
If you come across a stubborn tangle, you can spot spray the knot and then gently loosen with your fingers before brushing.
On warm, Summer days I let their hair air dry, but in Winter, we use a hair dryer because I'm not happy with the kids running around with wet hair. I spray a little detangler spray on their hair when it's damp, comb out the tangles and then dry it. I then use a little more to tame any flyaway ends and add a that 'salon style' shine.
This detangler spray works well on knotted Barbie doll hair and matted fluffy toys too. Give your child and comb and a bottle of this DIY detangler and set them up outside for a reviving their tatty looking toys with a at home makeover.
We have a family of long haired Guinea Pigs which we keep in a huge enclosure in the garden (Aka the Veggie Patch). These little fellas require a regular groom to keep their shiny locks in check. This spray works beautifully to detangle their fur too!