* We sometimes use affiliate links, so we may receive a commission, at no cost to you, if you make a purchase through a link. Check our disclosure for more info.
Cauliflower Rice? Really? Yup. Really. A super low carb rice alternative that will rock your World! It's a seriously tasty low calorie substitute in any dish where you would normally use rice. If this is your first time making it, then this easy to make cauliflower rice recipe is the one to try.
More Family Friendly Vegetable Sides 
---
If you haven't made cauliflower rice before, then you have been missing out! It's a really healthy vegetable side that once you try, you will be hooked. You should definitely give this a go!
So, What is Cauliflower Rice?
Cauliflower rice is a super versatile veggie rice made with … you guessed it… cauliflower. It's so healthy that you can pretty much eat it in unlimited amounts.  And it suits everyone. If you follow a specific diet like Paleo, Gluten Free, Low Cal – Guess what guys? Cauliflower rice is soon to be your new best friend.
How Many Carbs in Cauliflower Rice vs Brown Rice? Cauliflower has 25 calories per cup vs. 218 for a cup of cooked brown rice. (And, if you're watching carbs, cauliflower has 5g per cup vs. 46g for a cup of brown rice.)
How to Make Cauliflower Rice at Home
So you've seen the photos all over the internet (because everybody and their neighbor are making it right now), but you still haven't taken the plunge and made cauliflower rice yourself. I hope I can change that once I show you just how easy it is to make.
There are pretty much two steps to making a batch at home: 
Process the raw cauliflower in your food processor until it resembles rice, then
Lightly fry, roast or steam your cauliflower rice. Then Serve.
If this is your first time making riced cauliflower, this is the perfect recipe to start with. It is a basic cauliflower rice recipe with simple flavors but you can spice it up however you like.  The entire recipe takes around 10 minutes to make from start to finish. And one large head of cauliflower makes enough to feed the entire family (1.25 liters /4-5 cups).
You only need a few basic  ingredients to make this easy cauliflower rice:
cauliflower
olive oil
salt & pepper
Prepping your Cauliflower Rice
Cut your cauliflower into chunks. You can use the stalks as well. Give the pieces a good rinse under the sink and drain excess water with your colander.
Process the raw cauliflower chunks in your food Processor for about 60 seconds until your cauliflower resembles rice. I do this in two batches as my processor works better when I full it half way. It makes the rice sized bits a lot more even in size.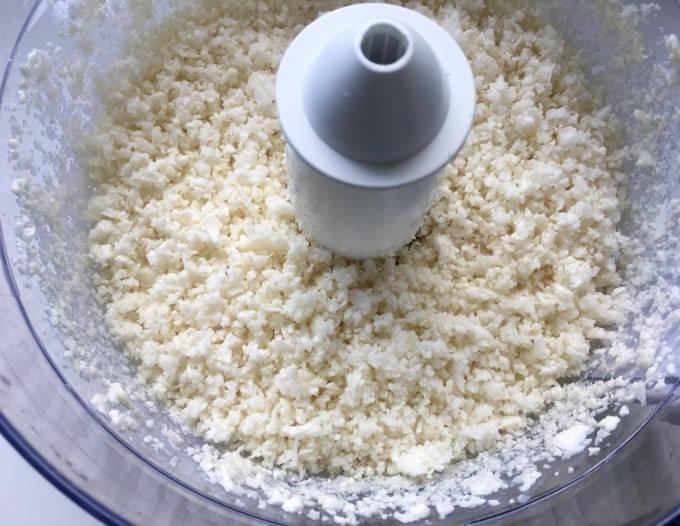 How to Cook Cauliflower Rice
My favorite method is to lightly saute with a little olive oil and seasoning. Simply heat a skillet over medium heat. Pour a couple tablespoons of olive oil and heat. Add the raw cauliflower rice, salt, and pepper and stir. Lightly fry for two minutes. Then cover the skillet and remove from the heat. This will allow the cauliflower to steam a little until cooked through. Leave for about 3 to 5 minutes. Remove the lid and fluff the rice with a fork.
Can you bake or roast cauliflower rice? Yes, you can. Just spread onto a baking paper lined baking sheet, drizzle with oil, salt and pepper and bake for 15 minutes in a preheated oven at 400F / 180C. Stir once or twice during cooking.
How do you steam Cauliflower Rice? Add cauliflower rice to a steamer insert, cover and cook until tender for about 3 to 5 minutes.
How to Cook Cauliflower Rice in the Microwave? Place the cauliflower rice in a microwave-safe (glass or porcelain) baking dish. Cover with plastic wrap (or if yours has a lid, use that instead).  Microwave for 3 minutes. Remove from the microwave. Carefully lift lid to release steam and fluff with a fork. If you want the cauliflower to be more tender, replace lid for a few minutes for the it to steam a little longer.
How to Store Cauliflower Rice
Can You Freeze Cauliflower Rice? I freeze the raw riced cauliflower in freezer containers or freezer bags. When I want to use it, I thaw it out and cook as usual. You can also freeze cooked cauliflower rice. To reheat, thaw and cook until heated through.
How long can you refrigerate Cauliflower Rice? To maximize the fridge life of raw cauliflower, refrigerate in a plastic bag or airtight container. Do not wash until ready to use. Your cauliflower will usually keep well for about 1 week in the refrigerator.
Can you Buy ready made Cauliflower Rice pre-packaged?  Yes. Just look for it in the frozen veggies aisle at the grocery store, but, honestly, it is that easy to make so save yourself a couple dollars and give this recipe a go. You will be so happy you did!
HOW TO USE CAULIFLOWER RICE?
Your options are endless when it comes to cooking riced cauliflower. It cooks really quickly so it can be fried, steamed, roasted or even cooked in the microwave. You can even add the raw cauliflower rice to soups, casseroles and stir fries. You can use Cauliflower Rice as a side dish or replacement in any recipe where you would use rice.
FOR MORE FAMILY FRIENDLY VEGGIE SIDE DISHES, CHECK OUT
LIKE IT? PIN IT HERE