* We sometimes use affiliate links, so we may receive a commission, at no cost to you, if you make a purchase through a link. Check our disclosure for more info.
Can't decide what to make for Dinner tonight? Try these 20 Minute, Hmmm MMMM delicious weeknight soba noodles. Tender strips of chicken, sautéed broccoli and a sweet and tangy noodle sauce.
Soba noodles are a dinner time blessing. They take around 3 minutes to cook, look and feel like spagetti BUT are healthier and packed with nutrients. Plus they taste great and even the fussiest kid will happily slurp them up.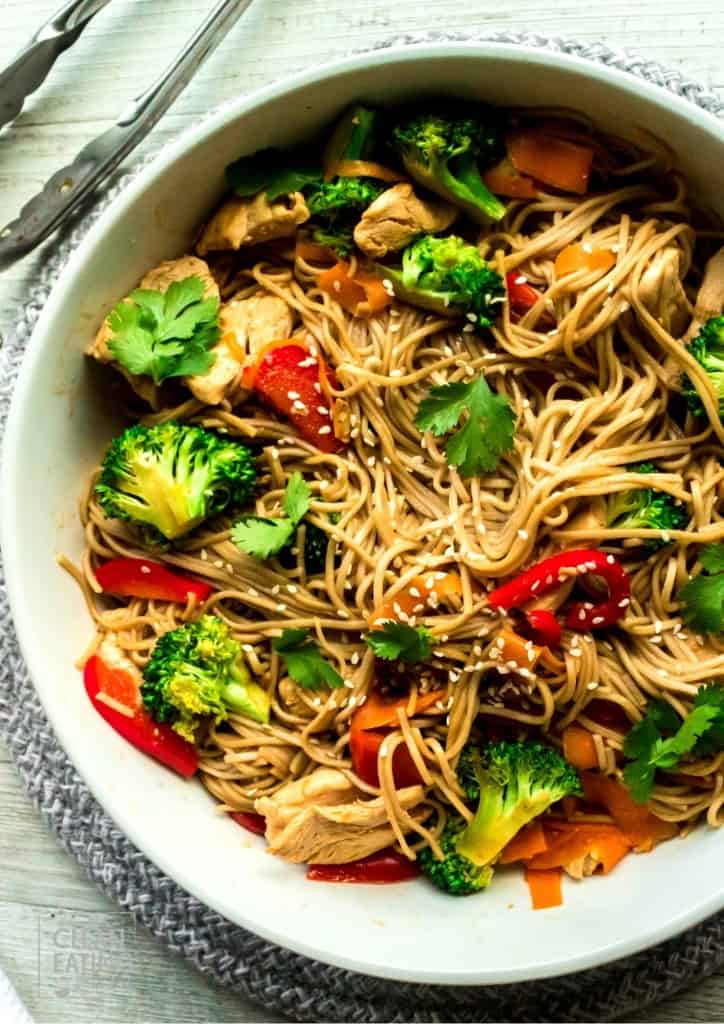 This is a fantastic recipe to keep up your sleeve for when you have zero time and a crowd to feed. Soba noodles are a pantry staple for me.
You can serve this up for dinner or eat it cold the next day for lunch. It makes 4 VERY GENEROUS serves so you feel totally satisfied after eating it.
Three more Family Favorite Recipes:
What are Soba Noodles?
Soba is the Japanese word for buckwheat. Soba noodles are thin noodles made from buckwheat flour, or a combination of buckwheat and wheat flours (Nagano soba). To get maximum nutrition from soba noodles, look for brands made from 100 percent buckwheat like this one.
Are Soba Noodles Gluten Free?
Good news if you are Gluten free!! Soba noodles made with 100% buckwheat are gluten–free. Read the label to check that the ingredients say 100% buckwheat without any other added flours. Soba noodles that contain some amount of wheat naturally contain gluten and therefore are not suitable for a gluten–free diet, especially for those with celiac disease.
How to Cook Soba Noodles
Buckwheat isn't as forgiving as regular pasta. Over cooking them will lead to a mushy, sticky ball of noodles. There are a couple of tricks to cooking your noodles to stop this from happening:
How can you keep your soba noodles from sticking together?
Loads of Water. Make sure to use a good amount of water in your pot. You don't want your noodles to be over crowded as they cook. 
Bring your water to the boil BEFORE adding the noodles. 
Don't cook them for too long – soba noodles cook fast and are usually ready in about 3 – 5 minutes. You want them to be a little al dente (still chewy and not too soft). Check the package instructions for the noodles before you cook them.
Rinse them in cold water – Once cooked, drain them in a colander and rinse them in cold water. USe your fingers to move them around to wash off any excess starch and prevent them sticking together.
A dash of olive oil – add a little olive oil to your noodles as an added  measure to stop them sticking.
Soba Noodles Recipe
Weeknight Soba Noodles
Stuck for Dinner tonight!! I've got you covered with these easy to make weeknight soba noodles.
Ingredients
100

g

Soba Noodles

100% buckwheat, gluten free

2

tbsp

olive oil

200

grams

chicken breast

(approx 2 chicken breast) sliced into strips

1

broccoli

broken into bite site florets

1

carrot

sliced finely

1/2

Red Capsicum

sliced finely
Stir Fry Sauce
3

tbsp

tamari

or coconut aminos

1

tbsp

apple cider vinegar

1

teaspoon

honey

1

teaspoon

ginger

fresh, or jar

1

clove

garlic

crushed
To Serve
2

tsp

sesame seeds

1/2

cup

fresh coriander
Instructions
Cook the Soba Noodles: Bring a large saucepan of watertothe boil. Add soba noodles.Cook for approx 3 minutes. Drain the water and run under cold water to rinse. Toss through 1 tablespoon of olive oil and set aside.

Mix the Sauce: In a small bowl, mix together apple cider vinegar, tamari, ginger, garlic and honey. Set aside.

Heat a large pan of the stove top. Add 1/2 tablespoon of olive oil and chicken strips. Cook for 3 to 5 minutes until cooked through. Add chopped veggies and saute for an additional 3 minutes until veggies slightly tender.

Add Soba Noodles and sauce to the pan. Toss through and saute for 2 minutes until heated through.

Garnish with sesame seeds and fresh coriander.
Recent Posts
---