* We sometimes use affiliate links, so we may receive a commission, at no cost to you, if you make a purchase through a link. Check our disclosure for more info.
This spaghetti recipe can, of course, be eaten by anyone at all but I think of this recipe as 'for kids' because it was one of the first the first meals I gave the kids with Wholemeal pasta when they were getting used to the texture of brown pasta, after we gave white pasta the boot!
Grab the FREE 18 Meal Ideas CHEAT SHEET Here!
Healthy Spaghetti
This recipe wins several levels: it's got a creamy tomato sauce, it's pretty fast to put together and it's made in one pan. Yep, that's everything, spaghetti and all, cooked in one single pot.
The beauty of cooking the spaghetti in this way is that where Wholemeal pastas can sometimes be slightly more 'a dente' than the white equivalent, this method gives you soft spaghetti, just the sort kids love. Handy :)
Do your kids love pasta? Mine are crazy about it. It's probably the one food thing I know they're gonna eat without any fuss at all, so I make some sort of pasta dinner fairly often.
And I think, this is the one I make the most. Nothing to do with the ease of the recipe and the lack of washing up or it's something that's always eaten. Nothing at all…..
I tend to chop the veg really small when I'm making this, especially the onions. My lot will eat onions if they're chopped small enough and aren't to obvious. They do add a good flavour to this recipe though so I don't like to leave them out, so chopping them really small works well for this.
This is the wholemeal dried spaghetti we use.
I still find it kinda amazing that while stores are generally getting better I still come across some that don't sell much wholemeal pasta at all. The shelves of white pasta are brimming with every type of pasta known to man, and then they'll be a lonely row of Penne.
If your local supermarkets don't stock Wholemeal pastas in the variety you'd like, it's easy to buy online, if slightly inconvenient :)
One Pan Spaghetti
If you've never cooked spaghetti in the same pot as your Bolognese sauce, I'll tell you now, you may never go back to cooking and serving spaghetti in the traditional way again. It's just easy, and since this is the recipe I use when I'm cooking for just the kids, it's quite so important that it looks beautiful on the plate (although I happen to think it does anyway :)
I break the spaghetti up before it goes into the pot, so once it's cooked and you're ready to serve it, you really can just put it on the plate and eat.
Grab the FREE 18 Meal Ideas CHEAT SHEET Here!
Prepping The Spag Bol
This is a really easy recipe and one you'll likely make time and again. There's a few things that really bring out the flavours in this recipe though:
Sweating the onions and carrots – Give your carrots and onions at least 10 minutes to sweat in the butter. This gives them a lovely flavour that transfers to the main dish, so it's a good idea not to skip this step
Browning the meat – The ground beef gets the best flavor by making sure the meats really well browned. When you get to this step, you'll want to put your beef into the pan when it's really hot, press it down into the pan and leave it, without turning it at all, for several minutes. There will be some bits of meat that catch on the bottom of the pan. This is good. They add to the flavor.
I also season the onions and carrots at the point they're sweating. No other reason than then I know it's done!
The milk – Yep, this recipes used milk in the sauce. Trust me, it adds a creaminess that's delicious.
How To Keep Left Over Spaghetti
This recipe is just as good the following day – should there be any left over. Actually, I often make double batches of this for lunches over the following few days, it reheats like a dream and tastes just as good as the day you made it.
Simply transfer your leftovers to an airtight container like this and store in the fridge. You can also use these storage containers to take this as lunch to work if you're able to reheat, just pop it in the microwave for a couple of minutes and you've got yourself a filling, healthy, Clean eating lunch.
How To Make Spaghetti for Kids
This recipe makes enough for 6 – halve ingredients for a smaller yield.
Ingredients
1 pound Ground beef
1 x Onion – Diced very small
3 x Carrots – Peeled and chopped into smallish pieces
1 tbsp Butter
2 Cups Tomato puree
1 Cup Stock
1 Cup Full fat milk – heat this a little before adding to the sauce
2 Cups Water
18oz dried Wholemeal spaghetti
Salt & Pepper
Olive oil – 2 tbsp
Grated Parmesan – to serve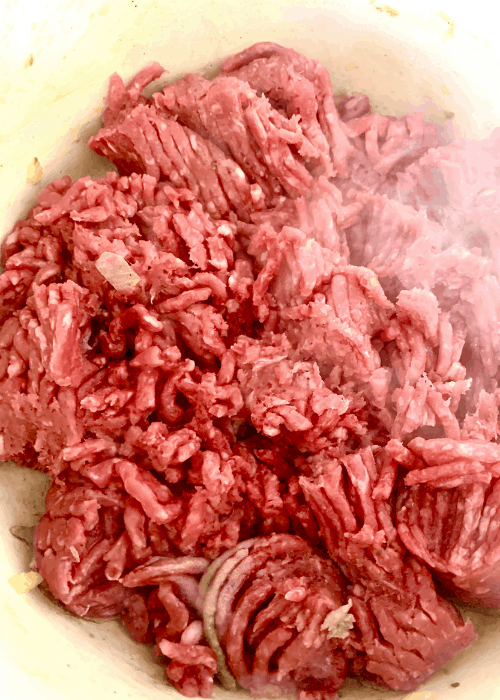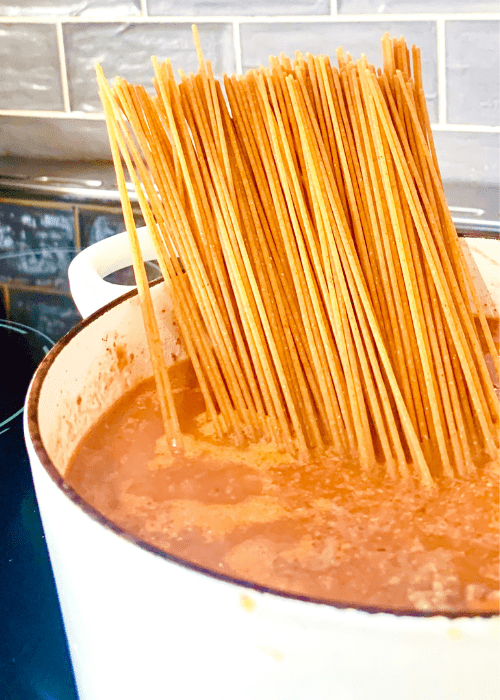 Process
Heat the butter on a low heat on the stove top. Add the chopped onions and carrots. Season really well, stir to combine and leave to sweat for 10 minutes
Take the carrots and onions and put them into a dish and set to one side
Add the Olive oil to the pan and heat on a high heat. The oil should be very hot. We don't want actual flames, but smoking hot is fine!
All the ground beef and spread out around the pan. Then leave it, unstirred for several minutes. The meat should be browned really well, we're looking for dark brown (burnt bits all fine!), not beige. After a few minutes, turn the meat and repeat on the uncooked side. Browning the meat takes a good 7-8 minutes
Add the onions and carrots back into the ground been pan and combine, and turn the heat down to low again
Add the tomato puree, stock, water and milk. Stir to combine
Bring the sauce to a low simmer
Add your spaghetti into the pan. Break it up as you add it, you want the spaghetti to be completely submerged in the sauce
Add more water if you need to. The pasta will absorb a lot of the sauce liquid, so add more water if there's not enough liquid to submerge the pasta fully
Simmer for 20 minutes, stirring occasionally
After 20 minutes, turn the heat off, give the pot a stir and then cover the pan with a lid. Leave the pan for 30 minutes minimum, not taking the lid off. The lid keeps the heat in the pan, and it's this step that makes the pasta soft
The spaghetti will sit for several hours, just waiting to be served. Stir the pot before serving and add your parmesan
More easy Clean eating dinner recipes
Spaghetti Recipe For Kids
Spaghetti Recipe For Kids
A creamy, one pot Spaghetti recipe kids love
Ingredients
1

pound

Ground Beef

1

Onion

diced

3

Carrots

diced

1

tbsp

Butter

2

Cups

Tomato puree

1

Cup

Stock

Beef or Chicken

1

Cup

Milk

Full fat

2

Cups

Water

18

oz

Dried Wholemeal Spaghetti

Olive oil

Salt & Pepper

Parmesan

to serve
Instructions
Heat the butter on a low heat on the stove top. Add the chopped onions and carrots. Season really well, stir to combine and leave to sweat for 10 minutes

Take the carrots and onions and put them into a dish and set to one side

Add the Olive oil to the pan and heat on a high heat. The oil should be very hot. We don't want actual flames, but smoking hot is fine!

All the ground beef and spread out around the pan. Then leave it, unstirred for several minutes. The meat should be browned really well, we're looking for dark brown (burnt bits all fine!), not beige. After a few minutes, turn the meat and repeat on the uncooked side. Browning the meat takes a good 7-8 minutes

Add the onions and carrots back into the ground been pan and combine, and turn the heat down to low again

Add the tomato puree, stock, water and milk. Stir to combine

Bring the sauce to a low simmer

Add your spaghetti into the pan. Break it up as you add it, you want the spaghetti to be completely submerged in the sauce

Add more water if you need to. The pasta will absorb a lot of the sauce liquid, so add more water if there's not enough liquid to submerge the pasta fully

Simmer for 20 minutes, stirring occasionally

After 20 minutes, turn the heat off, give the pot a stir and then cover the pan with a lid. Leave the pan for 30 minutes minimum, not taking the lid off. The lid keeps the heat in the pan, and it's this step that makes the pasta soft

The spaghetti will sit for several hours, just waiting to be served. Stir the pot before serving and add your parmesan