* We sometimes use affiliate links, so we may receive a commission, at no cost to you, if you make a purchase through a link. Check our disclosure for more info.
Fancy a Black Olive Pizza? The one type of Olives I've been able to get all but one of the kids to eat with no questions asked are black olives. I guess they're a little more mild tasting than some of the others and so in this house they've always been a natural choice for pizza toppings. These super quick and easy black olive pizzas are a something we make far to often. Try them, it just takes making one for them to become the family favorite :)
Grab the FREE 18 Meal Ideas CHEAT SHEET Here!
Black Olive Pizza
Pizzas are a big thing here, really big. We used to love going to this pizza place near us and while that restaurant was probably on the better side of the junk food we used to eat (pretty often!) mainly because they used a proper open fire pizza oven to cook in and with Real food toppings etc…but there was still the issue of the flour used and I was always a little suspect of the pizza sauce. Delicious as it was I'm pretty sure it was loaded with sugar as so many pizza sauces are. So that was (mostly) the end of that!
Like so many things with Clean eating, it's just easier to do it yourself. And also like so many things, once you start making the basics yourself you realise how easy it is to change the nasties for the good stuff, leave out the things that really aren't needed and get the kids eating the same foods they loved without even realising they're eating the Clean version. I guess why would they know? They eat what I cook them and get used to the foods they have most often. So what I'm trying to say is that they're all now fully on board with the home cooked version, whether that's a pizza or a muffin. No one really misses the 'old' stuff.
I've made this pizza with Naan bread (see below for my excitement at finding a fresh one!). You can use either the 2 ingredient pizza dough or fresh Naan if you can find it.
Pizza Sauce
The sauce I make for pizzas is stupidly simple tomato based sauce. I use tomato puree, oregano and then season it with salt and pepper. You could add garlic if your kids like it, mine are not hugely keen and so I leave it out.
I don't 'cook' the sauce before hand, just mix the puree with the seasoning and herbs. No sugar, no additives, nothing else. Simple and effective!
Pizza Base
When we started this I found this Clean eating 2 ingredient pizza dough. It's an absolute marvel, really. It's dead easy to make, as in less than 5 minutes and you have a fresh pizza dough ready to be loaded up with whatever toppings you like.
However…that said, I've been on the lookout for a Clean Naan bread for what seems like forever. I've tried to make it myself and while it's good, it's also more time consuming than I want some nights and there have been some (many!?) that I've longer for the ease of opening a packet of Naan.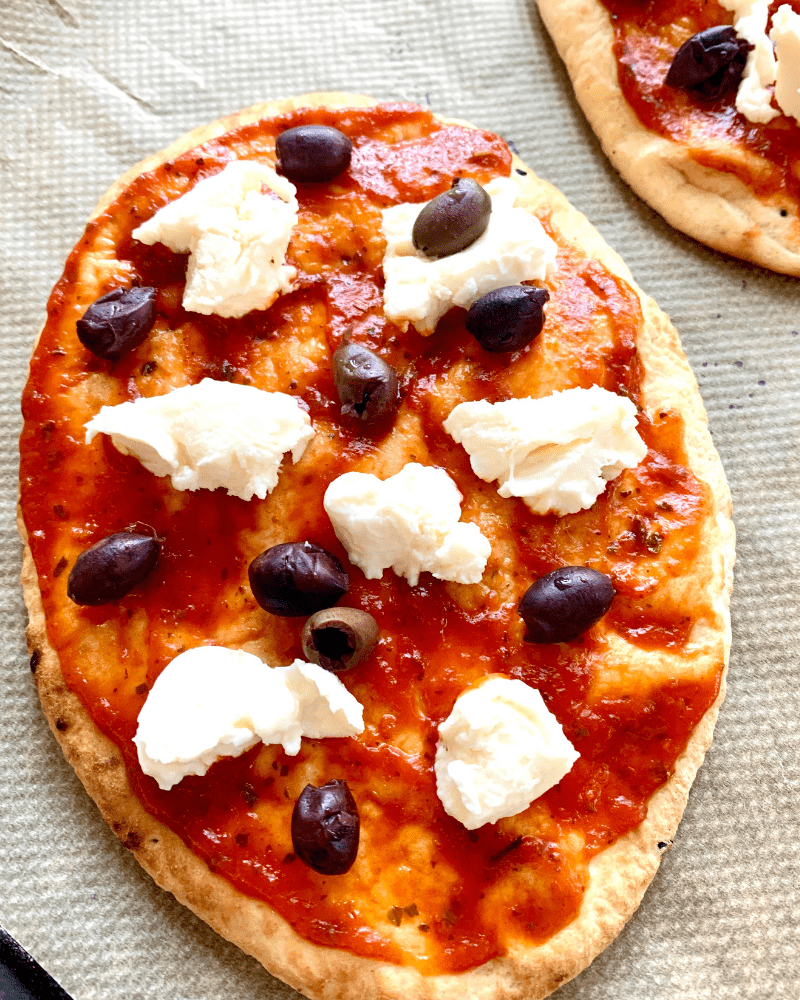 And then it happened. I walked into a local farm shop to have a mosey round at the things they were stocking and it hit me! Fresh Naan that was made with the same ingredients I'd make it at home. I was amazed, and of course bought a few packets then and there. And as if that wasn't enough of a treat, it'd been cooked in a clay oven. Yep, a real one :)
Normally I wouldn't have even looked at the ingredients list such was my certainly it would have a long list of chemical preservatives, but what caught my eye was the 3 day sell by date. That's so often the give away. Real food goes off and if there's a very short shelf life, you might well be onto a winner.
I've started looking for more of these fresh Naans now and they are out there but they can be hard to find. See what's local to you, you may have a lot more luck than I've had over the years. And if you find someone local to you who makes and sells this, grab them tight and don't let go :)
Pizza Toppings
The list of things you can put on top of a pizza is almost endless and so I'll give you a few ideas here that we like:
Honey chilli drizzle – Mix one tbsp of honey (heated in the microwave) with half a teaspoon of chilli flakes and then drizzle it over your pizza. I'm not sure where the craze for drizzling honey on pizza came from but it's good. And if you're a chilli lover this chilli version is even better!
Grilled veggies – Red peppers and onions grilled until soft and caramelized go so well on a pizza. And they're an easy way to get some extra veggies into the little ones.
Chicken – Tear up a few pieces of roasted chicken if you have leftovers and pop it onto the pizza before it goes into the oven
Rocket – We love rocket here and the herby spice it gives you. Throw some on top of the pizza when it's cooked
More Clean Eating Pizzas
How To Make Black Olive Pizza
Ingredients
Pizza Sauce
2 tbsp Tomato Puree
1 tsp Dried oregano
Salt and pepper for seasoning
Pizza Topping
2 Naan bread Or 1 batch of 2 Ingredient dough. See post for recipe
½ Ball Mozerella cheese
Black olives As many as you like
Instructions
Heat your oven to high and line a baking tray
Mix the pizza sauce
Lay your Naan bread on the tray and spoon a little pizza sauce over each one. Try not to use too much as it can make the pizza soggy if you use too much
Tear up your mozzarella and pop it on top of the pizza. Sprinkle the olices evenly on top of the pizza
Cook in a hot oven for 8-10 minutes or until the mozzarella is browned and bubbling
Serve!
Black Olive Pizza Recipe
Black Olive Pizza
This recipe for black olive pizza makes 2 pizzas at one Naan base per person. Adjust the quantities to suit your family.
Ingredients
Pizza Sauce

2

tbsp

Tomato

Puree

1

tsp

Dried oregano

Salt and pepper for seasoning

Pizza Topping

2

Naan bread

Or 1 batch of 2 Ingredient dough. See post for recipe

½

Ball

Mozerella cheese

Black olives

As many as you like
Instructions
Heat your oven to high and line a baking tray

Lay your Naan bread on the tray and spoon a little pizza sauce over each one. Try not to use too much as it can make the pizza soggy if you use too much

Tear up your mozzarella and pop it on top of the pizza. Sprinkle the olices evenly on top of the pizza

Cook in a hot oven for 8-10 minutes or until the mozzarella is browned and bubbling