* We sometimes use affiliate links, so we may receive a commission, at no cost to you, if you make a purchase through a link. Check our disclosure for more info.
Easy to make coconut and oat cookies. Made with a few basic everyday, whole ingredients. These classic, super crunchy oatmeal biscuits are a staple in any Whole Food kitchen. They are healthy, tasty – and I'm warning you now – it's going to be hard to stop at just one.
---
Related Recipes
---
Healthy Oat & Coconut Cookie Recipe
These crunchy oatmeal cookies are a staple in my kitchen, I make them at least twice a month because they are super convenient to pop into lunchboxes, pass around as an afternoon snack or even eat as a last minute on the go breakfast.
How to Make Your Coconut Cookies Crunchy
A big reason why these cookies are such a hit with the kids, is that they are crunchy. Kids love that crunch texture. Makes them feel like they are eating junk food – but we know they're not. So both Mom and Child feel good when they reach for another.
The secret to the crunch is threefold:
Cook them a little lower and longer
Activate the baking soda before starting to bake.
Flatten the biscuits before cooking. The thinner they are going into the oven, the crunchier they will be
Here's a photo of mine before going into the oven.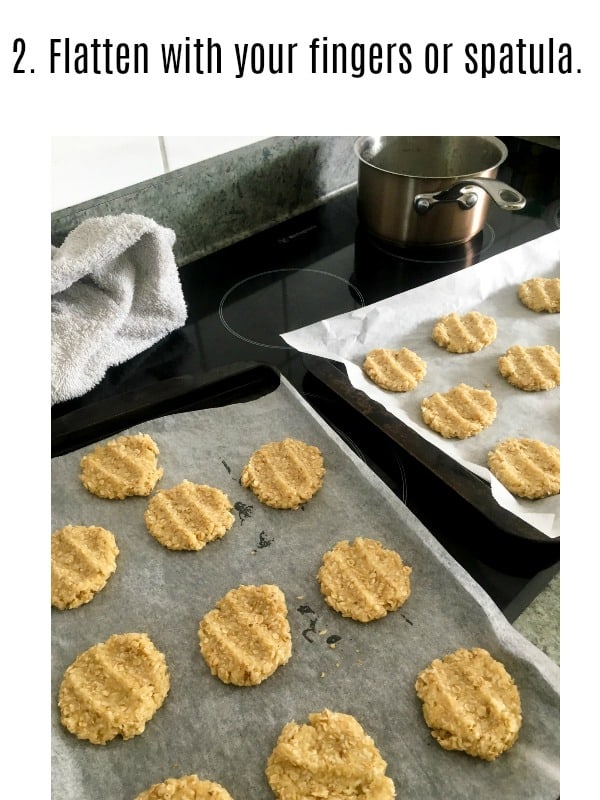 A No Guilt Snack for Moms and Kids
I used to be obsessed with the 'low fat' thing when I was younger. I would scan the the calorie count on the label and make my decision on what to eat purely on how 'low fat' it was. I didn't even look at the ingredients list. These biscuits would have scared the crap out of me! They have real butter! And Oats. And Coconut!
My younger self was an idiot.
Since eating a whole food diet, watching my weight has become a bit irrelevant. I tend to stick within a set weight without really trying. Now for a lot of people, this may not seem like a big deal, but for me, weight was a major issue when I was growing up. I was the 'fat friend' (You can read a bit more about that here – scroll all the way to the bottom of the post for my story) I tried countless diets (some dumb ones too) in an attempt to lose the weight, but nothing really helped. I would always put it straight back on.
Then I found out about Clean Eating.
Eating whole foods is a game changer! With each of my four pregnancies I gained around 45 pounds. That's a lot of weight to gain four times over. The thing is, I lost this weight within the first 5 months purely through eating whole foods. No diet. No restrictions. Just real food.
Our bodies are designed to digest whole foods. Don't be scared to eat and nourish your body. It knows what to do when you feed it real food.
A Couple of Clean Eating Tweaks to the Recipe
Traditionally, these cookies are made using golden syrup and brown sugar, but I have adjusted the recipe to reduce the amount of sugar and replaced both of these ingredients with a good quality maple syrup and a dash of honey. This leaves us with a healthier, refined sugar free cookie that tastes amazing!
The smoky sweetness of maple compliments the roasted oats and coconut delivering a delicious, sweet and crispy biscuit that's good enough to eat for breakfast.
What's the best flour to use?
This question is one of the most common questions I get asked and also the biggest thing that divides us Moms trying to improve our family's diet.
Usually I would recommend a wholegrain flour because it's made using the entire wheat grain vs only part of it, but since finding that my daughter reacts negatively to wholegrain, I've lightened my stance on this. So, here it is:
Choose any flour that suits your diet, but try and ensure that:
It's made using organic flour
It has not been bleached or alcohol treated
It doesn't contain additives, bromate or anti fungal agents
The Picky Eater Dilemma
It's really not a tragedy if you choose plain flour rather than a wholewheat version. I really think us Moms need to give ourselves a break. If your child refuses to eat wholegrain flour, and it's causing more of a fuss than it's worth, then rather than giving up trying to feed them healthy foods altogether, simply use plain flour in your baking.
White flour is less nutritious than wholegrain, but it's still flour. And it definitely does result in a lighter baking result that your fussy eater will eat.


The Perfect Lunchbox Treat
If you are looking for a treat to add to school lunches, something not too sweet, healthy but still a treat (I know, it's always a struggle to tick all the boxes). Try making a batch of these. This one recipe makes 20 biscuits so there's more than enough for a whole week of easy school lunches. Get my Free Lunchbox Planner Printable if you want to take the stress out of prepping school lunches.
–>> Free Printable Mix and Match Lunchbox Planner
Anzac biscuits store incredibly well and will keep for a few weeks in an airtight storage container. But to be honest, I have never known biscuits to be ignored for that long. My kids will sniff these babies out no matter where I try and hide them in the pantry. And I can be pretty sneaky. My kids are just sneakier.
The Super Versatile Cookie
This unpretentious coconut cookie can be used in so many ways:
As a last minute breakfast biscuit
Roughly chopped and sprinkled on top of yogurt and fruit for a quick breakfast parfait
As a base for cheesecake
Crumbled on top of stewed fruit for a tasty after dinner sweet treat.
But the Best Way to Eat Them….
Wanna know my personal favorite way to eat these cookies?
I'll tell ya.
It's around 10am when all the kids are at school, floor is vacuumed, dishes are done and it's just me dunking a couple crunchy cookies into a (still hot) but not too milky cup of tea.
Ahhhh Bliss!
A Quick History Behind Anzac Biscuits
Every Year in New Zealand, our humble Anzac Biscuit comes into the spotlight to play it's part in commemorating Anzac Day.
Anzac Day is a day of remembrance in Australia and New Zealand. It falls on the anniversary of the Australian and New Zealand Army Corps (ANZAC) landing at Gallipoli, during WW1.
The day was originally intended as a day to honor the soldiers who died in that conflict, but now commemorates all Australian and New Zealand servicemen and women, past and present, who have served and died in all wars and conflicts. Every year, thousands gather at sunrise to commemorate and remember the lives lost. It's an occasion that chokes me up every time.
If you're ever in New Zealand or Australia on the 25th April make the effort to head down to the beach at Dawn.
Like all good traditions, there tends to be a bit of controversy surrounding the facts. The folklore history says that Anzac biscuits were named after the biscuits that were sent by wives and women's groups to new Zealand and Australian soldiers abroad during WW1. I am not sure how historically factual this is, and to honest, I don't quite care. This is the story I like the most.
The Recipe
Thin and Crispy Anzac Cookies
A crispy, buttery biscuit perfect for after school snack, last minute breakfast or dunked quietly into a hot cuppa while the kids are sleeping.
Instructions
Preheat oven to 160°C fanbake / 180'C / 350'F. Line 2 oven trays with baking paper.

In a large mixing bowl, combine oats, flour, coconut.

Heat a pot on the stove top with butter, maple syrup and honey until butter melts. Remove from heat and stir in baking soda and water. The mixture will fizz up a bit as the baking soda reacts.

Pour butter mixture into the dry ingredients and mix together.

Roll teaspoon sized mixture into balls and place on trays, and flatten with your fingers or with a spatula. Allow room for spreading. The mixture will feel very buttery but that is OK.

Bake for 15 minutes until they are golden. Cooking time can vary from oven to oven, so watch them. You want the cookies to be dark golden in colour.

Allow to cool on the trays (they will harden on cooling). They will keep for several weeks in an

airtight container.
Notes
You can make these biscuits as big as you like. Just remember to leave space between them because they like to spread out.
The reason we get the baking soda activated before putting them into the biscuit is that we don't want them to rise. The thing that makes these biscuits special is the thin, crispy texture.
Need a quick breakfast? Crumble one of these biscuits over some Greek yogurt. Yum!