Snacking is one of those little pleasures in the day. Problem is, it's easy to overindulge when it comes to snacks. These portion controlled bite sized 100% No Bake Nutty Oat Bites are the perfect whole food energy snack to tide you over to your next meal.
We are a family that likes to eat and this includes snacking. My kids are always foraging through my pantry for a between meal snack.
The problem with snacking is that it's easy to overindulge in too much of a good thing. That means extra sugar, calories or crappy foods that you just don't need in your diet.
It's important to remember that it's not a meal, it's more of a treat to tide you over until your next proper meal.
CHOOSE REAL FOOD MOST OF THE TIME
We aren't perfect, but we do try and eat whole foods most of the time. This includes the between meal snacks we choose.
It's super easy to open a bag of crisps or reach for a chocolate biscuit if you have them in the pantry. So I tend not to.
But there are days, when I do buy the odd bag of crisps (Salt and Vinegar flavor being a weakness for me). No. It's not good for us, but it's also not a tragedy if you steer off the Real Food food path once in a while. I really believe that it's what you do MOST of the time that matters.
Keeping crappy foods out of your pantry and stocking up on convenient whole food snacks makes this a whole lot easier.
KEEP IT SIMPLE
Having a list of good snacks available, helps you make good snacking choices and fulfill that 'between meals' urge in a healthy way.
Download my FREE PRINTABLE: 50 CLEAN EATING SNACK IDEAS to give you some healthy snack time inspiration. Print it out and stick it to the fridge so that the family can learn what's considered a healthy snack along with what a snack portion size looks like.
–>> Get 50 Clean Eating Snacks Printable Here
KNOW YOUR WEAKNESS
Some people aren't 'Snackers'. My husband and oldest son eat three meals a day. Period. No snacking between meals ever. They make up for it by piling up their plates at meal times. The rest of us like to eat smaller meals throughout the day. This includes a couple of snacks between meals. Variety plays a big part in our meal choices while the hubby and Teen Boy would eat eggs, meat, Potato and gravy at every meal.
If you are a 'Snacker', then rather than fight your nature, simply plan for it. Stock up on healthy snacks before you need them – because let's face it – you know you are going to do it.
We keep a 'snack box' in our kitchen. It's a basic 5 liter Tupperware (I like this brand) I bake or make (I can't call these Nutty Oat Bites Baking) two snack type recipes every week which I keep in a box in the fridge or pantry.  This is where the family goes for snacks or when I'm putting school lunches together.
–>> Get my free Easy 1,2,3 Mix and Match Lunchbox Planner Here
BE PREPARED
When the between meal hunger sets in, your brain starts searching for easy refueling options. Think Sugar, Fat and anything else in a wrapper. Your willpower goes on a break and you reach for that biscuit jar.
You know you are going to do it, so make it easy and keep healthy, whole food options in that Biscuit jar. Just like these 100% No Bake Oat and Nut Bliss Balls.
100% No Bake Oat and Nut Bliss Balls
I'm not one who collects kitchen appliances. It bugs me when things clutter up my kitchen and I only use them once or twice a year when I make that one recipe. Up until recently, I lumped a food processor into that 'thing I just don't need' category.
Anyway. My husband bought me this food processor as an anniversary gift. Even though I have been saying for years that I didn't need one and that my kitchen 'tools' did the job just as well. He ignored me – as he does.
But (like the time he bought me a stick blender – OMG, do you have one of these? They are awesome! You can puree anything in the same pot without transferring to a blender), I'm going to admit I was wrong. Agh. I don't like doing that.
Well, guess what?  A whole new world of food has opened up. I've been 'Processing' (is that what you would call it?) anything I can think of.  I can make a batch of these Bliss balls in around two minutes! And I'm now a food processor convert. Just don't tell my husband.
This morning I made these little nutty oat bites. They are almost too cute to eat, but I couldn't hold the mob back. They barely waited for me to take my picture.
Just look at them looking all cute and everything.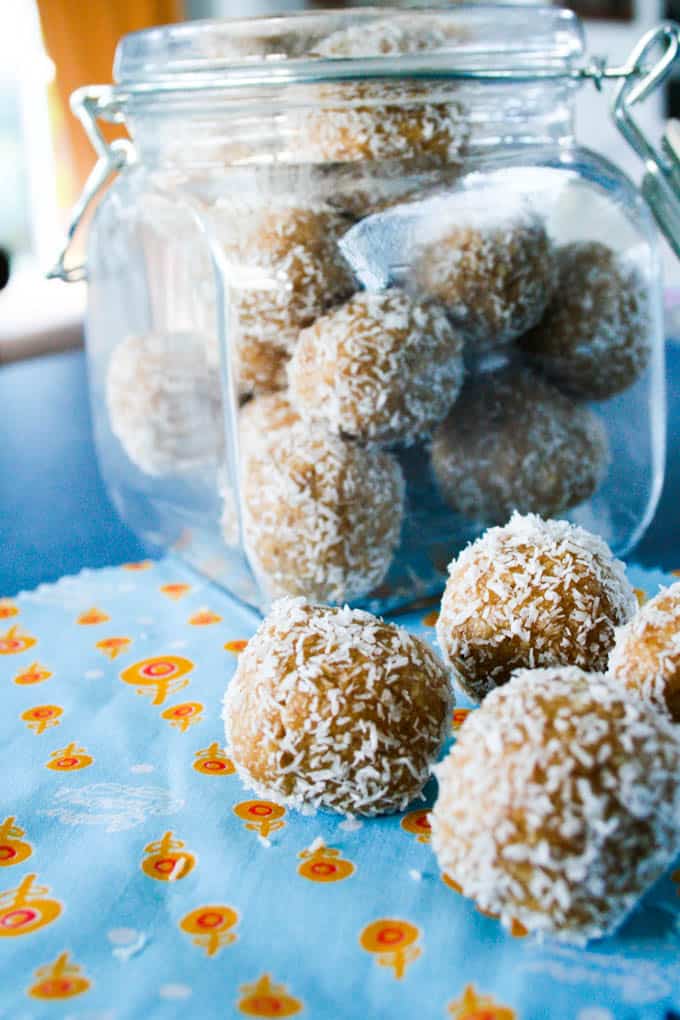 Normally (pre-processor days aka yesterday), I would add all these ingredients together with a bit of flour and bake them into into granola squares – but not today! Oh no. Today we have 100% Raw, No bake, 5 min Nutty Oat Bites. I made around 30 of them from this one batch. Kids went Nuts for them. Ha ha. Nuts. Did you see what I did there?
I didn't even have to turn on my oven. That's a big deal for me. I'm the 'wake up in the morning – open my eyes – turn on the kettle – turn on the oven' kind of girl.
Only thing I will say it this … make two batches. And hide one where the kids can't reach it.
The Recipe
Print
No Bake – 100% Raw – 5 minutes to make – Nutty Oat Bites
---
Author:

Prep Time:

5 mins

Total Time:

5 mins

Yield:

30 bites
Description
Clean Eating Nutty Oat Bliss Balls. Perfect, portion controlled healthy snack.
---
Ingredients
1 Cup Oats
1 Cup Shredded Coconut (plus a bit extra for coating)
2/3 Cup Peanut Butter
1/2 chopped Nuts (I used Walnuts)
1/4 cup Honey
1 teaspoon cinnamon
---
Instructions
Pour all ingredients together in a food processor.
Blitz on high until ingredients well combined and forms a pliable 'dough'. If you need to, add a little water for the desired consistency. Don't make it too wet or your little bites will be hard to roll into balls.
Using your hands, roll about a tablespoon of dough into a ball. Roll in coconut and repeat.
Store in an airtight container. I like to keep mine in the fridge, but you can keep them at room temp too.