* We sometimes use affiliate links, so we may receive a commission, at no cost to you, if you make a purchase through a link. Check our disclosure for more info.
Healthy Waffles Recipe
This is possibly the easiest healthy waffle recipe ever. My kids love waffles. They really love them and if we're out, I know they'll order them, so I wanted to have a quick go-to waffle recipe that's healthy and fast. You might know I'm a big fan of fast, and this recipe fits the bill. It's sort of the sister recipe of these Clean eating pancakes, they're both easy, quick and healthy, yet feel indulgent. Treats, even.
Grab the FREE 18 Meal Ideas CHEAT SHEET Here!
This recipe gives you the crispy edges the kids like, and you can put pretty much anything you like on them. Right now we're loving strawberry & cherry waffles. I make a cherry sauce and put a little Maple syrup on top (we didn't give up all sugars, and you can read about why here).
We eat these mostly for breakfast, but being a pretty savoury waffle alone, you can also make a savoury meal with them.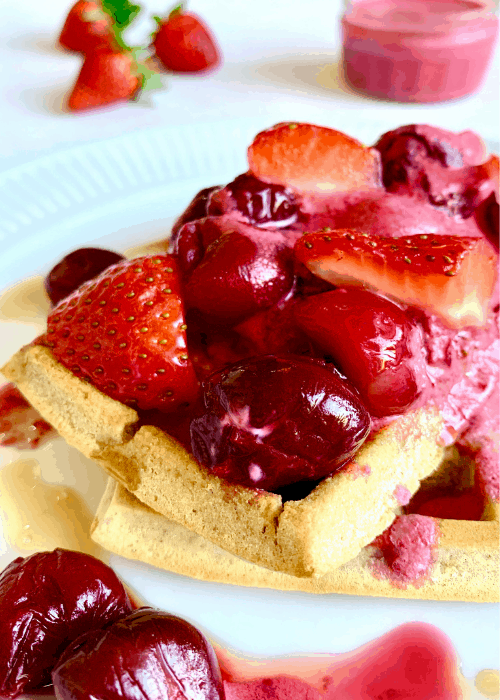 What I use to make waffles
There are a couple of things I use to make these waffles. The first is my amazing Nutri bullet blender. If you don't have one of these, seriously consider getting one. I make so many recipes in this. Why? It's just so easy to clean, it's compact, it stays out on the work surface and it's got power.
I do have a KitchenAid blender, which is awesome in every way possible except…it's big and I don't have room to store in on the counter. And it's not as easy to clean. So while I do use it often, my Nutribullet is what's getting the most love right now.
The other thing you'll need to have is a waffle mold. I use this silicone mold. It's cheap, cleans well and hasn't let me down yet. In fact I own a few of the same ones, you get 4 waffles to a mold and that's not quite enough for my gang!
Grab the FREE 18 Meal Ideas CHEAT SHEET Here!
Storing your Oatmeal waffles
Once you've made your waffles, whilst they're most often eaten right then and there, you can keep them for 3 days, stored in an airtight container like these, or you could even use a Ziploc bag in you don't have a container.
Generally, store bought waffles have sugar in them which acts as a preservative and since these are sugar free, 3 days is the max I would keep them. You'll see how fast they are to make though, and making a fresh batch when you want them isn't a hassle at all.
How to reheat homemade waffles
Reheating these waffles is as easy as putting them in the toaster (really really low heat here, so they reheat all the way through and not just burn the outsides!). Toasting these crisps the edges up again nicely, and gives you a little crunch!
Can you freeze homemade waffles?
Yes. These freeze beautifully, and I have before now, at times when I'm feeling particularly organised and in control (it's rare!), made several batches of these and frozen them. If you decide to do this, let the waffles cool down completely before you put them in a Ziploc bag and pop them in the freezer.
Homemade freezer waffles
Tip here: Freezing these can mean they stick together in the freezer. This is fine if you're going to defrost and use the whole lot, but to take individual waffles out of the freezer to reheat, put a little parchment paper in between them before you freeze them.
When you want to use your frozen waffles, let them defrost for a couple of hours before putting them in the toaster.
How to make healthy Oatmeal waffles
This is the recipe for healthy oatmeal waffles: Makes 6 waffles
Ingredients
Process
Heat your oven to 180/350
Put all your ingredients in a blender (this is the one I use. I LOVE it!)
Whizz until the batter is smooth
Pour into your waffle mould. You do not need to grease the mold if it's silicone (this is the waffle mold I use, it's awesome)
Cook your waffles for 10/12 minutes. You want them to be a golden brown color
Turn your cooked waffles out onto a baking rack and leave to sit for 10 minutes. This allows the waffles to set slightly, giving a firmer texture
More Clean breakfast recipes:
Healthy oatmeal waffle recipe to print
Healthy Oatmeal Waffle Recipe
Possibly the easiest healthy waffle recipe ever, let the kids choose their own toppings for a treat like breakfast!
Ingredients
1

Cup

Organic Oatmeal

2

Medium

Eggs

1

tsp

Baking soda

7

oz

Milk
Instructions
Heat your oven to 180/350

Put all your ingredients in a blender

Wizz until the batter is smooth

Pour into your waffle mould. You do not need to grease the mold if it's silicone

Cook your waffles for 10/12 minutes. You want them to be a golden brown color

Turn your cooked waffles out onto a baking rack and leave to sit for 10 minutes. This allows the waffles to set slightly, giving a firmer texture