* We sometimes use affiliate links, so we may receive a commission, at no cost to you, if you make a purchase through a link. Check our disclosure for more info.
As the season of sniffles and sore throats come into force, give the kids a boost with this Immunity Smoothie. Primary school kids are little bug magnets. While smoothies are an in addition to a healthy diet, when the weather gets colder, I have a few tricks up my sleeve to get the family back on track with a yummy, vitamin packed smoothie: The Immunity Smoothie.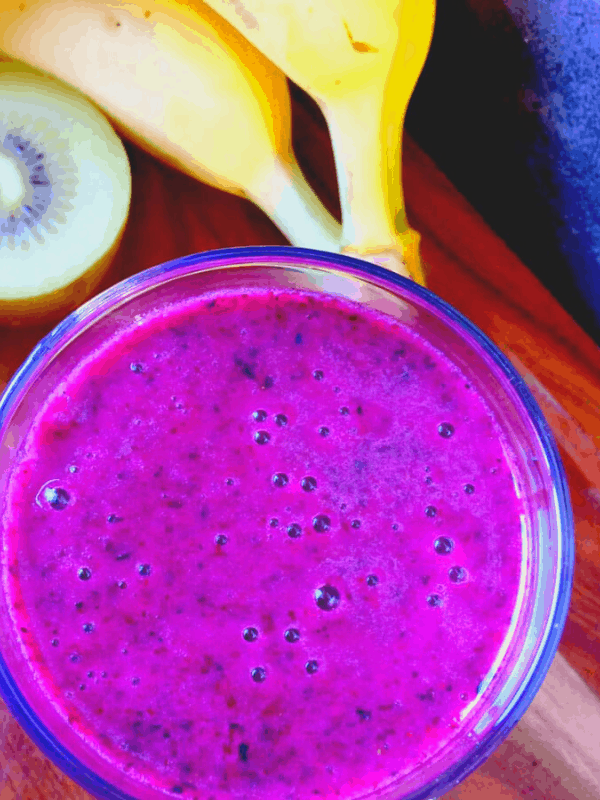 Grab the FREE 18 Meal Ideas CHEAT SHEET Here!
Immunity Smoothie
It's bright, it's appealing and best of all, the kids love it!
This 100% natural smoothie's good for you and really tasty. It also happens to freeze beautifully as mini ice popsicles or in ice trays to add to your next water infusion.
And one more thing … Apparently it doesn't matter whether you use fresh or frozen berries. New research from South Dakota State University suggests that frozen blueberries deliver a bigger dose of disease-fighting antioxidants than fresh. (Source) So stock up on those frozen berries for a berry filled smoothie anytime of the year.
Amazing Health Benefits of Berries
Berries contain high levels of phytochemical's — those naturally occurring nutrients that help protect cells from damage.
Berries keep your mind sharp. Research published in the Annals of Neurology found that women who eat about two servings of strawberries or one serving of blueberries a week experienced less mental decline over time than peers who went without them. Compounds, found almost exclusively in berries, are known to access the learning and memory centres in the brain.
Berries might prevent Parkinson's. People who eat at least two servings of berries a week have a 25% less chance of developing Parkinson's disease than their peers, according to research published in the journal Neurology. (Source)
Berries help us control our weight – Because of their fibre and liquid content, berries give us a sense of fullness, and feeling sated is an important part of managing how much food you eat.
Berries, specifically blueberries, raspberries, strawberries, goji berries, and blackberries contain a class of antioxidants called flavonoids. Anthocyanin's, a subset of flavonoids, are antioxidant pigments that give berries their rich blue, red, and purple hues. Studies indicate that flavonoids and anthocyanin can soothe occasional inflammation and strengthen the immune system. (Source)
Grab the FREE 7 Day Clean Eating Challenge Pack & Take The Kids Diet From Zero To HERO!
Tips For Making Immunity Smoothies
Berries are really expensive where we are and seasonal so I always stock up and freeze in ziplock bags when prices are low.
If you have a batch of over ripe bananas on your kitchen bench, then peel them chop them into quarters and freeze (perfect for banana ice cream or this smoothie recipe). Don't let them go to waste.
For a creamier smoothie, add 1/2 cup of almond or coconut milk, but personally our family preferes the icy-berry kind of texture for this one.
You can use any berries or a mix of berries, but if you are using only Blueberries, then these make a slightly sour smoothie, so I add a little more honey to compensate.
Finally – check your teeth and the kids teeth after drinking. :) Those little berry seeds get in everywhere and you will get to lunch time before someone tells you have 'something in your teeth'.
More Healthy Kids Smoothies
How To Make An Immunity Smoothie
Ingredients
2 Bananas peeled
1 cup Frozen mixed berries
1 tso Fresh ginger
½ Cup Ice
2 Kiwi fruit Peeled
1/2 Cup Water Almond milk if you want a creamier smoothie
Instructions
Whizz all ingredients together in the blender until smooth
Serve immediately or freeze in Popsicle molds
Immunity Smoothie Recipe
Immunity Smoothie
The Immunity Smoothie – Vitamin packed and really tasty way to boost the family's immunity.
Ingredients
2

Bananas

peeled

1

cup

Frozen mixed berries

1

tso

Fresh ginger

½

Cup

Ice

2

Kiwi fruit

Peeled

½

Cup

Water

Almond milk if you want a creamier smoothie
Instructions
Whizz all ingredients together in the blender until smooth

Serve immediately or freeze in Popsicle molds
Love Smoothies as much as we do? Here are some of my favourite smoothie recipes going around Pinterest at the moment.