* We sometimes use affiliate links, so we may receive a commission, at no cost to you, if you make a purchase through a link. Check our disclosure for more info.
Start stashing away those cardboard toilet roll inners and recycle them by making these super cute toilet roll bat treat boxes for Halloween. Scroll down to get my free Bat wing printable template.
DIY Halloween Crafts
I'm taking a stand this Halloween and resisting the urge to splurge on plastic doodads. We've been actively working on reducing the plastic we bring into out home – and – I don't like admitting this – it's a LOT harder than I thought it would be.
Plastic is EVERYWHERE!
I've avoided shopping over the past few weeks as the store is packed with Halloween supplies that we just don't need. I even went so far as to put a stop on junk mail so the kids don't feel as though they are missing out on the plastic coated Halloween hype.
But just because my wallet is staying firmly tucked away in my bag – doesn't mean we're not enjoying some good ol' DIY Halloween decor. Our family had a blast recycling toiler roll inners and making these Bat Treat Boxes last weekend.
Not only are they an easy DIY Halloween decoration, but they double up as a mini treat box too. Stuff them full of Clean Eating Halloween Candy Treats for a low sugar Halloween.
More DIY Halloween Craft Ideas

The Ick Factor
OK, so I know that these are toilet roll inners. And perhaps this grosses you out a bit? If it does – don't let this ruin your fun. Get this germ killing spray and give your rolls a spray over to kill any lingering germs.
I'm all good with it – I guess my hygiene standards have dropped a notch since moving to a farm. Trust me when I say that a toilet roll inner is the least of my daily woes.
How to Make Toilet Roll Bats
STEP 1: Gather your supplies
You are going to need:
Toilet Roll inners (if you don't have any lying around, then cut a square of cardboard a, roll it into a tube and secure with a little tape).
Scissors
Google Eyes (if you want to avoid the plastic all together – then paint your eyes on)
STEP 2: Fold both ends of your toilet roll towards the centre like in the the picture below.
STEP 3: Paint the toilet rolls and your Bat Wings.
We found it easier to paint the wings before cutting them out. Remember to paint the back of the wings too – the back doesn't have to be in the lines as you will be cutting them out using the template in the front.

STEP: Stick the wings to the back of your toilet roll and stick on the Googly eyes.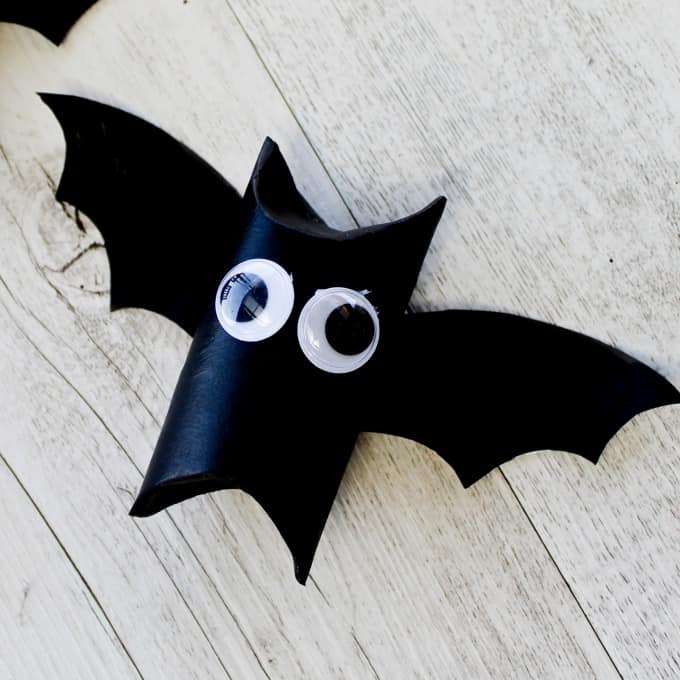 To fill your bat treat box with candy treats – simply fold back the top of the toilet roll, add some treats and fold back in place.




RECENT POSTS
LIKE IT? PIN IT HERE