* We sometimes use affiliate links, so we may receive a commission, at no cost to you, if you make a purchase through a link. Check our disclosure for more info.
There are very few things that can top chocolate. Ask my girls and they will back me up on this. The boys prefer pizza, meat and… well. Actually that's pretty much as far as their list goes. But the girls: We like chocolate. We really like chocolate. A lot.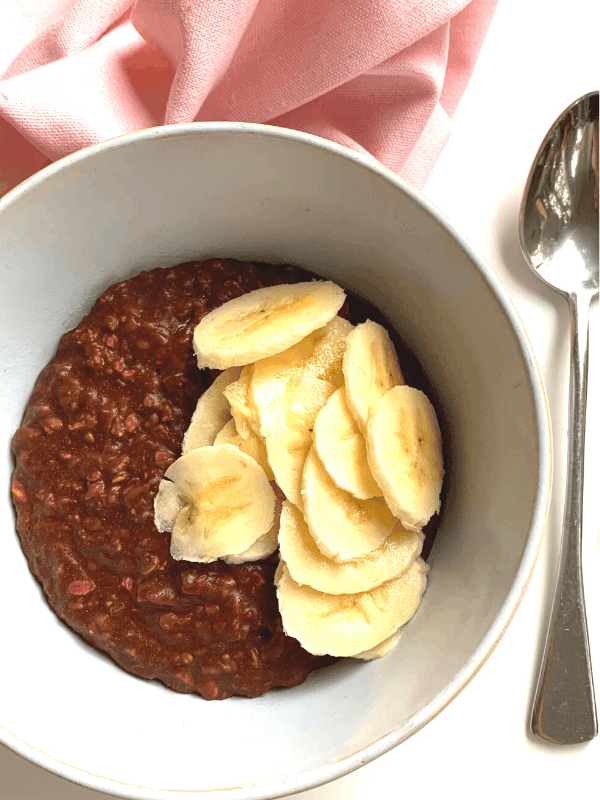 Grab the FREE 18 Meal Ideas CHEAT SHEET Here!
Chocolate Porridge
Chocolate. Oatmeal. So simple. So yum. It only takes 5 minutes to whip up in the morning. And it means we can have chocolate for breakfast without anyone (you know who you are) giving us funny looks. Um. Seriously, what's not to love? We have had chocolate oats three mornings in a row. Thinking it will be #4 tomorrow…
Porridge is such a great breakfast. Oats are good for protein, they'll keep you going all day and actually oats feature on my immunity boosting foods for kids list.
There's nothing in this breakfast you wouldn't want to be there and the fact it takes 5 minutes to whip up a batch is just a bonus.
A Healthy Chocolate Oatmeal Breakfast
You know those mornings where the times going at double speed? The ones you need to get something in the kids before they run for the school bus, but time's not on your side? Make this! Especially during the Winter months when it's cold and they need something good inside them. If you have 5 minutes whilst you're yelling at them to drag themselves out of bed, then you've got time to have this on the table.
I use steel cut oats for this chocolate oatmeal. This just means they're smaller than regular oats which have been rolled and flattened. When cooked over a medium heat, these give a consistency that turns into a prefect chocolate feast!
Sometimes if I'm feeling really prepared, I'll get everything ready to go in a pan and leave it out, covered, ready to simply be cooked on the stove top the following morning. Doing this saves those precious few minutes of getting everything out, and we all know those few minutes are really needed on school mornings :)
Also see: Blueberries and cream oatmeal, pear oatmeal, whipped banana oatmeal.
Ingredients
The list of ingredients is simple. Use diary milk or a non dairy alternative: Almond milk, Oat milk or something similar. If I'm using maple syrup it'll be 100% pure maple syrup. I use steel cut oats, and a high quality cocoa powder.
I like to keep some frozen banana (peeled and sliced before freezing) in the freezer for recipes like this one. Just take out however many slices you need and either pop them into the microwave before using them or add them to the pan to defrost and melt into the chocolate porridge saucepan mix.
Cocoa Powder
Cacao powder or cocoa? What's the difference? Well, they're very similar really, the only real difference is that cocoa is produced at a much higher temperature than cacao which you wouldn't really notice when you're cooking with it. You also need to be sure cocoa powder is a good quality one. Some of them contain added sweeteners which we definitely don't want. So getting a good quality cocoa powder is important.
A little note on sweeteners: Oats tastes better when it has been slightly sweetened. I have tried it countless ways, but to get my children to eat it happily – I sweeten it with banana. If you (or the kids!) need more sweetness, add some pure maple syrup.
Sweeteners are one of the most controversial of all ingredients in a Real food diet. If you have been following my blog for a while you will know that our family eats sugar. You can read more on this here. We try to eat sugars as close to their natural state as possible.
Honey, maple syrup and raw cane sugar are our most preferred options. But no matter which sweetener you decide on, remember that moderation is important. Added sugar is added sugar. It has minimal nutritional value, so if your family likes sweeter foods (as most kids do) then try to sweeten the food naturally first using banana or apple puree.
Grab the FREE 7 Day Clean Eating Challenge Pack & Take The Kids Diet From Zero To HERO!
Vanilla Extract
I add a little vanilla extract to this porridge. I like to buy a natural vanilla bean, it's got a lot more flavor to it and I use less of it as a result. Have a look at what your local supermarkets offering, and if there is only synthetic vanilla flavorings, have a look on Amazon and see if you cab find a more natural one. I know they can be a bit more expensive, but you really do use less so it tends to even out the cost.
Additions
Peanut butter. That's my best recommendation as an addition for this breakfast. If I'm adding peanut butter I add 2 tablespoons to the pan and let it cook in with the porridge. Chocolate and peanut butter are a big hit in this house, and so that's the most common addition I do.
You could also try substituting the vanilla extract for orange extract for a Terry's chocolate orange sort of thing. It's yummy, it's a touch different and is super easy to do. If you're going to try this, find a natural orange extract rather than the more common orange flavorings we see most often in the supermarkets today. I've tried this with fresh orange juice – and it doesn't work. The flavor is just not strong enough to shine through the cocoa powder.
If you're feeling all fancy you could also add some cacao nibs to the top. They look pretty and jazz this up a bit but my smaller kids aren't keen on the taste: Cacao nibs can be a little bitter sometimes. Also try some dark chocolate chips. If your kids love them, throw on a few for extra chocolaty appeal!
Nuts. You could add some hazelnuts to this if your kids like them. When I've done this I've rough chopped them and sprinkled them on top of the breakfast. This does add precious minutes to the breakfast though, do this whilst the porridge is cooking or better yet, the night before!
Think about adding some fruit, maybe raspberries, strawberries or blueberries to this porridge as well. Shredded coconut, maybe a tablespoon would also add another depth of sweetness and coconut goes well with chocolate porridge.
More Clean Eating Breakfasts
How To Make Chocolate Porridge
Ingredients
1 Cup Oats
2 Cups Whole milk or almond milk
1 Cup Water
1 tsp Vanilla essence
2 tbsp Organic cocoa powder
2 Banana 1 mashed, 1 sliced
Instructions
Heat oats, milk, water, vanilla and cocoa in a pot. Bring to the boil. Stir continuously until oats are well combined and starts to thicken. Turn down temperature and simmer for 3 – 4 minutes
Remove from stove and stir in mashed banana
Serve. Add sweetener if needed
Chocolate Porridge Recipe
Chocolate Porridge
This is a Real food chocolaty breakfast recipe that the kids will love!
Ingredients
1

Cup

Oats

2

Cups

Whole milk

or almond milk

1

Cup

Water

1

tsp

Vanilla essence

2

tbsp

Organic cocoa powder

2

Banana

1 mashed, 1 sliced
Instructions
Heat oats, milk, water, vanilla and cocoa in a pot. Bring to the boil. Stir continuously until oats are well combined and starts to thicken. Turn down temperature and simmer for 3 – 4 minutes

Remove from stove and stir in mashed banana

Serve. Add sweetener if needed