* We sometimes use affiliate links, so we may receive a commission, at no cost to you, if you make a purchase through a link. Check our disclosure for more info.
Why is it that kids love chicken tenders and fries so much?
I have no idea, seriously. Play dates, restaurant's kids menus, fast food drive thru's: It's like the kids are brain washed into knowing this pretty basic and often bland food is supposed to be their favorite. But anyway, it is, for mine at least. And I knew when we started to phase out processed food and bring in whole foods, these had better be good, and they are. They're seriously good.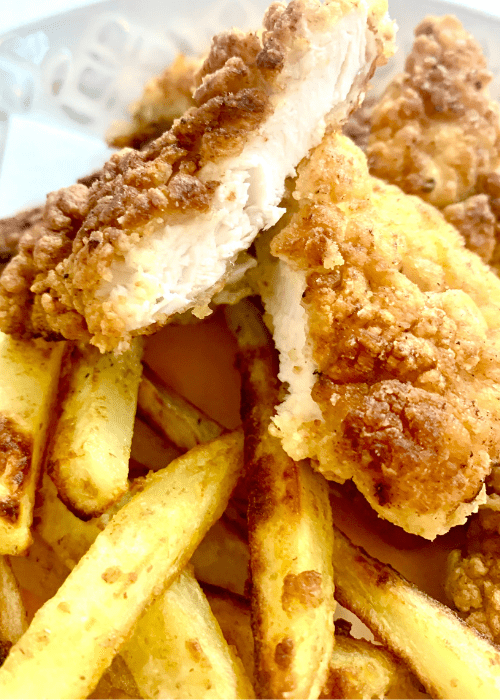 Grab the FREE 18 Meal Ideas CHEAT SHEET Here!
Pan Fried Chicken Tenders
I pan fry these chicken tenders. I only use a little oil, enough to give them the crispy crunch you have to have with tenders, but not enough to really be 'deep' fried. You can oven bake these, but I've never found you get the same juicy chicken as you do with super fast hot oil frying,
How To Make Your Chicken Tenders Crispy
The hot oil used to pan fry these tenders is what makes the coating on the chicken strips tender. You can oven cook chicken tenders and lots of recipes do, but since these are a treat, an occasional dinner (mostly when the kids have friends round), I fry them in hot oil and the kids enjoy every bite.
Not letting your oil get hot enough will give you soft 'limp' like chicken tenders. And no one wants that. You're aiming for a golden brown color and crisp edges, so don't be afraid to whack the heat right up. When the chicken goes into the pan, the oil should be sizzling, and you'll be able to see it's sizzling.
Be warned, I've ruined a good few 'first' tenders that go into the pan because the oil's not hot enough. One other word of warning: while this doesn't use deep fat fryer quantities of oil, it's still oil, and so can still catch on fire. Here, even now the kids are a little older, I never leave the pan when the oils hot. Not even for a second.
Grab the FREE 18 Meal Ideas CHEAT SHEET Here!
Juicy Chicken
To keep the chicken juicy and stop it from drying out, I use Buttermilk to marinade the chicken. At least a couple of hours is fine, but over night is better. I use my trusty Ziploc bags to put a carton of buttermilk with the cut thinly chicken strips.
I have tried to not use buttermilk, but the chicken very quickly dries out when you're cooking it. So, if it's not broke, don't fix it, right? Buttermilks here to stay, and it really does keep the chicken deliciously juicy.
Crispy Tenders Coating
There's one thing I've found that makes the tenders crispy crunchy, every single time. And that's cornstarch. I dust the buttermilk soaked chicken in a half and half combo of flour and cornstarch before frying it.
The easiest way to do this (and by easiest I mean tidiest!) is to put your flour, cornstarch and seasonings into another Ziploc bag and then put the butter-milked chicken in the bag and simply…shake it! You get well dusted chicken, and no flour all over your work surface. Genius, huh!
Fries and Sides
These fries are beyond easy. No, not quite as easy as taking a bag out of the freezer and throwing fries onto a baking sheet but still crazy fast, and you get crispy french fries that you know haven't been coated with anything nasty. It's the peeling of the potatoes that's the worst part. But the result is well worth it. Seriously :)
I also use one of these to cook these fries on. These let the fries crisp on the bottom as well as the top without having to turn them over, and they cook the fries quicker.
These fries are cooked in the oven. They're a little like roast potatoes, just shaped like fries. You get the same crunch, and the same soft fluffy middle. Yum.
Grab the FREE 18 Meal Ideas CHEAT SHEET Here!
What else can you serve with Chicken Tenders & Fries?
Try any of these:
Coleslaw
Chopped raw veg
Onion rings
Need something to dip the tenders into? Of course :)
Try these sauces:
Chicken Tenders and Fries Recipe
Chicken Tenders and Fries
Crispy coated juicy chicken breast pieces and homemade fries.
Ingredients
3

Large

Organic chicken breasts

butterflied and cut into strips

3

Large

Floury potatoes

peeled, cut into fries

1½

Cups

Buttermilk

4

Heaped tbsp

Wholemeal flour

4

Heaped tbsp

Cornstarch

½

Cup

Olive oil

Salt & pepper

to taste

1

tbsp

Cornmeal

for potato dusting
Instructions
Put your butter milk in a Ziploc bag and add your chicken slices. Make sure all the chicken is covered and leave for between 2 – 24 hours

Peel and chop the potatoes into fries. Put them into a large bowl, and put your cornmeal so it lightly coats the fries. Then add 1 tbsp of the olive oil and combine so the fries have a thin coating of oil on them. Put them in the oven and move onto the chicken tenders!

Put the dusting flour mix into a Ziploc bag and season really well. Shake it up

Heat your oil in a large frying pan. When the oils is smoking hot, it's good to go

Take the chicken straight from the buttermilk, shake it gently and put it straight into the flour dusting mixture bag. Do this in batches, as there's to much chicken to do in one go. Shake the chicken to get rid of excess flour

Put the chicken into the hot oil, in batches, so each piece of chicken is fully touching the pan. No overlaps! Leave each piece frying for 2-3 minutes and then turn the chicken tenders over and cook the other side. You shouldn't need to recook once they've been turned over

Once the chicken is cooked put it onto some kitchen roll to absorb the oil while you cook the next batch

Once the fries are cooked (15-18 mins), remove from the oven, and serve with the chicken tenders and sides!
Recent posts