* We sometimes use affiliate links, so we may receive a commission, at no cost to you, if you make a purchase through a link. Check our disclosure for more info.
Healthy kids party food. Planning food for a children's birthday party is a little stressful. On any normal day you would never let your child consume copious amount of sugar and other foods I wouldn't normally feed the kids. But it's a party. And Suddenly you are supposed to be OK with it?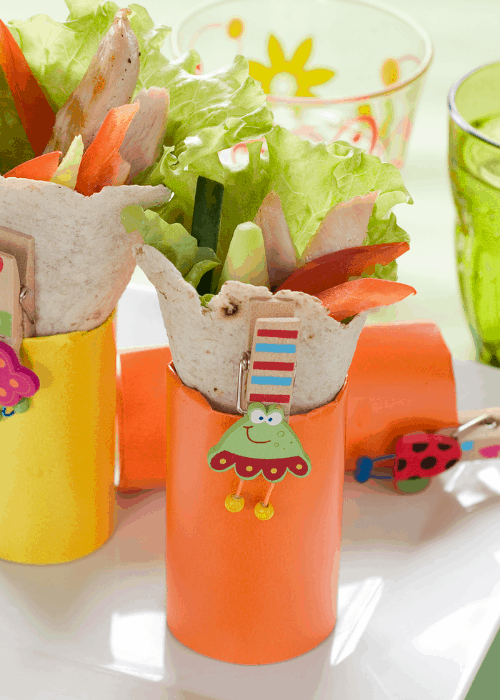 Grab the FREE 18 Meal Ideas CHEAT SHEET Here!
Healthy Birthday Treats
Don't get me wrong, I'm all for a little treat now and again but there is a way that you can at least limit the amount of sugary foods they consume (without the kiddies even noticing) simply by being a little inventive with the party food. Here are 25 Kid friendly healthy birthday treats that are a little bit better for them but still a lot of fun!
August to October is a really busy month for kids birthdays.
We have an August Baby ourselves and if I rewind 40 weeks … it puts me at having conceived my youngest round about the festive season. Ho ho ho!
But apparently I'm not the only one! August has topped the 'birthday month' for the past 16 years with a whopping 10% of babies being born then. Followed closely by, you may have guessed it … September and October.
Which is why I thought it would be especially appropriate to share some amazing (and a little bit healthy) kids healthy birthday treats cause I know I'm not the only one hosting a kids birthday party in the next few weeks.
Healthy Snacks For A Birthday Party
I find the trick to making party food slightly healthier is to mix in a little of the unhealthy, just enough to tempt them. If it looks good, I've never found a child at any party I've thrown who won't indulge.
We eat with our eyes and kids are no different, if it looks good enough to eat, they'll eat it!
DOWNLOAD MY FREE PARTY PLANNING CHECKLIST HERE
Fruit And Vegetable Party Food For Kids
You really can make fun, healthy birthday treats with a little imagination. The fruit filled ice-cream cones are so pretty, they're bight and colorful, add a few sprinkles and you've got a great treat.
Grapes make awesome Caterpillars (icing eyes are fine for a party!) and skewers are perfect for making colorful fruit kebabs.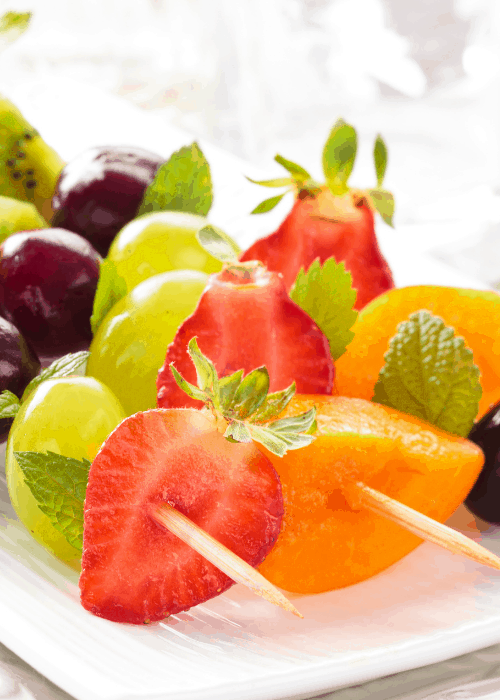 Savoury party food for kids
Mini 2 ingredient pizza dough pizzas have been a savoury party food staple for years. You can use the dough for so many things apart from mini pizzas, see the list below for some ideas.
Buttered Popcorn (Air popped Popcorn sprinkled with melted butter and salt)
Healthy drinks for kids birthday parties
Birthday Party Food Ideas
Ice Cream
Yep, every party needs ice cream and this is no exception. Try these two, I think they're pretty awesome!
Birthday cake
This is my basic vanilla birthday cake which I make for all our birthday cakes. It's simple, takes around 5 minutes to get into the oven and is made from only 7 real food ingredients. I have tried so many different types of flours and cake recipes and I have yet to find one that I'm prepared to make as a birthday cake. So …. when it comes to birthday cakes, I always use raw sugar (the honey colored unrefined version). There is something about the butter/sugar combination that makes this special.
Now that you can tick the party food off the list … it's time to plan the party!
Here are my tips on Hosting a birthday party on a budget.
Related posts